Project Spotlight: Maria del Rio
All Images: María del Río
When photographer María del Río set out to design her dream home in Oakland, her Mexican heritage and childhood in the Southwest were top of mind to guide the gorgeous renovation.

María opened her home to us to show off the finished project and share how where we live may change but the things that make a place home often stay the same.

First, can you tell me a little bit about yourself and what you do? What inspired you to become a photographer?
I started photographing in high school in a photo class and loved it right away. I didn't understand at the time that you could have a career in photography and thought it could only be a hobby. When I was in college I continued doing photography and was in the darkroom several nights a week. It became a place of calm and respite for me. I sought out an internship with a local photographer I admired, working for free scanning negatives and cleaning the studio. It was my first time meeting a professional photographer and it opened up my mind to the art form as a career.
Can you tell me about your home? Does it have a story? What needed to be changed or updated?
My boyfriend and I bought our home in Oakland CA after a huge rent increase to the house we were renting in San Francisco. I never thought we could afford to buy a house but the rental prices were so high and when I started comparing I realized that we could make it happen. It was a lifelong goal of mine as someone who had experienced housing instability as a child. We bought our little mid-century house and knew we wanted to do a few cosmetic things like the kitchen which definitely needed some love. The project kept evolving and finally, we made the leap to add a bedroom and bathroom as well.

How has being a photographer impacted your design style?
I think about light a lot. I love watching how the light shifts in our home throughout the year. I scribble little notes on the wall in pencil where the sun reaches at different times of the year. It's fun for me to watch how it shifts month to month. Also, my work takes me to a lot of incredible homes and locations which are a constant source of inspiration.
Did you work with an architect or designer?
Yes – we worked with our friend Anthony Roxas as the architect. For the kitchen, my friend Katie Martinez, who is a designer, helped us to think about the space in a beautiful and efficient way.

Tile Shown: Glazed Thin Brick in San Gabriel with 8" Hexagons in Antique
How would you describe the style of your space?
Earthy, mid-century modern, simple. I love texture and handmade quality. Culturally informed.
Tile Shown: 4x4 tiles in Koi
You've said, "My Mexican Heritage and Southwest upbringing probably have the largest influence on how I created our space, " can you talk about how you brought your heritage into your home?
I was born in Mexico and grew up in Santa Fe, New Mexico – both are a huge inspiration to me in my art and my home. In Mexico, there is a celebration of handmade crafts and skills that I've carried with me. Elements like beautiful tile, wood, and textured surfaces all resonate with me. I'm really proud of my heritage and want our home to reflect that pride.
Tile Shown: 4x4 in Sand Dune
What does National Hispanic Heritage Month mean to you?
Honestly, it has never meant much to me. I feel immense pride in my culture and have never felt equally represented in the mainstream during the month or the rest of the year. As of recently, I'm starting to feel more representation and celebration in the mainstream culture and I hope it continues to grow. Occasionally I feel inspired and grateful for an exhibit, show, or media highlights of inspiring Latinos during the month and it can be a nice time to see more content related to my culture.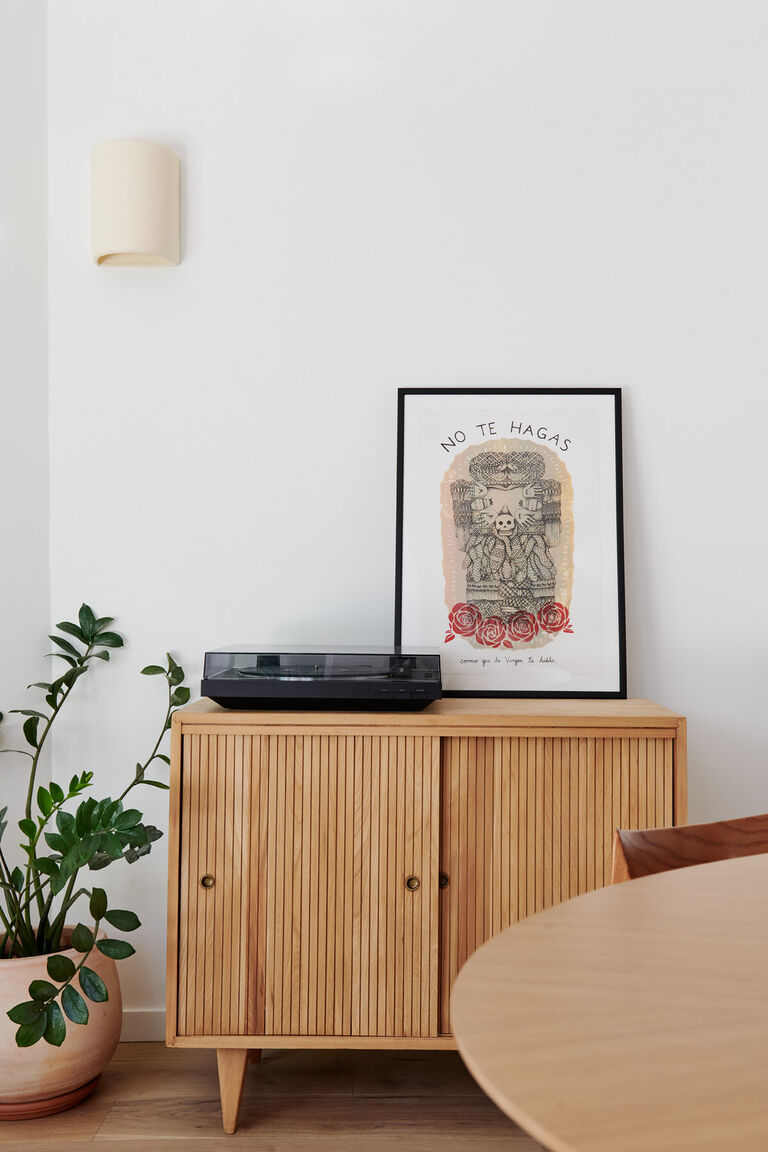 Is there anything specific you want non-Hispanic or non-Latino Americans to take away from National Hispanic Heritage Month this year?
Thank you for asking, it's an important question. I think more of an awareness and sense of gratitude for how much Latinx folks give to this country. So much of the food we consume, buildings and labor we benefit from, the music we love and customs in the United States are made possible by the hard work, labor and culture of Latinos. I feel in general that Latinos, particularly immigrants, provide so much more for this country than are provided within return with many obstacles for upward mobility. At the very minimum I hope people can take some time during the month to reflect on the immense and immeasurable contribution of Latinos to this country.

Do have other brands or makers that you'd be willing to share with us? (Like those incredible ceramic drawer pulls?)
Ooh yes. Pala ceramics – Chinzalée is an incredible Oakland artist with who I want to fill up my home with. The dresser pulls were a collaboration that she was willing to work with me on. She usually uses a ton of beautiful color in her work but she went neutral for me on this project.
Josh Podoll, San Francisco-based woodworker who made our coffee table is beyond talented.
Rose Tai of Earth Tones Studio made our plates, bowls, and mugs – the plates look almost identical to the plates my family have in their home in Mexico and she named the plate the del Río which melted my heart. There is so much incredible talent and I'm constantly in awe of these artists.
Brick Shown: San Gabriel
You've talked about how tile reminds you of home, how did this affect the tile you choose for your kitchen + bathroom?
Unique tile always draws me in. There is a small town near Guanajuato Mexico that is known for tile and just walking down the streets blows my mind. There are unique,handmade tiles everywhere and they bring so much character to the homes, shops , and streets. For my home, I found it really special that Fireclay was handmade and recycled. Fireclay had colors and textures that felt familiar and nostalgic to me.
Tile Shown: 8" Hexagon in Antique
How did you land on the San Gabriel brick and the Antique tiles in the kitchen?
I knew I wanted a terracotta floor for the kitchen because the homes in New Mexico that I grew up in almost all had this style. The hexagon shape brought a more graphic feel to a classic style for me. The San Gabriel brick spoke to me as soon as I saw it. The subtle turquoise reminded me of home. Plus the texture and weight of them are so special. Even the name I love. I picked my tiles out for the kitchen first and then picked all my other finishes based on the tiles.
Brick Shown: San Gabriel
We love how you used extra brick for the surface of a bench--how did this come to be?
We used the extra brick for a little nook in our dining room. The niche was an existing part of the house but we added the tile at the shelf to give it a little more character and to use some of the excess brick we had. I loved the idea of the brick spilling out of the kitchen into our dining room.
Let's talk about the bathroom! What was the inspiration here?
A lot of bathrooms I see lean more cool-toned in the US, with blues and greens. I wanted to go more warm with the colors since I had seen some really pretty bathrooms in Mexico with orange, yellow and pink tiles. I don't do a lot of color in the rest of the house so this felt like the perfect place to work some subtle color in. I knew I wanted a peach hue so we started there – Koi had just come out I think and it was perfect.
Tile Shown: 4x4 tiles in Koi
Then we looked for another color to soften it a little. You helped so much with finding Sand Dune, which is a beautiful dusty gray, and I thought the combo was unexpected and elegant. My favorite part of Sand Dune is how it has a crackled texture. It's on the walls of my shower so I really see the texture up close. We did a plaster effect on the walls to add a little more of a color story.
Tile Shown: 4x4 in Sand Dune, 2x2,4x4 and 6x12 in Koi
Lastly, what is your favorite part of your home?
Hard to choose but we spend a lot of time in the kitchen. I love the earthy hues and the softness of it. And love to eat. And drink. And eat.
Tile Shown: Glazed Thin Brick in San Gabriel with 8" Hexagons in Antique

For more stunning design like Maria's, check out our Inspiration Gallery and follow along with our blog all month for more Latinx perspective as we celebrate the cultural contributions of Hispanic and Latinx Americans.
Shop the Story