Project Spotlight: Hoopes Vineyard Guest House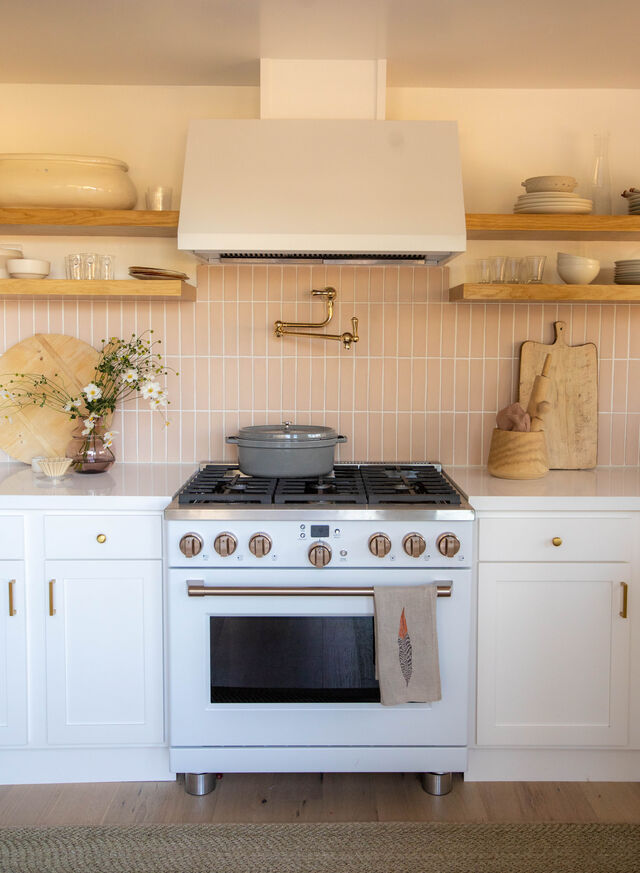 Two lifelong friends work together to renovate an 1890s farmhouse set on a boutique winery in the idyllic Napa Valley: it sounds like the plot of a movie, but this is a true story for designer Erin Fetherston and Hoopes Vineyard owner Lindsay Hoopes.
With a color story inspired by the flowers on the property, Erin and Lindsay used carefully selected Fireclay Tile to make Lindsay's childhood home's small spaces shine like jewel boxes. Continue reading to see how the process went!

Meet Erin & Lindsay!

Lindsay, Can you tell me about Hoopes Vineyard? What is the story behind the guest house?
Hoopes Vineyard was founded from the vineyard upon which the farmhouse sits back in 1983. The farmhouse was my family home. My mother, a designer in San Francisco, wanted to spend weekends in wine country...and then more, so they bought a property they could move to. My father became enamored with wine, planted a vineyard, took viticulture and enology classes, and backed his way into the industry from the ground up. We started as growers for other people and then developed our brand to tell our family story. So, the easiest way to describe the connection is that the house is where I grew up, and it all began.
It is on the most bucolic road in Napa and has incredible memories for me. The house was for family use until my mother passed away, and in order to truly share the story of our family - and the intersectionality between design and wine/farming has always been part of my life, but perhaps not known to others - we wanted to make it available. I also do not want to see the house leave our family, but it just does not meet my space needs with my growing family. So, long and short, I decided to brand our wines as more of a Napa lifestyle than just a wine, which has always been to me. People can come and see farming, live the napa life, visit our sister animal sanctuary, and stay on a vineyard and watch it live. That is the best way to enjoy country life.

How did you two get connected?

Erin: We have been friends since we were two years old, thanks to our parents' friendship. We are both only children, so we loved doing family holidays and vacations together- we were like bonus cousins to one another.
Lindsay: We have traveled together, watched each other become moms, pursue other careers, and finally, we were in professional pursuits that enabled us to collaborate. Erin and I were speaking completely as friends, and Erin had the idea that with my mother's death, we should refresh the home, and do it together, in her honor. It was amazing to be able to work with her for the first time despite being friends for decades.

Erin, Can you tell me a bit about yourself? When did you first become interested in design?
I've always been super creative and loved everything about design. I grew up in the Bay Area and moved to Paris after graduating from UC Berkeley to pursue fashion. I launched my namesake womenswear collection at age 24 while living in Paris. Eventually, I moved to NYC and showed my collection on the runways of New York Fashion Week for over a decade. In 2018, I expanded my horizons to include interior design, which was something I had always loved and felt was a natural companion to fashion design.
Erin, how does fashion influence your interiors?
Fashion, like interior design, is all about creating a world you want to live in and then bringing the vision to life in a methodical, step-by-step way through volumes, colors, and texture.
What were your goals for the house? What did you change?
Lindsay: We did not change anything structural, for a number of reasons, so really wanted to highlight Erin's design aesthetic through things that everyone can do to help "refresh" existing spaces. New paint, new tile, and new looks can really make a huge difference. Erin specifically has a very light and bright aesthetic that helped make the small spaces feel much more open!
Tile Shown: 2x8 in Tumbleweed
Erin: I wanted to honor the history and charm of the house while freshening her up and modernizing the flow of the spaces. The kitchen and bathrooms were the main areas of focus, as they were a little dated. They were also cottage-sized proportions, so I had to get creative about making them feel special, like little jewel boxes. That's why the surface design was so important and why Fireclay Tile was such a significant element in this project.
Tile Shown: 6x6 and 1x6 in Dust Storm

Can you tell me about your design process?
Erin: Like every project, I like to start with the floor plan to nail down the space planning and flow of the home and come up with a furniture layout. Then I work through surfaces, finishes, and colors to define the visual language of the project.
Tile Shown: 2x8 in Tumbleweed
Lindsay: I wanted Erin to have full authority to envision the space and to really showcase what makes her tick as a designer. We were obviously limited by space and an inability to make structural changes, so my aspect of the design process was really to set expectations of what can we could do with what we had. That said, of course, it was the home I grew up in, so Erin was sensitive to that, and I did want some color, because the spaces are small, and so that is an important way of making them feel a little more unique.
How would you describe the aesthetic of the house?
Erin: The house is an 1890s farmhouse reimagined in an organic modern ethos that draws from the home's sublime surroundings in Napa Valley.

How do you factor sustainability into your designs?
Erin: It's a top priority for the house as well as Hoopes Vineyards which practice sustainable farming. As far as the interior design was concerned, we worked with sustainably minded vendors as much as possible and chose pieces that would wear and patina beautifully with time.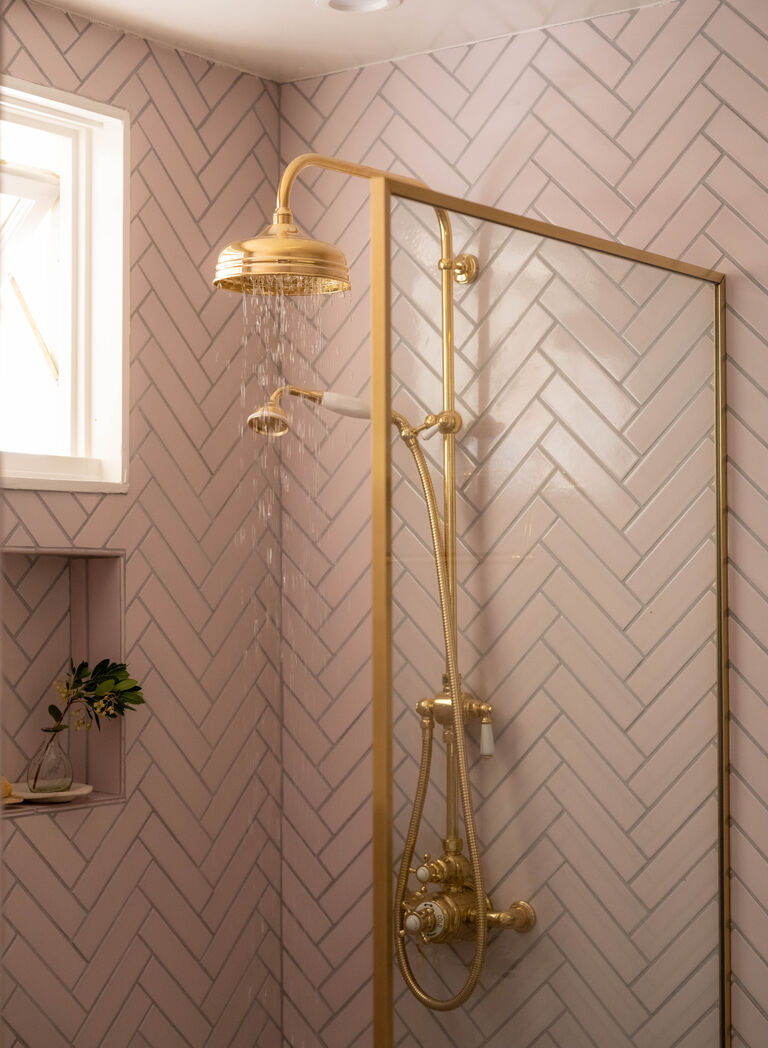 Tile Shown: 3x12 in Evening Glow
Lindsay: Sustainability is incredibly important to me because we are a regenerative farm, and so we like to embody those principles in everything that we do, as best we can. There is always more to do, and everything counts, so design is one way we can contribute. In general, I feel that people confuse luxury and sustainability as a tradeoff, and from that perspective, it's just not true. You can definitely enjoy luxury while still making consumer choices that have positive (or de minimis consumer) impacts on the world. Additionally, it's important to realize that everyone can help - the consistent negative feedback loop that we are too far gone, or that individuals cannot help at the individual level - are also just not true. Little changes in the course of your lives, even for those not dedicated to farming, can make changes in their enterprises, eating habits, and purchasing behavior - like eco-friendly tiles - that make a huge impact in the aggregate. There are also a lot of social initiatives that underpin what we do as a company, and what I try to support in similar companies, like Fireclay.

Tile Shown: 3x12 in Evening Glow
Why do you like using tile in your designs?
Erin: Tile presents an amazing opportunity to bring color, texture, and pattern into a design that ultimately adds so much depth and character to any space. For me, as a designer who gravitates towards neutral palettes, it's another way to create a "wow" moment inside a subtle story.

Tile Shown: Chaine Homme in Dust Storm
Lindsay: I am obsessed with tile. I love that it provides color AND texture. And, is really basically a medium to create works of art. I've away been fascinated with time more than many other finishes.
Tile: Large Star and Cross in Red Rock
How did you go about choosing your tile colors and sizes? What made you want to work with Fireclay Tile?
Erin: I love Fireclay Tile because they have such a beautifully curated selection of sizes and colors that really allow the designer to create something unique and original. I also love the artisanal quality of their finishes. These are tiles with soul!

Lindsay: It is very important to me that a company I support share my corporate and social values, and that is certainly true with Fireclay.
What made you go for this soft color palette?
Erin: When I saw the Fireclay Tile Desert collection, I fell head over heels for the colors. I love earthy pastels and these were everything I had been dreaming of.
Tile Shown: 4x4 in Dawn
They were perfect for the Hoopes Guest House where we were drawing inspiration from the gardens of lavender and wildflower that surround the house.
Tile Shown: 6x6 in Dust Storm
How did the installation go? Had your installer worked with handmade tile before?
Lindsay: The installation was definitely more complicated than some because the tiles are handmade. But it was worth it.
Tile Shown: Chaine Homme in Dust Storm
Do you have a favorite tile moment in the house?
Lindsay: They are all amazing. I can't pick!

Erin: I really love the primary bathroom where we paired 6x6 tiles in Dust Storm with 1x6 tiles in Dust Storm on the floor. The tiles have a stunning painterly quality and patina that reflect the natural light beautifully.
Tile Shown: 6x6 and 1x6 in Dust Storm
Have you fallen in love with the soft palette of Hoopes' guest house? Bring home up to five free samples to preview these stunning colors in your own home.
Shop the Story