Project Spotlight: Honoring Eichler
Karen Nepacena of Destination Eichler used an eclectic mix of colorful field, mosaic and handpainted tile to add unmistakable verve to this refreshed Eichler. Using color as a common thread to tie it all together, this classic home received updates that honor its roots. Karen, who is a seasoned pro with our tile (take a look at this and this too), talked to us about this mid-century abode, along her top tile installation tips below!
Can you tell me about about this house?
This is a courtyard-style home built by developer Joseph Eichler in 1962, located in San Rafael, CA.
What were the main goals of this project?
The home had already been remodeled by previous owners, which included an expansion of the original floor plan and various updates throughout the home. The updates done prior to the current homeowners were dated and no longer in line with the home's midcentury modern and Eichler aesthetic (such as the installation of hardwood floors and vinyl windows).
Let's start with the kitchen, what look were you going for?
Modern, sleek, and functional, yet inviting. By bringing in walnut cabinetry, we paid tribute to a classic mid-century modern material. Many mid-century modern furniture was built with walnut and remains timeless today.
Tile Shown: Small Diamonds in Akoya, Chartreuse, Dolomite and White Wash sheeted in a knit pattern.
You choose to use both handpainted tile along with mosaics sized tile in the kitchen, any tips on how to best pair two patterns in the same space?
I wanted to define two separate, yet shared spaces, with the open kitchen and the dedicated Bar area. I brought in distinct tile design and shapes to each space, while using the same colors (white wash and chartreuse) as shared elements for each area, so there would be continuity in color.
What made you choose the pattern Padma? Were there any other contenders?
We were going for a Palm Springs-inspired, sophisticated Bar and Padma just seemed to fit the bill. We also considered Starburst, but something about the shapes and simplicity of the Padma pattern was a perfect fit.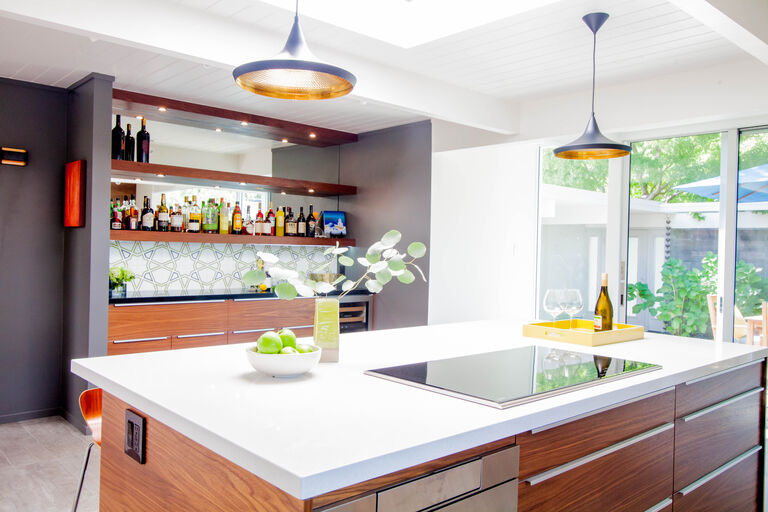 Tile Shown: Padma in Black and White Motif
You created your own colorway, how did you land on these colors? Was it your first time doing a custom handpainted tile for a project?
I felt like a child discovering a coloring book and a brand new pack of colored pencils for the first time! We had started to narrow in Chartreuse as being an accent color in the space (we used lime green doors in the Laundry Room), so I started playing around with the tool to get the right balance of colors, using Chartreuse as a focal color.
You can see the chartreuse laundry room from the kitchen:
Now, how did you land Small Diamonds in a knit pattern? What made you choose these three colors?
I am a huge fan of the diamond shape, so much so that I've used small diamonds in my own home and in other projects as well. Many textile and graphic designs from the 50s and 60s featured diamonds in repeated patterns, so I love bringing these reference points into my designs. I liked how the knit pattern is reminiscent of leaves and since we did a non-repeating pattern, I wanted a more organic look and flow to the tile pattern.
On to the bathroom: how what made you decide on 4x8s in Aqua?
I love that these clients enjoy color as much as I do, so Aqua just seemed like a natural fit for the space, again, bringing in a classic mid-century modern hue, into a modernized space.
By installing them straight set, it was also a nod to how midcentury modern tile design would have been installed in the '50s. The installer also preferred installing a slightly larger tile size than the original 2x8s we were considering, so we went with 4x8s.
Tile Shown: 4x8s in Aqua
You're a seasoned professional when it comes to our tile, any tips you'd like to share about working with handmade tile?
Partnering with a very experienced installer is key to a successful tile installation. One who understands the nuances of handmade tile (each tile is nearly perfect, but not always 100% the same exact size, since they are handcrafted, which is why they are so special) and how to properly handle and set them. When it comes to shapes and pattern, an installer who is willing to lay out the pattern (maybe several versions!) with you to ensure the right look and design is the right person for the job!
Lastly, we'd love to know: do you have a #1 favorite color, shape or pattern at this point?
It keeps changing, with all the new collections that come out. I do have a fondness for the handpainted collection. Once I saw the video of the craftsperson hand painting/glazing each design into the tile, it was very inspiring. I tell clients who chose the handpainted tile that they are getting handcrafted artwork, made just for them, just for their home. That's amazing!
Tile Shown: Agrarian Collection
Inspired by this Eichler? Order color samples online now! Need some help? Simply call, chat or fill out our Design Assistance Form and one of our talented Design Consultants will get back to you shortly.
Shop the Story