Project Spotlight: Certain Standard Office Kitchen
Tile Shown: Scalene Triangle in Calcite // Design: The Residency Bureau // Photos: Meghan Klein
Seattle-based umbrella company Certain Standard gets some stylish coverage with a Scalene Triangle kitchen backsplash designed by The Residency Bureau.
For a look like this, go for our Scalene Triangles in the color Calcite!
About Amy Vroom of The Residency Bureau: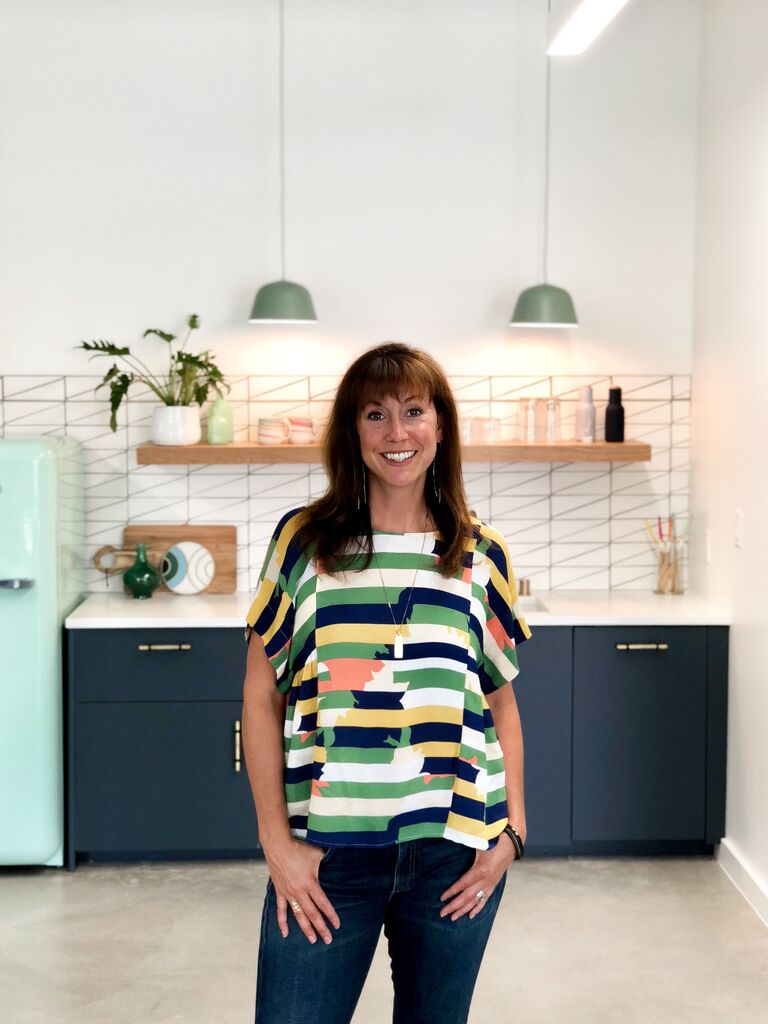 My style can be described as... Eclectic. I love mixing modern with vintage and adding little elements of surprise that make you smile.
My design philosophy is… Let your space tell your own personal story — be it a person's home or a company's office space.
I got my start in... Advertising, actually. I worked in agencies across the country and found that I wanted to create ideas of my own and bring a client's vision to life in a different way. I went back to school to get my MFA in Interior Architecture & Design and now here I am telling stories through interiors rather than ads.
I find inspiration in… Everything, really. When you put yourself out there in the world — be it travel, nature, meeting new people — you have a changed perspective about culture and humanity. I find that really inspiring both personally and professionally.
I can't live without… Lip balm. Lip balm. Lip balm. (Also wine & coffee!)
My best design advice would be… Surround yourself with things you love — art, furniture, whatever. It feels good to be around things that bring you joy and have meaning.
I love Tile because… It can be the hero of the space or a subtle backdrop. It has staying power and the possibilities truly are endless.
My favorite Fireclay color is… I love how nuanced the shades of blue are within the ceramic line. If I had to choose just one, I'd say Morning Thaw.
Tell us more about the space and Certain Standard! How did you get involved with them?
Certain Standard is a new accessories brand based in Seattle. They launched earlier this year with their first product — umbrellas. I designed their original (tiny) office space and they asked for help with this hybrid office/retail studio. They wanted to blur the lines between office and retail with a cool lounge-like space that happens to sell things. The kaleidoscope of angles you see when you open an umbrella and look underneath inspired the design concept. You see that come to life in the space planning all the way down to the design details like the tile or the bevel on the edge of the table.
What type of look or aesthetic were you going for in this commercial space?
We wanted to create a design that brought their vision to life but that introduced things they couldn't have imagined on their own. It's fresh, modern and fun but with unexpected details that tie into the craftsmanship and sense of playfulness they have as a brand.
How did you come up with your color scheme and design?
The range of colors and craftsmanship of Certain Standard's product are really what set them apart, so we wanted to provide a beautiful backdrop to let those elements shine. We mixed concrete and steel with fabric-covered walls, white oak, and leather to feel clean and contemporary, and then we peppered in fun vintage finds to play off the craftsmanship.
How did you hear about Fireclay Tile? What did you enjoy about your experience?
I don't remember when I first heard about you, but I've been a fan for a while. I love the craftsmanship you bring to all of your products as well as the diversity of shapes and color. The sustainability aspect is icing on the cake. We had stellar customer service from our first interaction and all along the way.
How did you decide on Calcite Scalene Triangles?
It was an obvious choice for us. Not only did the shape support the design idea, but we loved how it mimicked the white triangle they have on their umbrellas.
How did the installation process go? Did you face any challenges? Lessons learned?
What's that saying about lemons and lemonade? The contractor had a sub doing the tile work who did a great job with the actual install. However, it didn't align with the specs and we ended up with a smaller area than we wanted. Rather than reinstall the entire backsplash, we saw an opportunity to create a more interesting design. We added another row of tile and a second Schluter Strip to create something truly custom. Who knows, maybe the double Schluter is the next big thing in tile…
See more of Amy's design work on her website!
Need some help on your own project? Simply call, chat or fill out our Design Assistance Form and one of our talented Design Consultants will get back to you shortly.
Shop the Story