Project Spotlight: Amanda Walker's Sunroom Tile Floor
Four years ago, stay-at-home mom, Amanda Walker began redesigning her home from an outdated builder-grade house to a home that reflected her individual identity. Today, Amanda runs Dwell Aware, a DIY and design blog, to spread her unique voice and inspire others. We recently sat down with the Dallas based designer to discuss her recent ombre tile sunroom renovation as well as her best advice for approaching design.
Meet Amanda!
Can you tell me a bit about yourself and what you do? Where are you based?
My name is Amanda (Walker), and I am a stay at home mom who is also newly homeschooling. We are located in Dallas, Texas, and we bought our home over 4 years ago. While the bones were good, it was an outdated 1980's builder-grade home. We spent a month doing lighter renovations before we moved in, and have slowly continued to update our home over the past few years.
How did you hear about Fireclay Tile?
I heard about Fireclay Tile originally through following Sarah Sherman Samuel's amazing projects.
Why do you love tile?
Tile has amazing durability, so much opportunity for customization, and a type of beauty that is unmatched in certain areas of your home. Fireclay tile has incredible character and warmth in every piece they make.
Tile Shown: 8" Hexagons in Dawn, Mesa, and Red Rock
Can you tell me about the sunroom? What did you want to change about this room and why?
The sunroom area seems to have been built onto our home 25 years ago. When we were viewing the home the first time, my husband and I both did not like the space, especially since the kitchen window looks directly into this room. It was very outdated with beige walls, old aluminum windows, fluorescent light, and unappealing tile. The space felt like it cut our backyard into two different sections and had no flow. The first big DIY we did for the room was building cedar sliding barn doors, so the room could have both sides easily open. Then I painted the walls and fixed it up so we could utilize the space.
Here's the sunroom before:
How did you get involved with the One Room Challenge?
I saw a few friends talking about the ORC, and how this amazing community could help you complete a project completed by cheering each other on. I chose the sunroom for the project because, while I had worked to make it more enjoyable, I was ready to take it to the next level making it my own design in terms of architecture, color palette, and overall feel. I wanted to tile this room because it would be a great learning space for tackling DIY tiling for the first time.
Here's the sunroom after!
Tile Shown: 8" Hexagons in Dawn, Mesa, and Red Rock

What type of look or aesthetic were you going for?
I wanted to modernize the space while giving a cozy, minimalist, and artistic feel.
How did you come up with your color scheme and design?
The old tile had no coordination with the brick, which always bothered me. I knew that the exposed brick was my starting point for the color scheme. The Fireclay tile Desert Collection was the perfect starting point as so many colors within it combined so well with the brick. Once I chose the tile colors, I based my paint selections on that. Beams and arches were a big part of my design, because who doesn't want to look at them while you are washing dishes. :) I was heavily influenced by designers like Sarah Sherman Samuel, Chris Loves Julia, and Amber Interiors when coming up with the architectural changes and tile choices.
Why did you choose the blend of Dawn, Mesa, and Red Rock in the 8" Hex?
These three options blended so well with the existing brick color. In terms of the whole room, I knew I wanted a matte finish to have more grip underfoot and because a lot of light reflects into the room. I almost went with Red Rock in the whole room, but I had the idea of going darker with the ceiling early on, so Dawn just seemed like the right choice!
Tile Shown: 8" Hexagons in Dawn
Dawn had such a gorgeous color, and I loved how it changed so much depending on the day's lighting. It is such a dynamic, warm, and fresh finish.
Initially, I got the Mesa and Red Rock in smaller quantities to make some designs at the outer doorways. However, these two colors just went so beautifully with the brick that I thought it would be fun to pull in an artistic detailing with them. Once we started to layout the designs in the sun though, the heavy afternoon sun reflected off the shinier texture of the Mesa, and it was definitely a no go for there. But then I started playing around with the design in the corner of the room, and, wow, it came together so well! The Red Rock just looks so gorgeous against the brick in the corner.
How did the installation process go? Did you face any challenges? Did you work with a tile installer or contractor?
Since this was the first time for both my husband and me to attempt DIY tiling, it was a major challenge. We watched a lot of Youtube and hoped for the best. The demolition was probably the area we underestimated the most in terms of timing. Hexagons have so many angles, which I did not take into consideration when planning. Probably trying out some different spacers would have helped...either way, a few rows in I started eyeballing it and laying them without spacers. I am so happy with the result though, it is imperfectly perfect, and taught us so much about tiling and what goes into the process!
How was designing for your own home? Lessons learned?
It was really such a fun experience! Since it is basically a patio space, it was a low-risk area to have a lot of fun in designing and making it personal to our taste!
What are your 3 best design tips?
Don't be afraid to make your home what you personally want it to be! It's easy to get caught up in making a home that isn't for you, whether you are thinking about future selling or other people's expectations.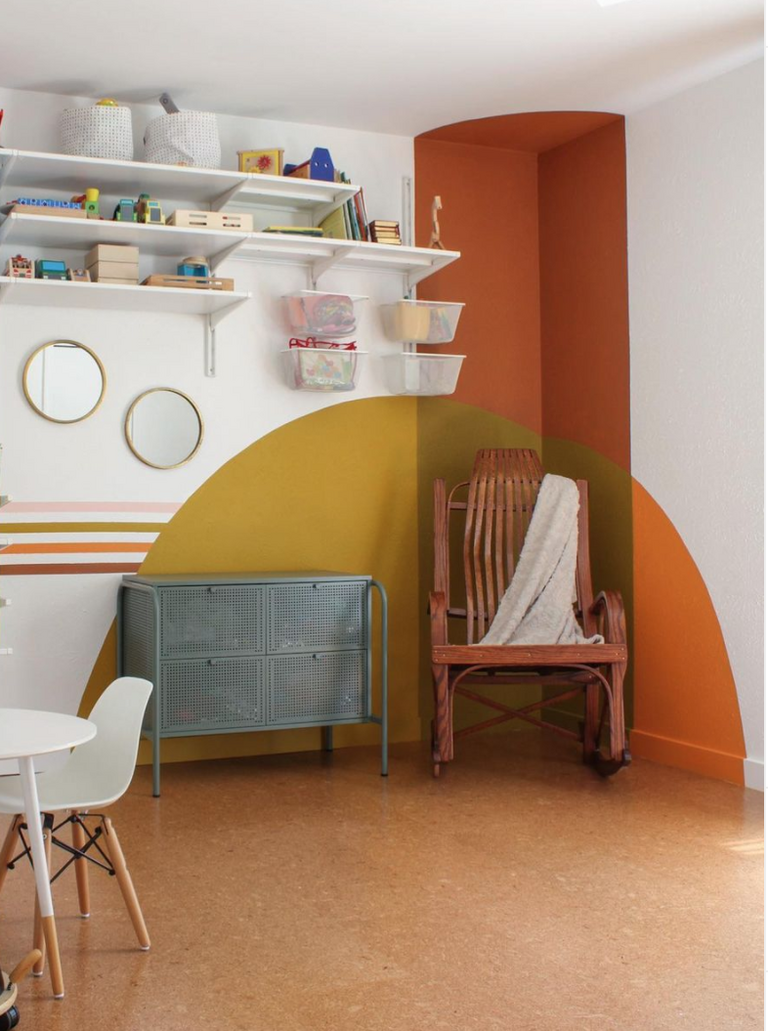 Start with inspiration from what you know you are keeping. For example, in the sunroom I knew the exposed brick was staying, so I built the color palette and designed it around it.
Building a home takes time. Don't pressure yourself to have it "all together" right now. It can take a while to figure out a space and what you truly want for it. Don't rush it! All good things take time.
What Fireclay products are you dying to use in future projects?
I am ready to bring the Desert Collection inside!! It fits our whole home vibe so well, and I am such a fan of our exposed brick that our kitchen and bathrooms are ready for the holistic transformation!
Inspired by this sunroom? Order samples online now! Need help? Simply call, chat or fill out our Design Assitance Form and one of our talented Design Consultants will get back to you shortly!
Shop the Story