7 On-Trend Pool Tile Ideas for 2023
So it's settled: you're putting in a pool this year. Whether you're a homeowner planning a backyard oasis or a commercial team looking for the latest trends in pool tile design, we're walking you through the top 7 ideas for pools in 2023.

Q&A
​​What is the Best Tile for a Pool?
Glass and Ceramic are the best tile materials for pools.
Glass tile is impervious to water and stains, and is suitable for exterior applications where temperatures may reach 122°F during the day and where there may also be a rapid cooling of temperature at night. In addition, glass tile may be used in hot pools, where it retains the strength and durability of ceramic tile and the delicate translucency of glass.
In pool applications, glass tile also has the added benefit of being resistant to chemical attacks.
Tile: Tusk 6x6, Skipping Stone 2x6 // Design: Anne Sage // Image: Echo and Earl
Ceramic tile is similarly appropriate for pools unless a glaze is noted as acid sensitive. Click here to view our pool-safe colors in our Guide to Fireclay Pool Tile. Ceramic is resistant to frost and fading, and when installed and maintained correctly it lasts much longer than other pool finishes.
What is the Best Color of Tiles for Swimming Pools?
For submerged tile, blue is typically the preferred color for two reasons. Firstly, blue is the color of the ocean, and the color our mind generally defaults to represent water. Water absorbs colors in the red part of the light spectrum leaving behind the appearance of blue. Secondly, impurities turn water a sepia tone, and cool blue tile balances the warmly toned water to appear more clear.
Tile: Azul 2x2
On the waterline or pool deck though, color choice is completely dependent on your creativity and these forthcoming ideas are sure to spark some inspiration.

Is Pool Tile Different From Regular Tile?
Our tile that is appropriate for pools is no different from the tile used for any other application. However, not all of our tile is approved for pools. Brick tile for example is not water-resistant enough for submerged use, and some of our ceramic glazes are acid sensitive.
7 Pool Tile Ideas for 2023
1. Bold Color
Whether at home or at a resort, a pool tends to be the center of attention. Bold color will only enhance this effect. Shades of blue pool tiles are obvious choices but other colors are also coming into vogue.
Tile: Koi 4x4 // Design: Handsome Salt // Image: Jenny Siegwart
This Moroccan riad-inspired pool dazzles in a bold orange tile that adds to the tropical atmosphere of this enviable backyard.
Tile: Magnetite 2x8 // Design: Amber Interiors // Image: Jess Isaac Photography
Bold black pool tile doesn't just add dramatic aesthetic value to a pool design—it can also make your pool more sustainable. Pools lined in black absorb heat from the sun, naturally warming water 5-10 degrees more than lightly colored pools. This passive heating will provide a more comfortable swim and help reduce energy use if you prefer a warmer pool.
Tile: Desert Bloom 6x6 // Design: Cassandra Winslow // Image: Nicholas Winslow
From kitchens to bathrooms to fireplaces, pink tile is having a moment and pools aren't any exception. Pink plays perfectly with water features, evoking pink sand beaches and pink tropical sunsets. It also gives a pool an undeniable boutique hotel vibe that you may wish to capture at home or, of course, at your boutique hotel.
2. Mosaics
Pools are one of the best applications for mosaic tiles. Whether using a solid color or a blend, the advantages of mosaics are numerous.
Tile: Neptune 2x2 // Design & Image: American Growers Company
First, because of their small size, mosaics are capable of the most intricate blends of color. This could be an abstract blend of blues or greens to mimic the varied tones of the ocean or a realistic graphic scene. Even a single color creates an attractive uniform grid.
Secondly, especially on stairs, spa ledges or the edges of pool decks, mosaic tiles offer added grip underfoot thanks to the increased proportion of grout lines per square foot compared to that of a larger-scale tile.
We offer mosaic shapes in both glass and ceramic.
3. Waterline Detail
Every pool surface is deserving of fine design, but where it arguably counts most is the waterline. This is the space that is most visible, being unobstructed by water and sitting at eye level when you're in the pool. Here designers will emphasize a design with an extra flourish of detail.
Specialty-shaped ceramic tile is a wonderful choice for this area. You can maintain a color motif with the interior or deck of your pool but create an eye-catching moment by opting against a standard square or rectangle.
Tile: White Wash Mini Star & Cross // Design: Jessie Lane Interiors // Image: Jess Isaac
Star and Cross Tile has been a noticeable favorite for waterlines. In this luxurious install, an admittedly attractive but not necessarily bold white becomes equally as captivating as the vibrant examples above thanks to the sophisticated pattern.
Tile: Jade 2x2, Jade Mini Star & Cross // Design & Image: Airey Baringer
Matching the jade green glaze of the stairs and extended bench, this pool also features a Star and Cross waterline, exemplifying the ability to maintain a consistent design but with an added detail where it's most impactful.
4. Elevated Water Features
Like a waterline, an elevated water feature is a great place to add detail to your pool design.
Tile: Flagstone Chaine Homme, Flagstone 6x12, Grackle Gloss 3x12, Magpie Gloss, Grackle Gloss, Warbler Gloss & Great Blue Heron Gloss 3x6 // Design & Image: Rebecca Hart
This pool features an elevated water feature clad in Chaine Homme Tile.
Tile: Lewis Range Brick // Design: BEX Studios // Image: Brittany Anne Jarman
You can also switch up the material on an elevated water feature like this pool which features a fountain clad in glazed thin brick. As mentioned above, brick isn't suitable for pool interiors but in an area that will never be submerged, it can add a refined detail to your design.
5. Contrast
Contrast is huge in pool design right now, notably checkers and stripes. There's something about the stark breaks in shade that keep the eye coming back for more. Mix in the refraction of light in water and these patterns become even more intriguing.
Tile: Dolomite & Quartzite 2x6 // Design & Image: Lindsey Hanna Design
Contrast can be bold like this greyscale design above.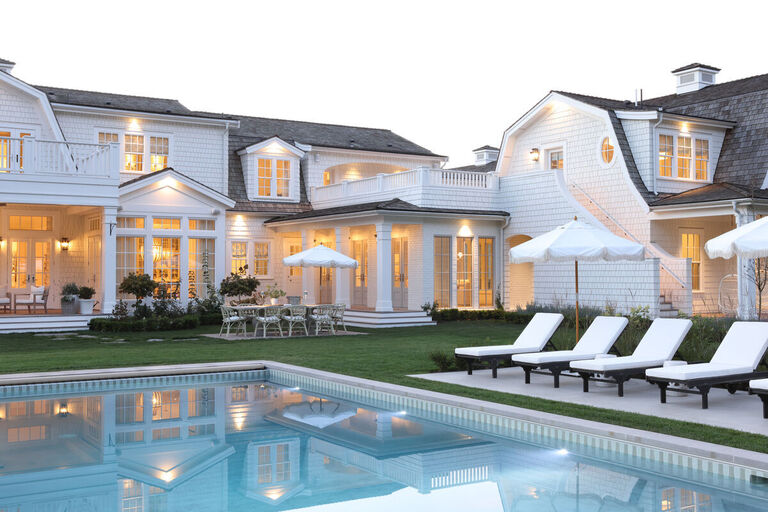 Tile: Rosemary & Salton Sea 2x8 // Design: Monika Hibbs // Image: Ema Peter
Or it can be more subtle like this waterline of alternating shades of green.
Tile: Oyster Shell, Rosemary & Salton Sea 3x6 // Design: Rachel Shaw & Duan Carnaby // Image: Rachel Shaw

You can also add visual interest by using a number of colors in an irregular arrangement like this waterline above.
6. Sun Shelves
There are many classic applications for tile in a pool with the common ones being waterlines, stairs and spa ledges. But a contemporary addition we're loving is the sun shelf. These shallow platforms sitting only a few inches below the water's surface are both a treat to use and perfect real estate for tile design.
No more sitting on a cramped first step, a sun shelf lets you laze about in spacious luxury when you're working on your tan or don't feel like going all in. We'll never complain about a new way to enjoy a pool and a new area to incorporate tile.
Tile: Carolina Wren Matte & Rosy Finch Matte 3x3 // Design: Samantha Klein // Image: Marj Cruz
We love how this sun shelf blends with the rest of the staircase leading into the pool, both in function and pattern of checkerboard glass tile. Notice how it occupies almost as much space as the adjacent spa, making it an ideal area to either spread out or socialize.
7. Compact Footprints
This tip might not relate specifically to tile but it will definitely determine how much tile you'll need for your project.
Pools come in all shapes and sizes, and for residential homes—and some hotels—an Olympic-sized swimming pool is simply overkill. If your pool doesn't need to accommodate hundreds of people or serious exercise, a compact plunge pool is an excellent choice.
Tile: Jade 2x2, Jade Mini Star & Cross // Design & Image: Airey Baringer
In some cases, a small pool is all your building site will allow and ultimately a more conservative footprint will mean a more sustainable design, using less water to fill and less energy to heat and filter.
Tile: Sand Dune & Milky Way 6" Triangle // Design: The Joshua Tree House // Image: Sara Combs and Rich Combs
Even in a commercial setting, a plunge pool–or a series of them throughout the property–will offer guests a more intimate swimming experience compared to one large central pool where everyone will congregate.

Interested in a pool design with glass or ceramic tile? Start with 5 free samples to see which is right for you.