20 Perfect Pink Tile Bathroom Ideas for 2023
There was a time in the not-too-distant past when pink was the dominant bathroom trend. Renovations through the latter half of the last century slowly chipped away at its preeminence, replaced by cooler blues, greens, and bright whites.

But design is cyclical and the pink tile bathroom is firmly back in style and better than ever, reinvented with the contemporary chops of today's best interior designers. More and more, the concept of a warm and cozy bathroom feel is connecting with homeowners, and color schemes are following in kind.
So what do the pink bathrooms of the current era look like? Here are 20 of our favorite.
1. Start with a Powder Room
Tile Shown: Rosy Finch 1x1 Sheeted // Design: Ginny Macdonald // Image: Jessica Bordner, Sara Tramp
If you're just starting to play with the pink bathroom idea, start with a small bathroom. This powder room by Ginny Macdonald is encrusted with light pink 1x1 mosaic glass wall tile with matching paint above.
2. Contain the Color
Tile Shown: Rosy Finch Gloss 2x12 & Calcite 3x12 // Design & Image: Laura Gummerman
If you're still a sucker for a bright white bathroom, consider a pink tile tub surround. This bathroom by Laura Gummerman features white walls and a white tile floor, but it's the pink glass tile tub surround that really makes it pop. The pink checkerboard shower curtain is the cherry on top to bring the pink and white together.
3. Warm it Up
Tile Shown: Evening Glow 2x8 & Antique Hexite // Design: Broad Oaks Construction // Image: Open Home Photography
The beauty of a pink bathroom is the warm and welcoming feeling. This bathroom features wall-to-wall pink thanks to aptly named Evening Glow tile and matching paint but the soothing warmth is carried to the floor as well with leathery rich Antique floor tiles.
4. Feel Like a Kid Again
Tile Shown: Rosy Finch Gloss 4x12 // Design: Oh Joy! // Image: Bethany Nauert
Let's keep in mind, pink is fun! And a bathroom designed around fun is sure to have a positive impact on your day. This kid's bathroom by Oh Joy! is a perfect example, full of joyful vibes for her daughters to start their days with.
5. Bring it up to Speed
Tile Shown: Rosy Finch Gloss 3x12 // Design: Handsome Salt // Image: Jenny Siegwart
Pink tile bathrooms might have had their heyday in the 1950s but it's primed for the contemporary era. Few capture the futuristic potential of interior design like Sara Simon of Handsome Salt, using pattern, color, and fixtures to create cutting-edge looks.
6. Keep it Simple
Tile Shown: Dawn 3x3 Sheeted & Calcite Star and Cross // Design & Image: Ashley Petrone
To let the color pink shine, consider a simple square tile in a grid pattern. This shower at Ashley Petrone's Joie Inn features 3x3 sheeted mosaic tile in a straight-set pattern. Not only is the design straightforward, but the face-taped mosaic tiles also make a perfect installation even easier.
7. Bring Back the Roaring 20s
Tile Shown: Sand Dune 1x6 Sheeted, Adobe 6x12, Dawn & Ivory 6" Hexagon // Design: Anne Sage // Image: Monica Wang
Pink was a favorite color in the Art Deco era and evidenced by Anne Sage's masterful primary bathroom design, the pairing hasn't missed a step. Two elegant shades of pink combine to cover the walls, arches, and floor of this luxurious space that lures you in for a long soak.
8. Make it Special
Tile Shown: Tumbleweed & Feldspar Mini Star and Cross, Tumbleweed 4x8 // Design: Cassandra LaValle // Image: Ellie Lillstrom Photography
In the pink tile bathrooms of the past, it was all about the 4x4. While this classic shape is still a great choice, you may be searching for something a little more refined. A specialty shape like the Star and Cross duo shown here takes Cassandra LaValle's design to the next level, especially with one-of-a-kind handmade tile.
9. Shape Shift
Tile Shown: Red Rock 3" Triangle & 2x8 // Design & Image: Dawn Stringer
Using different shapes is a great way to differentiate between areas of your bathroom, especially in open concept wet room bathrooms. This wet bathroom features dark pink Red Rock floor tile in two different shapes to cleverly frame the shower area apart from the rest of the bathroom.

10. Bring Back Pink & Black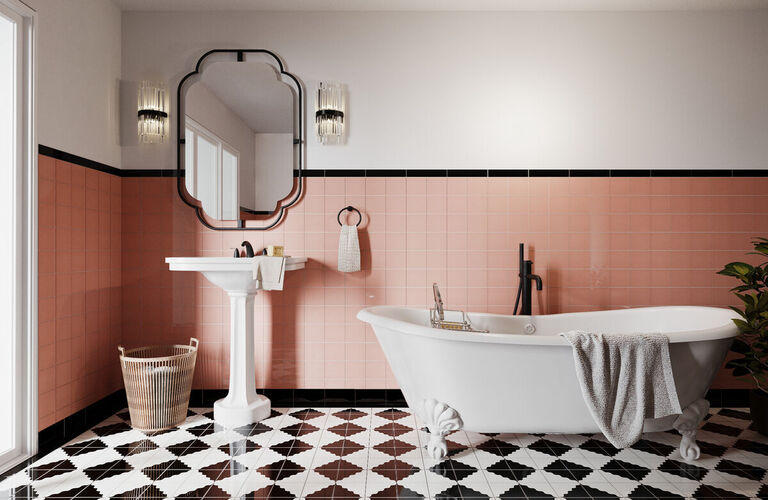 Tile Shown: Carolina Wren Gloss 4x4, Raven 2x8 & Squiggle Charcoal Motif
Another hallmark of the original pink bathroom was the pairing of pink and black. This classic combo has never looked so good with black ceramic tile framing pink glass tile with a unique squiggle checkerboard floor to finish it off.
11. Stay Neutral
Tile Shown: Tumbleweed 2x8 // Design: Hygge Supply & Hygge Style // Image: Trap Studio
While there's still plenty of bubblegum to go around (more on that later), most designers are approaching pink as a warm neutral as opposed to a bold pop color. A perfect example is this Scandinavian-inspired bathroom by Hygge Supply, bringing minimalist sensibility to this pale pink with matching grout for an even cleaner look.
12. Embrace the Shades
Tile Shown: Mesa, Painted Sky & Adobe 2x8 // Design: Jen Pinkston // Image: Katie Jameson
Pink can have many personalities and they all seem to play well together. Replacing a boring builder-grade bathroom, Jen Pinkston jumped at the chance to work with pink in all its hues, composing 3 shades of pink wall tile into a modern masterpiece with a herringbone pattern.
13. Update the Original
Tile Shown: Summit in Custom Motif, Mesa, Dawn & White Wash 2x6 // Design: Emily Harris // Image: Peter Harris
Pink tile might be most at home in a midcentury bathroom where the legend began. But instead of doing a simple reproduction of the classic, put a new spin on it to make it yours, like this midcentury bathroom featuring artistic handpainted tile in a Japanese-inspired motif.
14. Add a Spot of Yellow
Tile Shown: Fallow in Custom Motif // Design & Image: Claire Thomas
Another midcentury bathroom harnessing the originality of pink handpainted tile, Claire Thomas remodeled this bathroom with a custom colorway, introducing sunny yellow polka dots to the warm pink background.
15. Be Inspired by Nature
Tile Shown: Dust Storm 3x3 Sheeted // Design & Image: Claire Thomas
From flowers to sunsets to desert stone, pink is a color of the natural world that stops you in your tracks. So take nature's lead in your interior with a shade that matches your environment like this High Desert bathroom designed by Claire Thomas
16. Take it Outside
Tile Shown: Dust Storm 3x3 Sheeted // Design & Image: Claire Thomas
While we're talking about a bathroom that perfectly suits the pink of its surroundings, Claire Thomas's bathroom takes pink even closer to its natural setting, extending the bathroom outdoors with a private soaking tub to marvel at the mountains in the distance.
17. Add Depth and Detail
Tile Shown: Tumbleweed, Red Rock & Feldspar 2x8 // Design & Image: Jessica Jones
A shower niche is a perfect place to play with shading. This soft pink shower by Jessica Jones features a shower niche in rouge Red Rock to highlight the different dimensions and add a fabulous focal point.
18. Feel Floral
Tile Shown: Dawn, Vintage Leather, Tusk & Basalt 4" Hexagon // Design & Image: Claire Thomas
Feel like filling your bathroom with flowers that are always in bloom? Try this design by Claire Thomas that uses an array of 4" Hexagon tiles to create a graphic floral pattern throughout the space.
19. Be Bold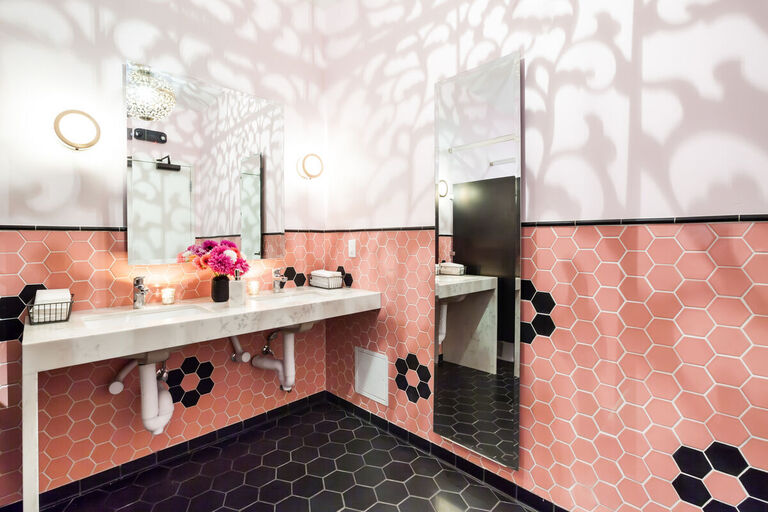 Tile Shown: Custom and Basalt 4" Hexagon // Design: Boor Bridges // Image: Patricia Chang
We said it wasn't all about bubblegum pink but there's still room for bold color in the new era of pink bathrooms. Mister Jiu's in San Francisco treats guests to this classic combo of pink and black using a bright pink matched with graphic rings of black hexagons.
20. Check Out Tonal Checkerboard
Tile Shown: Red Rock & Antique 8x8, Tumbleweed 2x8 // Design & Image: Madelynn Furlong
Checkerboard is another classic design having a major moment, so incorporate the timeless pattern in your pink bathroom with tonal pink and brown floor tile like Madelynn Furlong did at Saint Paul's Myrial Restaurant.
Think pink has a place in your next bathroom design? Our design consultants can help make it perfect with handmade tile and our free design services. Reach out to be connected with your personal consultant today!