Modern Pool Waterline Tile Ideas for 2023
If you're planning on building a pool, the most impactful design detail is arguably the waterline. It's the space in your pool unobstructed by water and lines up with your line of sight when you're swimming. While some will choose to tile the entirety of their pool, many are content with a concrete pool with a decorative waterline.
For those in the latter group, let's take a look at our top modern pool waterline tile ideas for 2023.
FAQ
What tile is best for a pool waterline?
Ceramic and glass tile are the two best choices for a pool waterline. Glass in particular is impervious to water, won't fade and is resistant to the chemicals many pools use. Ceramic offers a broader range of colors and sizes to choose from. Some ceramic glazes are noted as acid sensitive so be sure to check our Color Guide or consult with your design consultant.
What is the trend for pool tile in 2023?
The biggest trend we're seeing in pool tile ideas right now is contrast, specifically checkerboard and stripes. Uniform patterns of light and dark, complementary checkered patterns and random arrays of slightly varying shades are all easy eye-catchers that work well on pools.
Additionally, we're seeing fun pops of color featured exclusively on the waterline, especially pinks and greens, that bring that a boutique hotel vibe to your own backyard.
What are the most popular waterline tiles?
Mosaic tiles and specialty shapes are perfect choices for waterline pool tile. Remember, the most common size for a swimming pool is a 16x32' rectangle. If you're tiling 6" of waterline, that's only 48 square feet of tile for the entire pool, making high pricepoint tiles like mosaics and specialty shapes a realistic splurge.
Does waterline tile change pool color?
In certain light, waterline tile will have an influence on the reflection of the water adjacent to the waterline, but the color of your waterline won't extend very far beyond the perimeter of the pool. The bigger influence over the color of the pool will be the submerged surfaces, whether that's tile, concrete, vinyl or fiberglass, as well as several colored light options available.
Checkerboard
It's common knowledge that checkerboard is having a major moment in design right now. But unlike other trends that rise and fall in spectacular fashion, checkerboard has never really gone out of style. This consistency is why we've seen so many permanent tile installations going with the pattern and not just replaceable details like pillows or rugs.
Tile: Basalt 3x3, Feldspar 3x3 // Design & Image: Ashely Petrone of Arrows & Bow
The classic black and white checkerboard design is instantly eye-catching, which is exactly the intended purpose of a decorative waterline. We love how the speckled concrete is a subtle callback to the high-contrast tile design.
Tile: Dolomite 2x6, Quartzite 2x6 // Design: Lindsey Hanna Design // Image: Texas Tiny Pools

Refracted light passing through water bends these contrasting patterns to add even more visual interest to your pool. This checkered waterline that extends down the pool stairs bends and breaks with the ripple of the water making the uniform pattern play tricks on your eyes.

Stripes
Similar to checkerboard, stripes are a trend that isn't just trendy. The best part is there are so many ways to play with this simple pattern. Contrasting or complementary colors, uniform or varying thicknesses of bands, sequential order or sporadic, it's all up to you and every decision will produce a distinctly different design that reflects your style and the setting of your pool.
Tile: Rosemary 2x8, Salton Sea 2x8 // Design: Monika Hibbs // Image: Ema Peter
This pool features a striped waterline of two complementary shades of green for a subtle but no less striking design that reflects the beautiful landscaping and scenery of this Northwest coastal home.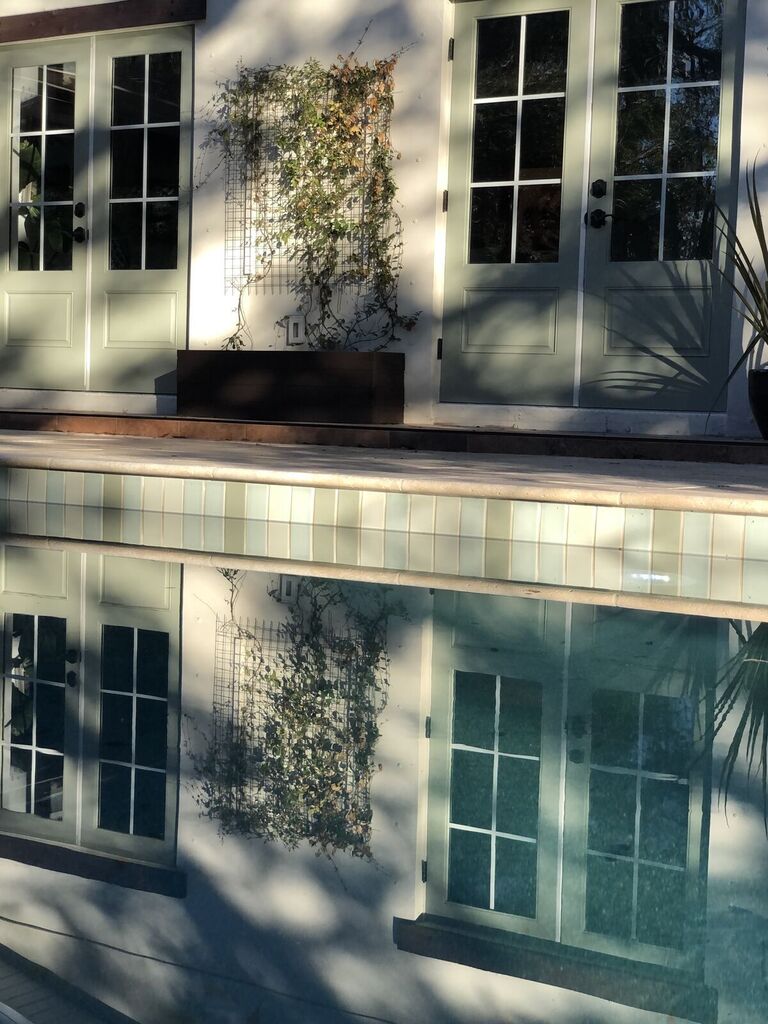 Tile: Oyster Shell 3x6, Rosemary 3x6, Salton Sea 3x6 // Design: Rachel Shaw & Duan Carnaby // Image: Rachel Shaw
Segueing to a pool with a similar color palette, you'll see how switching up the order of your stripes can completely transform the look and feel of your design. The random arrangement of this waterline mirrors the colors of the home while adding an artistic element that helps the tile stand out.
Tile: Flagstone 6x12, Grackle Gloss 3x12, Magpie Gloss, Grackle Gloss, Warbler Gloss & Great Blue Heron Gloss 3x6 // Design & Image: Rebecca Hart
This style can be easily executed with glass pool tile as well thanks to the broad range of colors available, like the green and blue tile seen here. Not only can you play with color, but every shade of glass tile we offer also comes in both gloss and matte finishes with one reflecting light and one diffusing it which could make for a very intriguing design moment.
Tile: Tusk 6x6, Skipping Stone 2x6 // Design: Anne Sage // Image: Echo and Earl
Finally, the thickness of each band of stripes is up to you too. This pool sticks to two alternating glazes of tile but adds an element of play by featuring a narrow band of dark tile every fourth stripe. The result is a waterline that is both orderly and pleasantly surprising.
Pops of Color
The beauty of pool waterlines is the fact that it stands apart from the overall pool design while tying it all together. A fresh pop of color is sometimes all you need to pull it off. When choosing your color, consider the setting of the pool, the accessories surrounding it, other shades of tile in the pool, the style of home, or simply the mood you wish to create.
Tile: Rosemary 3x12, Peabody 3x12, Mustard Seed 3x12 // Design: Studio Collab // Image: Stephan Paul, Studio Collab
This green waterline is styled with a definitively modern 3x12 tile that perfectly captures the desert setting that surrounds it. The yucca-colored green glaze vibes with the cactus spine yellow pool spa ledge without matching it.
Two tones of green (light above water, dark below) accentuate the color shift of the submerged tile.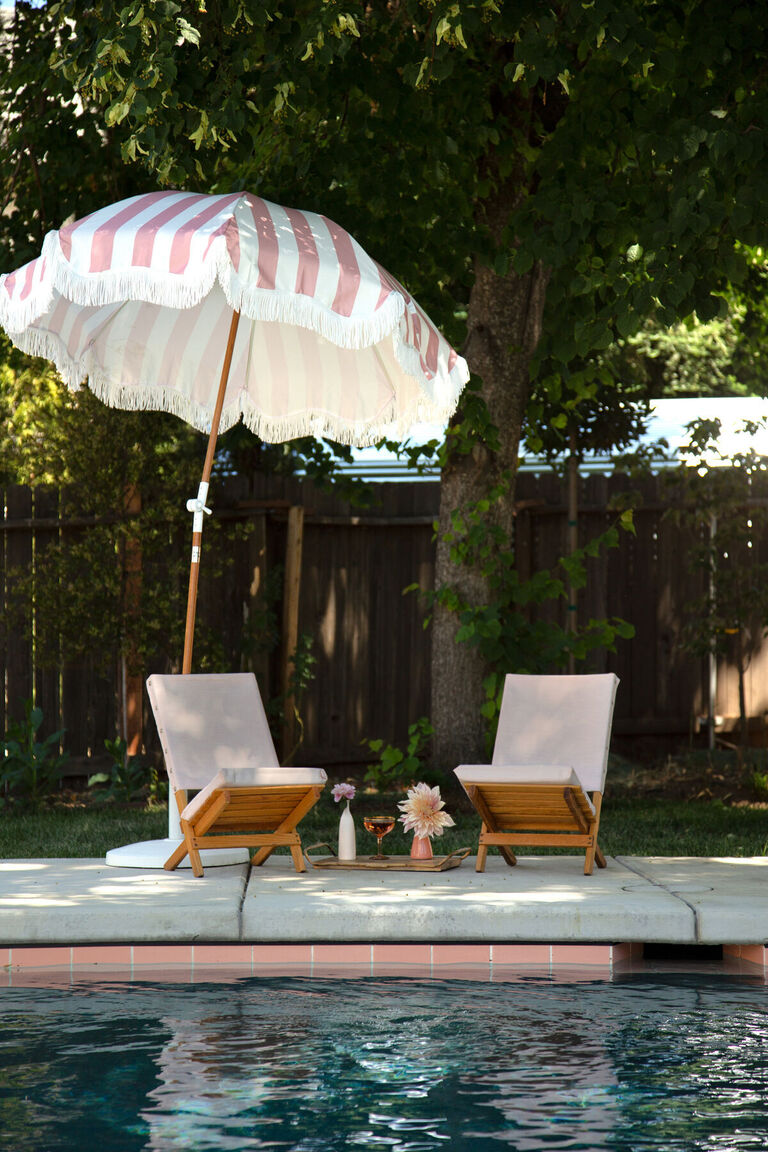 Tile: Desert Bloom 6x6 // Design: Cassandra Winslow // Image: Nicholas Winslow
Another idea that's permeated through all of design, be it bathrooms or kitchens or beyond, pink tile most definitely has a place in pools as well. Like bathrooms, while greens and blues have dominated wet settings for decades, warmer, more vibrant colors like pink are popping up much more frequently.
This pool's pink waterline gives it a novel boutique hotel attitude that transforms the look of the pool with a very conservative amount of tile.
Tile: Koi 4x4 // Design: Handsome Salt // Image: Jenny Siegwart
Like pink, orange is another vibrant shade that will completely pop on a pool waterline. Orange is the polar opposite of blue on the color spectrum and featuring orange tile against the blue-hued water of a pool will give your waterline a truly captivating character, not to mention a vibrant tropical feel.
Tile: Magnetite 2x8 // Design: Amber Interiors // Image: Jess Isaac Photography
Do you need a bright color to make a pool waterline pop? Not necessarily. Subdued, sophisticated accents are just as capable of capturing your attention. A dark tile is a dapper way to decorate a pool waterline, especially if it's surrounded by lighter concrete in the pool and adjacent pool area.
Specialty Shapes
So far in this roundup color has been the mode with which waterlines are given pattern or accent, but tile shape is equally impactful. A unique shape of tile is an excellent way to set a waterline apart while incorporating it into the overall design of your pool.
Tile: White Wash Mini Star & Cross // Design: Jessie Lane Interiors // Image: Jess Isaac
White gets a wow factor when it's styled on a decorative Star and Cross tile. The intricate interlocking tile not only adds visual interest but can help incorporate the style of Moroccan or Spanish Revival homes in the pool.
Tile: Jade 2x2, Jade Mini Star & Cross // Design & Image: Airey Baringer
A specialty shape is perfect for waterlines where you want a single color flowing throughout the whole pool. In this case, it's Jade green, but where other elements are clad in mosaic 2x2 tiles the waterline gets the special treatment of Star and Cross.
Tile: Sand Dune 6" Triangle, Milky Way 6" Triangle // Design: The Joshua Tree House // Image: Sara Combs and Rich Combs
Same goes for if you're skewed toward neutral colors. This pool set in the sun-baked desert and surrounded by bleached-out natural stone could do no better than the beige neutrals the owners selected, but specifying triangles gives the waterline a decorative diamond pattern that elevates the design more than standard field tile in the same shades.

Glass Mosaics
Lastly, glass mosaic pool tiles are a gorgeous choice for pool waterlines. From an aesthetic point of view, a waterline is where you're going to get the most out of glass tile's glistening quality as sunlight bounces off the water just below the installation.
From a budget standpoint too, since glass mosaics are among the most expensive tiles, the waterline doesn't require a budget-busting amount of square feet to give the entire pool the luxurious look of glass.
Tile: Dove Gloss 1x1 // Design: Becki Owens // Image: Rebekah Westover Photography
Whether you're creating a unique and colorful pattern or keeping it conservative with a minimalist white motif like this pool here, glass mosaic tile really goes a long way in this one location.
There you have it, our favorite tile design ideas for a modern pool waterline. Order free samples of your favorite, or reach out to our Design Consultants for free 1 on 1 design assistance!