Installation Stories: Industrial-Inspired Lakeside Retreat
By Kali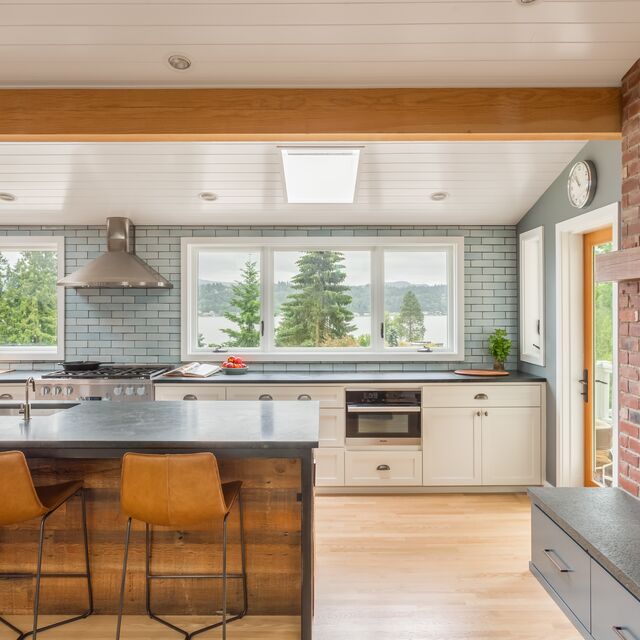 All Images: Holland Photography
Industrial style meets coastal bliss in this lakeside kitchen. Designed by Harmony Weihs, the lead designer of DesignHARMONY, this kitchen underwent quite the transformation to become the light and bright space her client's wanted. The seattle couple wanted to use as much reclaimed materials as possible, so our Glazed Thin Brick in Blue Nebula was a natural choice. We talked with Kate Savitch, one half of the due behind DesignHARMONY, about this project below:


First, can you tell me about about yourself and your firm?

KS: We are the duo of designHARMONY. Harmony Weihs is our lead designer and owner and I am our project manager. Together we design and execute full room designs and remodels throughout the Seattle area.
Can you tell me about this home? Is there a story behind the project you'd like to share?
KS: This home was purchased by a husband and wife and their two pre-teen children in the Mercer Island area of Washington. They loved their proximity to Lake Washington but their views and functionality were really under utilized in the previous space.
Here is the kitchen area before:
What type of look or aesthetic were you and your client's going for in this kitchen?
KS: The clients wanted light, bright and as much reclaimed materials as possible. Your thin brick, the wood on the island and the fireplace brick and pantry brick are all reclaimed materials.
How involved were your client's in the design process?
KS: Our clients definately had a feel they wanted to achieve in the space but like most of our clients, weren't sure how to get there. They are also both working parents so didn't have the time to manage a project of this scale. Harmony created the overall design plan and then we tweaked the design as the space came together. For example, our clients wanted all the walls to be white. We pushed them to paint the accent wall a dark color to hide the TV a bit and make both the backsplash and fireplace brick really pop in the space.
What made you and your clients choose our Glazed Thin Brick?
KS: Our clients were set on a blue/gray tone in their kitchen based on our design, but wanted something that had visual and textural interest beyond just a standard ceramic or porcelain tile. They also wanted something handmade and preferably reclaimed. I came across your site while sourcing product for them and it was perfect in all aspects for their design.

How about the color Blue Nebula? Were there other contenders?

KS: I think we looked at every shade of blue to gray you have in the thin brick but Harmony knew the minute she saw the Blue Nebula that it would be perfect. We gave the clients three options and this is what they both agreed on.
How did the installation process go? Did you face any challenges?
KS: We have an amazing tile installer! The process went very smoothly. The only challenge was the range hood needed to be completely flush to the wall VS sitting on top of the brick due to the venting location and the thickness of the brick (we raised the ceiling height in the space from a flat almost 8ft to a pitched almost 11ft). This meant a little more grout around the hood vent then we normally like to see but I don't think anyone but a well trained eye would notice.
Shout out to Kozac Construction LCC for the beautiful installation!
Lastly, what shapes or colors are you hoping to use in future projects?
KS: We wold love to use some of your more unique geometric shaped tiles on a future projects and love that we have the option of something classic like White Wash and something bold like Daffodil.
Tile Shown: Hexite in White Wash
Inspired by this lakeside kitchen? Order color samples online now. Need some help? Simply call, chat or fill out our Design Assistance Form and one of our talented design consultants will get back to you shortly.
Shop the Story