Image: Style by Emily Henderson, Photo: Jess Isaac
Emily Henderson's master bathroom remodel is most certainly a show stopper. Stylist, author, HGTV host and mom of now two babes (congrats!), Emily describes her gorgeous bathroom as, "....modern with a (strangely) heavy dose of traditional, and a lot of fresh happiness." We couldn't agree more with the bit about happiness. Featuring our Ogee Drop tiles in Crater Lake, the final result is cheerful, colorful and chic.
We're sharing Emily's incredible master bath makeover photos, along with a few of one of our favorite tastemaker's musings:
Image: Style by Emily Henderson, Photo: Jess Isaac
The Goal: "The goals were simple – to make it feel new, fresh, happy and modern, but with some quirk and interest that keep it from being too predictable 'mid-century' and certainly far from generic. Oh and whatever we did, I had to make sure that it was going to feel as big as possible."
The Final Result: "The best thing about the bathroom is how big and airy it feels for being so tiny. It has character (THAT TILE, those faucets!) but since they are fairly simple in color and pattern it keeps that open feeling. Everything is light, more tonal and clean which allows for the space itself to feel as open and wide as possible...as I use this bathroom I can't control my excitement at the way that it looks and makes me feel."
Just look at this before and after of the vanity area and you'll see what she means: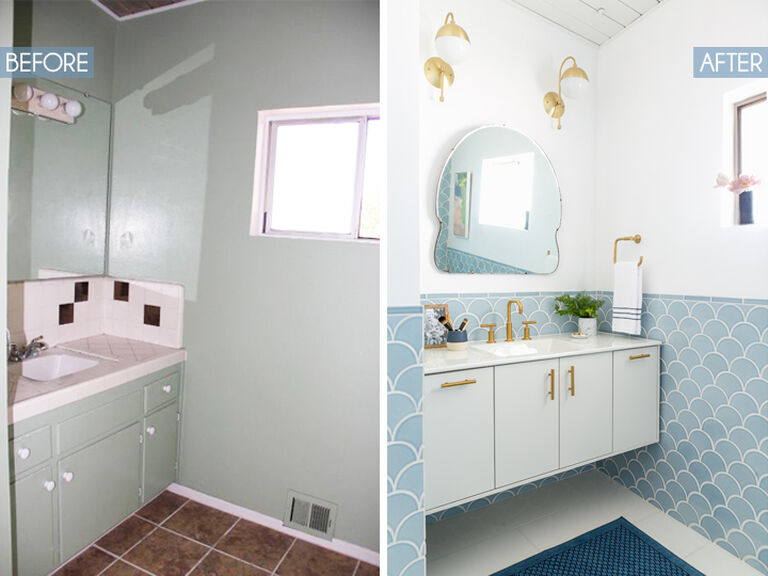 Image: Style By Emily Henderson
Touches of Traditional: "As things were coming together I kept being struck with this thought – man, this bathroom went way more traditional than I expected. This is certainly not a bad thing, AT ALL, as I love classic, traditional design...."
Tile Design Solutions: "Tiling 1/2 of the wall is inherently more traditional and less 'mid-century' or contemporary. I loved the idea of the whole bathroom being tiled, but floor to ceiling on all walls seemed a little much. So we chose to do half of the wall. For a more modern look we could have done just the bathtub wall (and return) and behind the vanity with nothing on the other walls. Because of the 1/2 wall we had to add bullnose tile on top which makes it a bit more traditional as well."
Image: Style by Emily Henderson, Photo: Jess Isaac
All we can say is WOW to the below before and after:
Image: Style By Emily Henderson
Image: Style by Emily Henderson, Photo: Jess Isaac
Choosing the Right Tile: "There are 1 million tile options out there. I felt pretty overwhelmed at where to start but I knew that it was going to be the most important thing. I toyed with cement tiles, but ultimately I didn't think the small room could handle a pattern – it needed to feel as big and clean as possible. A heavy pattern could be totally fine on the floor, but not on the walls. I find that the cement tiles are hard to mix with other tiles – it's almost like they are so handmade and matte looking that you have to mix it with a solid version of that same tile – which is certainly a good option, or a big stone slab – something super simple. I started looking around at the options, when I found Fireclay and fell in love with their fresh patterns in very simple finishes."
Image: Style by Emily Henderson, Photo: Jess Isaac
Tile Shown: Ogee Drop in Crater Lake
Why Ogee Drop? "I leaned towards using a their scallop pattern (they call it the Ogee Drop) as it's happy, airy, tonal and classic. You can also mix the tiles up so you have multiple colors. While browsing through the internet I had found a lot of other scallop patterns on the market and they looked either very cheap or they were insanely expensive, so Fireclay's were the perfect option. They look handmade but have a more classic and clean feel than the other scalloped cement tiles I had seen."
Image: Style by Emily Henderson, Photo: Jess Isaac
Why Crater Lake? "It was the perfect pale blue that had enough color to create an impact but it wasn't so saturated that it would still allow the light to bounce around the room."
Image: Style by Emily Henderson, Photo: Jess Isaac
Image: Style by Emily Henderson, Photo: Jess Isaac
Are you in love with Crater Lake too? Order samples online now! Need some help? Simply call, chat, or fill out our Design Assistance Form and one of our talented Design Consultants will get back to you shortly.
Shop the Story