How to Pull Off Transitional Design Style Like A Pro
If you feel that classic traditional style is a little too formal but modern design is slightly too austere, allow us to introduce you to the beauty of transitional style.
This fluid design style takes the best of both worlds, old and new, to create spaces that are casual yet polished. Popularized by brands like Pottery Barn and Crate & Barrel, transitional design is approachable and inviting–and easy to adapt!
Tile: Star & Cross in Frost // Design: KJ Design Collective // Image: Vanessa Diaz
Follow these five simple rules to pull off transitional style in your own home like a professional.
1. Blend the Past with the Present
The very first thing to know about transitional style is that it's a combination of modern and traditional design. Although traditional and modern styles may seem opposing at first glance, these two styles complement each other beautifully–and are surprisingly easy to blend.
Modern design is softened with the addition of traditional elements, while traditional curves and soft edges shine when placed next to clean-lined modern pieces.
Tile: Chaine Homme in Magnolia // Design: Brownstone Boys // Image: Nick Glimenakis
The trick to blending traditional and contemporary styles is to not go too extreme with either style. Choose pieces that balance well–a transitional living room may include a grander sofa with a modern light fixture, or sleek accent chairs next to a classic fireplace.
Tile: 2x6 in Feldspar // Design: HIR A+D // Image: Kevin Scott, Willie Cole, Hannah Robertson // Installer: Tallman Segerson Builders
2. Craft the Perfect Palette
Transitional's color palette consists of warm neutrals and lighter shades, often accented by pops of color such as rich brown, deep blue, or verdant green. Transitional spaces are often tonal and toned-down, but not always.
This kitchen is a great transitional example. Warm white cabinets are accented with pops of slate blue from the horizontal tile stripe running through the backsplash and coordinating island. And notice how the backsplash turns a classic tile pattern on its head–literally–with a playful row of horizontal tile.
Tile: 2x8 in Tusk and Nautical // Design: Colossus // Image: Stephanie Russo
The bathroom below incorporates more color into its transitional palette with a tub surround of soothing green tile. Next to the modern tub, built-in shelves display a curated assortment of traditional-style decorating pieces including an antique stool.
Tile: 3x6 in Rosemary // Design: Sarah Montgomery Design // Image: Margaret Rajic
The great thing about tile is that you can use it as a neutral element in your transitional space or as a pop of color, so we've put together our favorite transitional tile picks that include an array of soft neutrals and complementing accent colors. Sample them all here!
3. Don't Forget Texture
With its streamlined silhouettes, pared-down decor, and a general lack of busy prints, transitional leans on the minimal side–so it needs visual interest in order to stay out of bland territory. Enter: texture.
Tile: Star & Cross in Sand Dune // Design: The Blooming Nest // Image: The Blooming Nest, Regan Mauck
Incorporate texture through transitional decorating elements, like boucle accent chairs, chunky blankets, and glass side tables, or more permanent aspects like crown molding or, you guessed it, tile installations.
We love how the transitional kitchen below uses texture in two major ways, first with the wood accents on the island and then again with the gorgeous light green Mosaic Tile backsplash.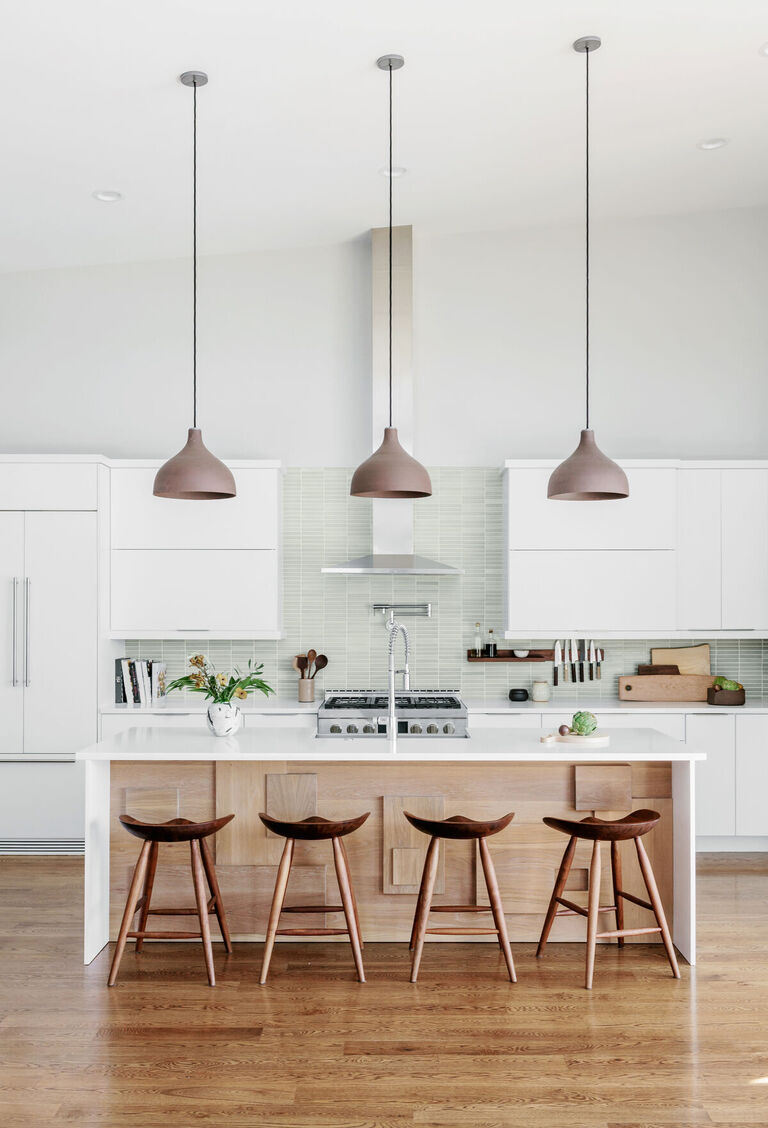 Tile: 1x6 in Eucalyptus // Design: Annabode // Image: Brandon Lopez
4. Get Comfortable
Transitional spaces should feel warm and polished, but more than anything they should feel comfortable! This style is especially popular for living rooms and bedrooms since traditional couches and beds tend to be on the grander side.
The living room below features an inviting, rounded couch while the sleek lines of the accent chairs are softened with thick cushions (and don't miss the splash of regal evergreen from the Star & Cross backsplash in the adjoining kitchen!).
Tile: Star & Cross in Evergreen // Design: Megmade // Image: Erin Konrath Photography
Of course, comfort doesn't have to mean fluffy, oversized furniture. Creating a space that calms your senses and allows you to relax thanks to the design choices is another way to bring transitional style home, like the cozy herringbone tile nest that surrounds the soaking tub in this bathroom.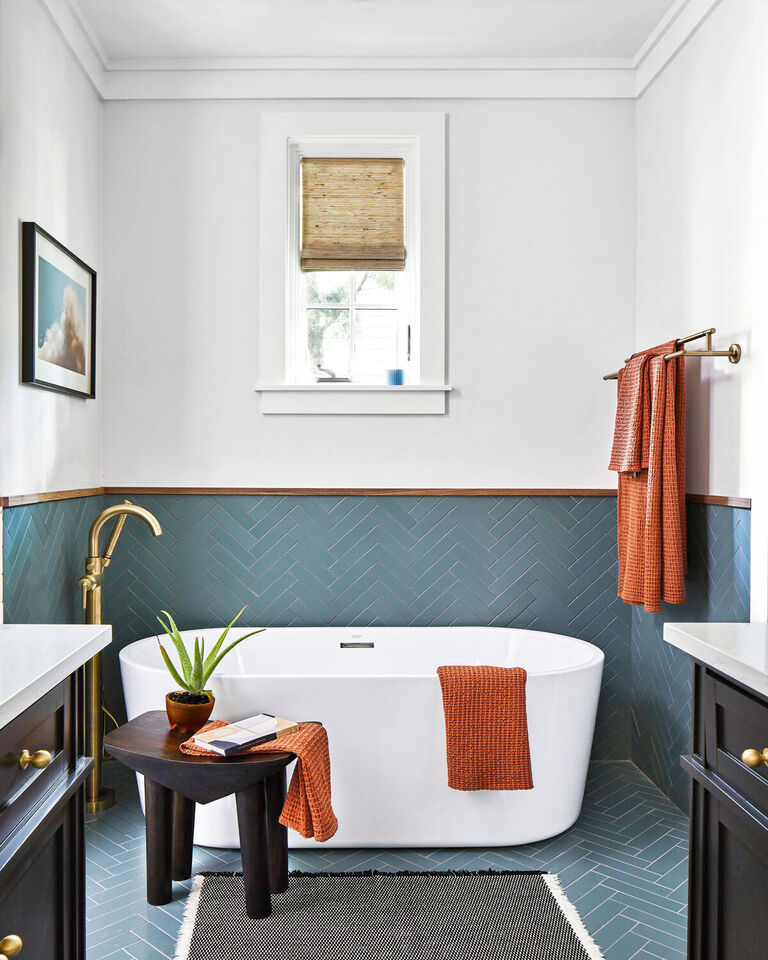 Tile: 2x8 in Flagstone // Design: Banner Day Interiors // Image: Laurey Glenn
5. Make it Your Own
The beauty of transitional design is that it's an incredibly dynamic and adaptable style. Since it incorporates ever-changing contemporary elements, transitional design evolves with current trends–meaning there are endless ways to express it.
Play with palettes to find your perfect color story. In the space below, the classic oval dining table and slipcovered chairs are strikingly paired with a soft purple backsplash of modern Hexite Tile for a one-of-a-kind transitional result.
Tile: Hexite in Dust Storm // Design: Regina Garcia Design // Image: AIR Design Photography
Transitional done right: we love how this kitchen pairs traditional marble countertops with a modern stacked tile backsplash, while light wood cabinetry and contemporary pendants beautifully tie the room together.
Tile: 2x8 in Driftwood // Design: Evgenia Merson Design // Image: SEN Creative
Because transitional is so personal, it's easy to fall in love with. Simply pick and choose your favorites, like the bathroom below that created a traditional tile rug with modern elements like black hardware to create a space completely unique to the homeowner.
Tile: 4x4 in Shetland Wool, 2x2 Sheeted and 6x6 in Ivory, 3x6 in Tusk, Seville in Neutral Motif // Design: K.Squared Design // Image: Sierra Ann Photography
Have you fallen in love with transitional design yet? Bring home up to 5 free samples to preview transitional tile in your space. And don't forget, we can help bring your transitional dreams to life with our free design assistance.