15 Herringbone Shower Tile Ideas From Subtle to Sumptuous
Herringbone is an all-time classic pattern that adds intricacy and elegance to any design. The angled pattern also has the effect of making a space appear larger so it's no wonder herringbone works so well in showers.
A herringbone pattern can be done with a number of sizes, colors and arrangements of tile, each achieving its own look and feel. Today we're looking at 15 unique ways to turn out the perfect herringbone tile shower.
Q & A:
What is a Herringbone Tile Pattern?
A herringbone tile pattern features rectangular tiles that meet perpendicularly at the ends to create a V shape. A 90 degree herringbone will have angles perpendicular to the edges of a shower's ceiling, floor and walls while a 45 degree herringbone will be oriented diagonally.
The 90 degree pattern will require fewer custom cuts along base of the pattern.
Is Herringbone Tile Outdated?
The herringbone pattern has been used in design since the Romans used it to build roads. That it's still popular today after nearly 3 millennia is a testament to the pattern's staying power and timeless appeal. While herringbone can be done with a classic or traditional look, designers are constantly innovating the pattern with contemporary sensibilities.



1. Accent Stripe
The epitome of modern minimalism, this bright white wet room bathroom needed an accent to add dimension to the borderless bathroom. A strip of 45 degree herringbone in complementary light grey lends a hand framing the window and subtly differentiating the shower area from the rest of the room.
Tile Shown: French Linen 2x6 // Design: The Ranch Mine // Image: Roehner + Ryan
2. Full Coverage
On the other hand, who needs to worry about edges when the pattern wraps around your entire bathroom. This shower features a seamless design of 45 degree herringbone in clean white with a grey grout that matches the glaze on the shower pan tile and adds a slightly more noticeable outline to the herringbone pattern.
Tile Shown: White Wash 2x6, French Linen 2x2 Sheeted // Design: Becki Owens
3. Cohesive Complement
Impressive on its own, this 45 degree herringbone shower tile draws on other elements in the bathroom to bring the entire design together. The tile color is consistent with the countertop on the double vanity and the herringbone pattern is echoed on the tile rug on the bathroom floor.
Tile Shown: French Linen 3x12, Mist 2x4 Sheeted // Design: Linda Nguyen // Image: Doodiebearz Photography
4. Tasteful and Trimmed
Another subtle styling of 45 degree herringbone but no less impressive, this bathroom features warm white glaze and a matching grout for a pattern that's apparent but not obtrusive.
You'll also notice the use of flat liner trim around the edges. While trim can clean up the ends of any tile installation, the tight cuts of a herringbone pattern makes trim even more advantageous.

Tile Shown: Tusk 2x6, Tusk 1x6 Flat Liner Long Glazed Edge // Design: Mark Davis Design // Image: Luis Costadone

5. All the Angles
Can you count all the angles in this bathroom design? From the geometric wallpaper to the picket mirror to the hexagon floor this design is punctuated by the 90 degree herringbone shower tile with its well-defined grout lines.
Tile Shown: White Wash 3x6, White Wash 2" Hexagon Sheeted // Design: Whitney Leigh Morris // Image: Monica Wang Photography

6. Second Impression
There's no question that the first impression of this bathroom is the beautifully retro hand painted floor tiles, but that doesn't mean the shower needs to go unnoticed. The sophisticated 45 degree herringbone shower tile in crisp white with moderate outlining makes sure that the shower is just as memorable as the rest of the bathroom.
Tile Shown: White Wash 3x6, Mazagan Neutral Motif // Design: Kate Lester Interiors // Image: Gray Malin

7. Bold Lines
With a high contrast theme throughout the bathroom, this shower features white tiles in a 45 degree herringbone pattern accentuated by the bold black grout making the herringbone even more recognizable.

Tile Shown: Calcite 2x8, Basalt 8" Hexagon, Basalt 3" Hexagon // Design: Hygge & West
8. Brick Beauty
This shower has a distinctly rustic quality with the wood plank ceiling and of course the brick herringbone tiles. Glazed Thin Brick in a cool grey finish features high color variation to add intricacy to the design and texture that only brick can capture.

Tile Shown: San Gabriel Brick // Design: Sara Combs and Rich Combs // Margaret Austin Photography
9. Depth of Field
This elegant shower shows off its depth with large scale herringbone tile in a dramatic black glaze. The 45 degree herringbone pattern adds dimension to the dark shade and the 3x12 tile and the choice to carry the pattern across the whole floor and not just the shower elongates the design to highlight the length of the bathroom.
Tile Shown: Basalt 3x12 // Design: Megan Low // Image: Melati Citrawireja
10. Mosaic Magic
Conversely, small herringbone tiles, like the black 1x6 mosaic tiles featured here, are a smart choice for a shower floor since the increased number of grout lines compared to a larger format tile increases the traction underfoot when things get wet and slick.
Tile Shown: Basalt 1x6 Sheeted // Design & Image: Shavonda Gardner

11. Color Confetti
While the uniformity of herringbone is appealing, you can have fun with the pattern by randomizing the colors throughout the design. This 90 degree herringbone shower shows off three shades of pink with a scattered array that's reminiscent of falling confetti.

Tile Shown: Mesa, Painted Sky & Adobe 2x8 // Design: Jen Pinkston // Image: Katie Jameson
12. Modern Glass

The cutting edge look of glass tile goes perfectly with the sharp angles of a herringbone pattern. This seamless shower and bathroom wall design makes herringbone look even more alluring with a bold matte blue colorway with high contrast white grout lines.
Tile Shown: Blue Jay Matte 3x12 Glass, 1x1 Glass, 4x12 Glass // Design: Ginny Macdonald // Image: Sara Tramp

13. Coastal Charm
This shower hits all the right angles thanks to long 3x12 tiles in a 90 degree herringbone pattern. The cool green colorway gives off a fun coastal vibe that's a perfect accent alongside the natural stone tiles throughout the rest of the shower.
Tile Shown: Tidewater 3x12 // Design: TVL Creative // Image: Rinse Studios

14. Wild Style
Beautifully bohemian, this tub surround takes herringbone to the wild side with Justina Blakeney's signature jungalow style. Surrounded by live edge wood, tropical plants and handpainted tile within the decorative niches, this 45 degree herringbone pattern in a vibrant green glaze gives off the look of woven grass.
Tile Shown: Custom Elephant Star, Tidewater 2x8 // Design & Image: Justina Blakeney
15. Luxe Looks
A maximalist masterpiece, this luxurious shower turns the 45 degree herringbone pattern up to a 10 with a gorgeous glossy green glaze, accentuating white grout and even a 90 degree herringbone tiled ceiling. The brass hardware and digital control panel are the cherry on top of this opulent shower.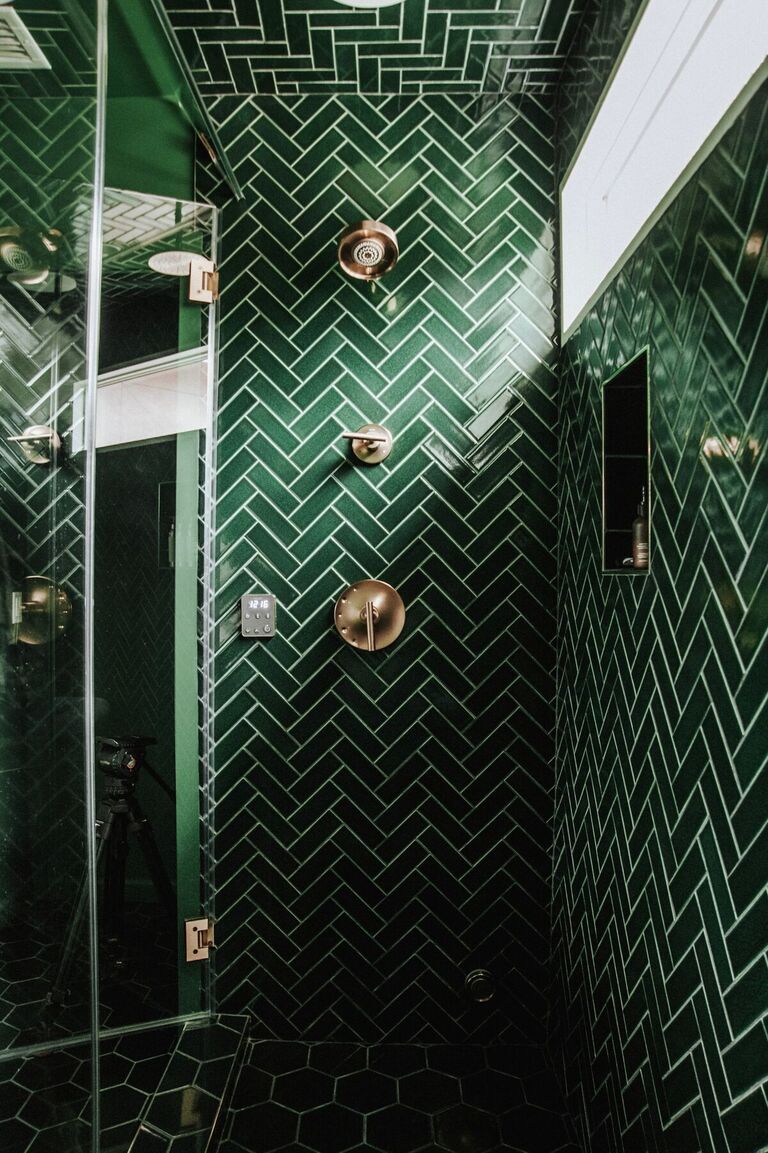 Tile Shown: Evergreen 2x6 & 6" Hexagon // Design & Image: Claire Thomas

Ready to bring herringbone into your next shower design? Get in touch with our Design Consultants for free personalized design assistance including sampling, estimating, renderings and ordering.