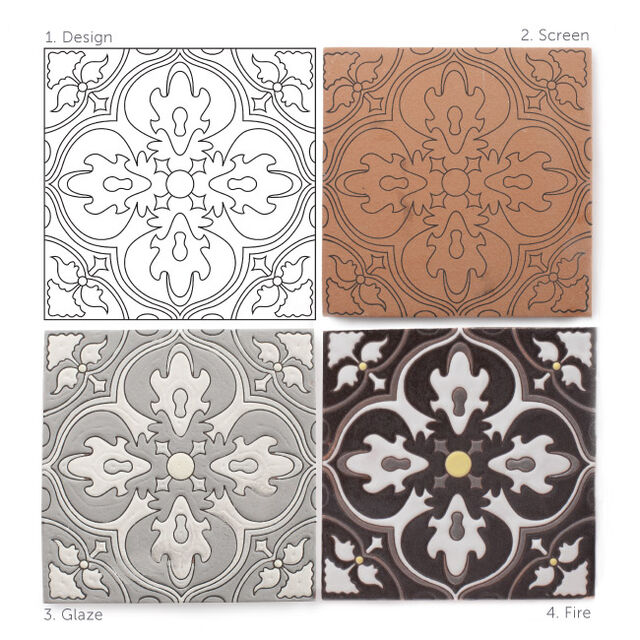 Here at Fireclay we have always been deeply rooted in tradition, which is why we are especially fond of our Handpainted Tile collections, both classic and new. We've been making hand painted tiles in our Aromas, California factory since 1993 and pride ourselves on being one of the few US Tile manufacturers that produces 100% of our product, from the recycled clay body to our own unique lead-free glazes. Ever wonder exactly how we make these beautiful handpainted tiles? Keep reading and we'll take you through our unique process, step by step.
The Design
The first step in creating beautiful hand painted tiles are the designs. Whether you love our classics or our new contemporary designs, choosing the pattern is the initial stage of the Handpainted process.
The Clay Body
Once a design is chosen, our Handpainted tile starts out like any other tile before the glazing process, as a Bisqued clay body. This means the clay tile has been fired once to create a hard, durable body, making it suitable for the next stages of the handpainting process.
The Screen Printing
Now comes the fun part, screen-printing! A traditional screen printing process is used to apply your chosen pattern to the bisqued clay body using a wax resist technique with historic Persian roots. The intent of the technique is to ensure the glaze does not run from one part of the design to another during kiln firing. Historically, a combination of animal fat, grease and mineral pigments such as iron or manganese were used as the medium for controlling the glaze pooling, but we have developed our own proprietary formula to ensure both efficiency, sustainability as well as high quality.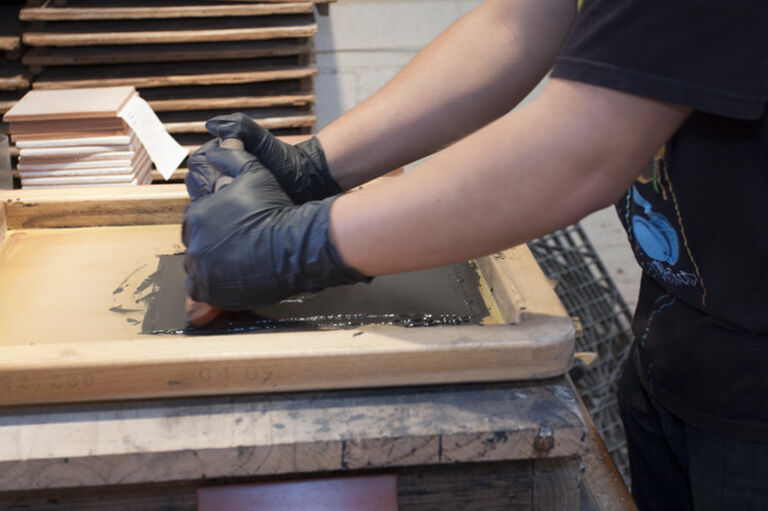 Bisqued tile being screen printed
The Glazing
Next we get to the actual handpainting part of our hand painted tiles. Our lead-free glazes are inlaid with bulb syringes into the tiny areas between the lines created by the wax resist screen printing. This step requires a lot of careful, detailed work, giving our Handpainted tile that unique handcrafted quality we pride ourselves on.
Glazes being applied to the bisqued and screen printed tile
The Firing
Once the glaze is applied it's time for the fourth and final step, firing it up! Finally we pack it up and ship it to your door step!
Ready to choose your perfect Handpainted design and have it made for you? Shop Handpainted now. Need some help or inspiration? Simply call chat or fill out our Design Assistance Form and one of our talented Design Consultants will get back to you shortly.