Green Bathroom Tiles 55 Unique Ways
Creating a spa-like sanctuary starts with the perfect color scheme. Green bathroom tiles create a soothing foundation that will endure through years of use and passing trends. Inspired by nature and imbued with a cool refreshing hue, green looks good on bathroom walls, floors, backsplashes, showers, niches, and tub surrounds.
But don't just take my word for it. Check out 55 beautiful bathrooms sporting green tile.
Q&A
Which tile color is best for bathrooms?
With the exception of white, green is the most popular color of tile to use in a bathroom. Does that make it the best? That's up to you but green does suit nearly any style of bathroom and is generally safe from shifting trends.

While white tile offers a bright and clean appearance, green adds a soothing layer of style and personality to a bathroom that echos the luxury of a day spa or boutique hotel.
What colors go with green tiles in a bathroom?
Again, white is the top choice here. For one, it is the number one color choice for bathrooms on its own, and two, it is effortlessly versatile. But don't sleep on charcoals, blues, or earthy beige and taupe colors to continue the organic influence that great bathroom designs draw on.

Green Bathroom Floor Tiles
Grassy Inspo
Tile Shown: Kelp Ogee Drop // Design: Maroma Interior Design // Image: Michael Radford
Overlapping Ogee Drop tiles look like a bed of green grass in this floral forward bathroom with a handsome true green complementing the black-based wallpaper.
Deco Details
Tile Shown: Seedling, Tusk & Basalt Large Diamonds // Design: Emily Vallely // Image: Madison Kim-Poppen
A bathroom benefiting from some creative pattern play, soft green diamonds combine with black and white diamonds to create a 3-dimensional Escher pattern by Emily Vallely.
Under the Sea
Tile Shown: Amalfi Coast 4x4 // Design & Image: Emily Offerdahl
With a seascape of graphic wallpaper above it, a floor of azure-colored square tiles runs with the aquatic theme of this playful powder room.
Blended Sizes
Tile Shown: Clover 2x6, 3x6 & 6x6 // Design: Brownstone Boys // Image: Nick Glimenakis
The Brownstone Boys infuse a single color of green with visual appeal by scattering a blend of 6x6 squares with 2x6 and 3x6 subway tile to capture your attention while the color complements the antique wood accents.
Scandi Scenes
Tile Shown: Tempest & Oyster Shell 4x4 // Design: RAD // Image: Ty Cole
Infused with the two pillars of Scandinavian design, simplicity and earth tones, this Scandi bathroom has both in spades. Utilitarian 4x4 tiles in blue-green Flagstone give a splash of color to the floor, complementing the neutral accents above.
Loden Checkerboard
Tile Shown: Dolomite & Eucalyptus 6x6 // Design: Autumn Hachey, TWENTY-TWO TWELVE, You Should Stay Here // Image: Michelle Johnson
What does a modern mountain lodge look like? This mossy green bathroom pops with a checkerboard floor of taupe and green tile.

Interlocking Layout

Tile Shown: Salton Sea Chaine Homme, Feldspar Picket // Design: CGC Design // Image: Andy McRory
Intricate but not overwhelming, interlocking tiles make sure the floor isn't overlooked amid the graphic wallpaper and Picket tile backsplash.
Floor Foliage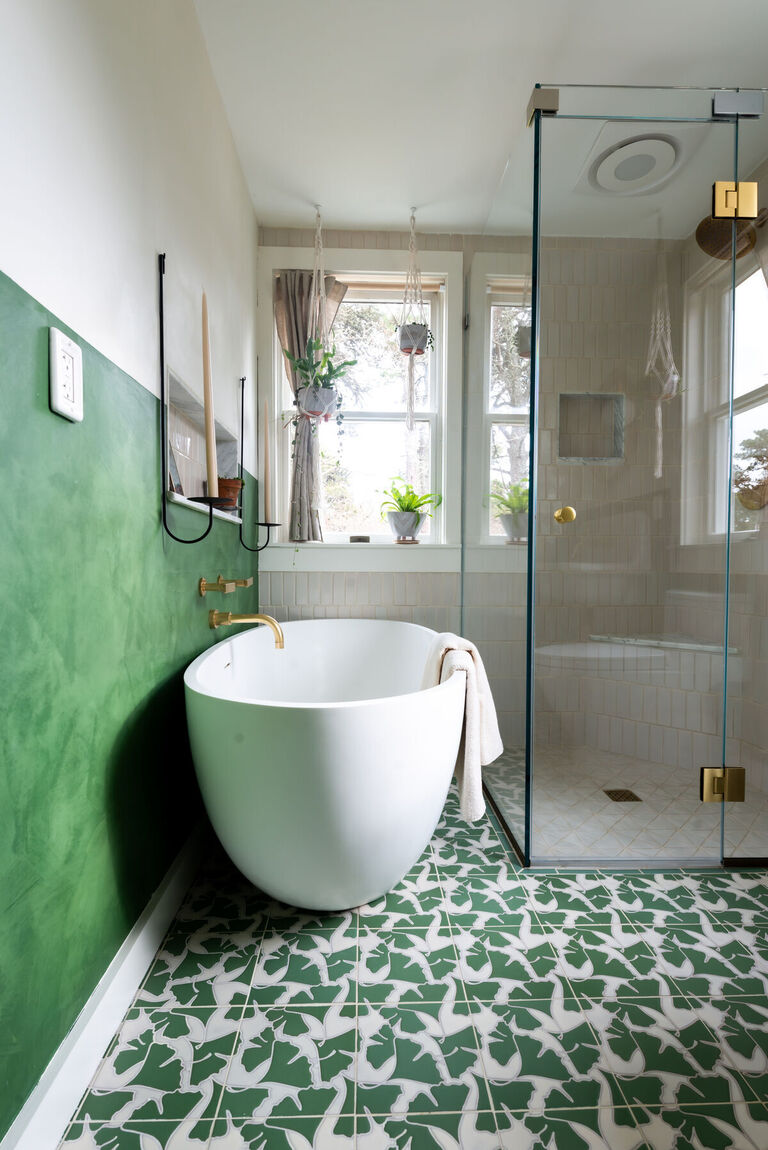 Tile Shown: Ginkgo in Green Motif // Design & Image: Kaity Farrell
Interior design has always mimicked nature and this floor infuses the beauty of ginkgo leaves in the fall into this bathroom with a bold green and white glaze motif.
Contrasting Crosses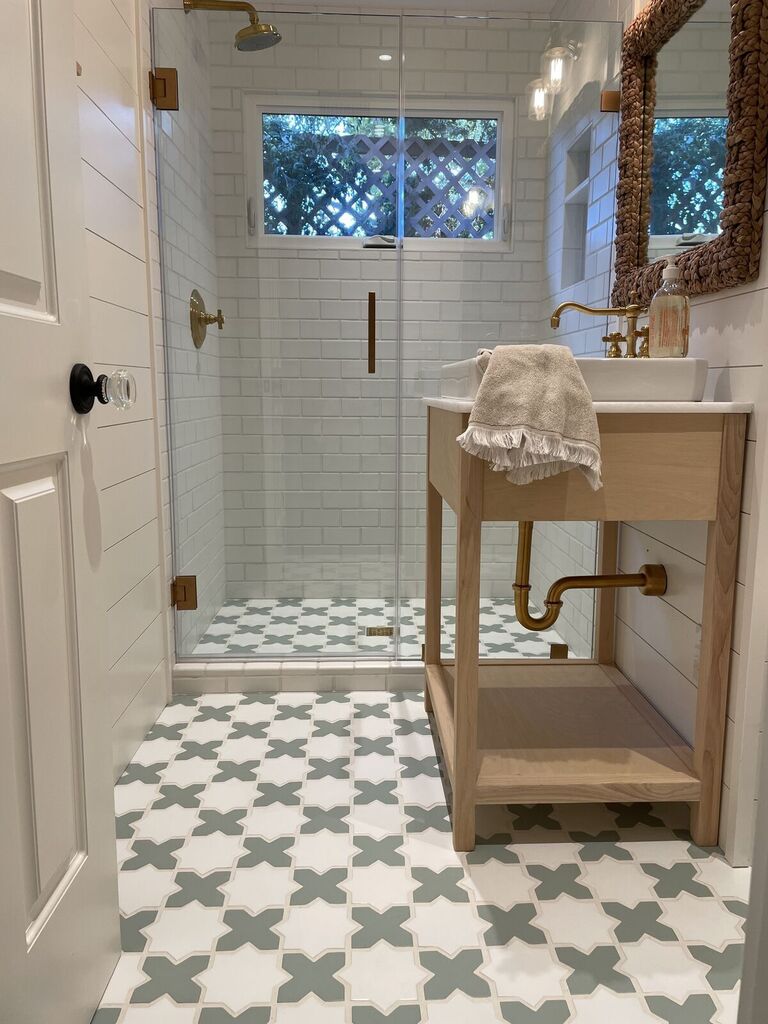 Tile Shown: Calcite 3x6, Calcite Mini Star and Cross, Sea Glass Mini Star and Cross // Design & Image: Stephanie Feinerman Design
Star and Cross tile always commands attention but when done two-tone, it takes it to another level. Crosses of Sea Glass give an impressive pop to this bathroom awash in detail.
Norman Herringbone
Tile Shown: San Gabriel Norman Brick // Design: Maria Haidamus, Loczi Design // Image: R. Brad Knipstein

Herringbone brick is made all the more impressive in the wide Norman shape originally designed for castles and right at home in this luxurious bathroom.
Green Bathroom Wall Tiles
Grey to Green Two Tone
Tile Shown: Manzanita 3x3, Puget Sound 3x9
Two-tone tile always adds a sophisticated element to a bathroom wall. This example uses grey and desaturated green tile to create a smooth transition accentuated by the light of the sconces.
Balanced Brick
Tile Shown: San Gabriel Brick // Design: Design Bitches // Image: Yoshihiro Makino
This modern bathroom goes sans ceiling for an airy escape. The walls of green brick give structure and weight to the space while the color keeps things thematic with its light and breezy shade.

Ride the Wave

Tile Shown: Bora Bora Wave // Design: Kristin Riccio Interior Design // Image: Brad Knipstein Photography
A long soak in the tub is all about the vibe and this wall tile in undulating turquoise waves sets the tone before the tub is even filled.

Vertical Offset

Tile Shown: Seedling 2x8 // Design: Terapan Lilittham // Image: Rachel Lo
Like the hanging plant on the edge of the photo, we love how this vertical offset tile looks to be dangling organically down the walls of this wet room bathroom.

Green Theme
Tile Shown: Rosemary 2x8 // Design & Image: Erin Kestenbaum
With the wallpaper, paint and tile all working together, each offering varying shades of the same color of green, this bathroom by Erin Kestenbaum is perfectly on point.
Dark Wainscot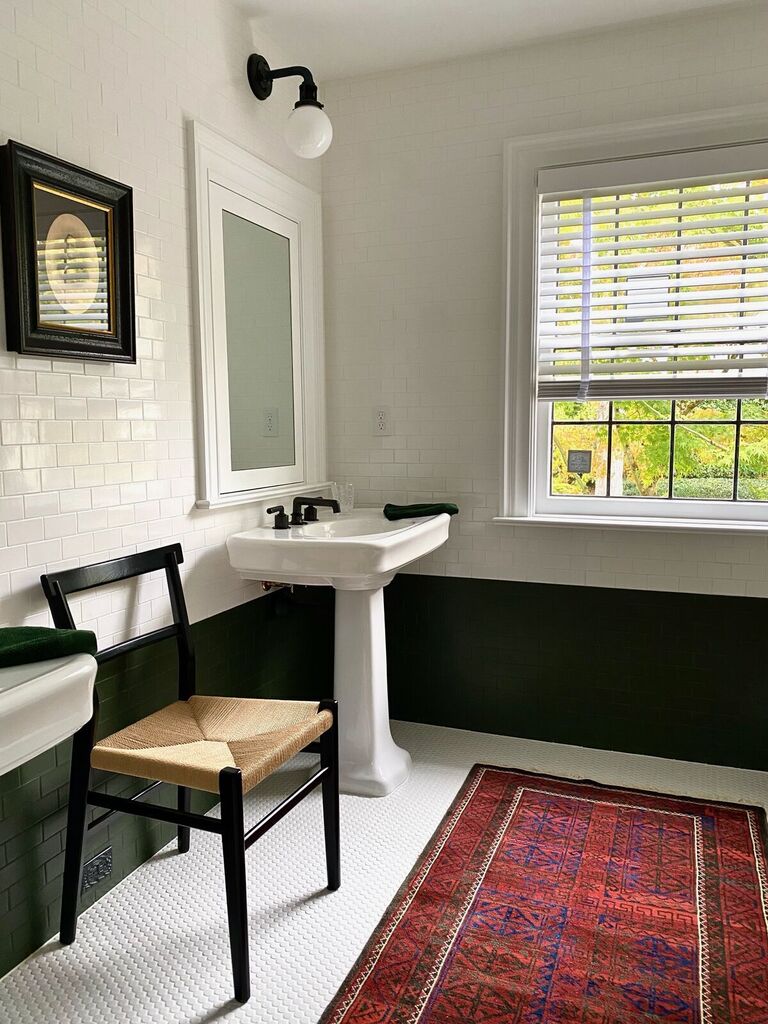 Tile Shown: White Wash & Hunter Green 2x4 // Design & Image: Maggie Finch
Floor-to-ceiling tiled walls and penny tile floors give this bathroom a vintage appeal but it's the deep green wainscot that sets off the historical inspiration.

Spa-Like Simplicity

Tile Shown: Salton Sea 3x6 // Design & Image: The Flip Hubb
Think of a spa bathroom and you might picture an opulent day spa, but the same inspiration can be easily translated into a simple sanctuary that still feels like home.
Spacious Serenity
Tile Shown: Tidewater 3x6, Calcite Mini Star & Cross // Design & Image: Rejuvenation
This color of green in a vertical straight set pattern is too good to contain in this open concept wet bathroom, flowing from the massive shower to the half walls throughout.

Midcentury Moods
Tile Shown: Evergreen 2x6 // Design & Image: Claire Thomas
Nestled in a canyon in the Santa Monica Mountains, it makes perfect sense for this copper soaking tub to be surrounded by green. We love how the straight lines juxtapose the unpredictable terrazzo.
Green Bathroom Shower Tiles

Rustic Reflections
Tile Shown: Cascade Brick // Design: Jason + Monique Pomeroy // Image: Pete Curialle
Set in Vermont's Green Mountains, this shower takes the rough personality of brick and combines it with the glossy, reflective finish of green ceramic glaze for a fitting combo at this country retreat.
Hygge Vibes
Tile Shown: Flagstone 2x8 // Design: Hygge Supply & Hygge Style // Image:Trap Studio
This minimalist shower lets the color do all the talking. A clean straight set pattern with a subtle grey grout fades into the background as you immerse yourself in the gorgeous green glaze.

Mossy Mosaic
Tile Shown: Driftwood 1x1, Feldspar 1x6 // Design: Jessie + Brian De Lowe, House of Honey // Image: Mellon Studios
A shower floor benefits from smaller tiles that increase the number of grout lines and therefore increase the grip underfoot. We love how the grout matches the walls above to tie the two surfaces together.

Curb Consistency
Tile Shown: Hunter Green 2x8 // Design: Clara Jung // Image: Emily Gilbert
The green floor-to-ceiling tile of this spacious shower is breathtaking as it is but it's the single course of complementary tile along the shower curb that really brings this design home.

Sand and Sea
Tile Shown: Rosemary 3x9, Sand Dune 6" Hexagon // Design & Image: Elana Jadallah
This beachy bathroom combines the colors of the waves and the shore with sandy floor tile leading to viridian green walls with handmade variation flowing throughout.
Leafy Luxury
Tile Shown: Rosemary Picket // Design: Michael Hilal // Image: Lauren Andersen
Like a tree in the peak of summer, this shower is filled with a leafy arrangement of tiles that liven up the bathroom with a soothing green color.
Soothing Scale
Tile Shown: Salton Sea 2x6 // Design: Flahr Design Build // Image: Elle Seanor
For impressively large showers, light green tile does a fantastic job of adding decorative allure without overwhelming the space or the sense of its occupant.

Green and Gold
Tile Shown: Evergreen 2x4 // Design: Oh Joy, Project M Plus // Image: Bethany Nauert
If you're looking for that luxe look, green and gold just go together so well and this shower is no exception. Enough said.
Glass Gradient
Design: Project M Plus // Image: Bethany Nauert
Stripes of green glass tile descend from light to dark in this playful shower designed by Joy Cho of Oh Joy!
Cheerful Checkerboard
Tile Shown: Halite & Sea Glass 4x4 // Design: Regan Baker Design // Image: Suzanna Scott
A little bit nostalgic but refreshingly current, a teal and white checkerboard pattern decorates this effervescent bathroom with a youthful vibe.

Emerald Cut
Tile Shown: Evergreen Small Diamond Escher// Design: Luke Caldwell // Image: Timber and Love
Small diamond tiles converge into an Escher pattern, giving a jewel-like quality to the luxurious emerald green colorway.

One-of-a-Kind Color
Tile Shown: Salton Sea 2x8 // Design: Michelle Lisac Interior Design // Image: Ellen Vanessa
Fall in love with a glaze over and over as you surround yourself with the slight differences of shade and sheen found in one-of-a-kind handmade tile.
Green Tub Surround Tile
Monochrome Mosaic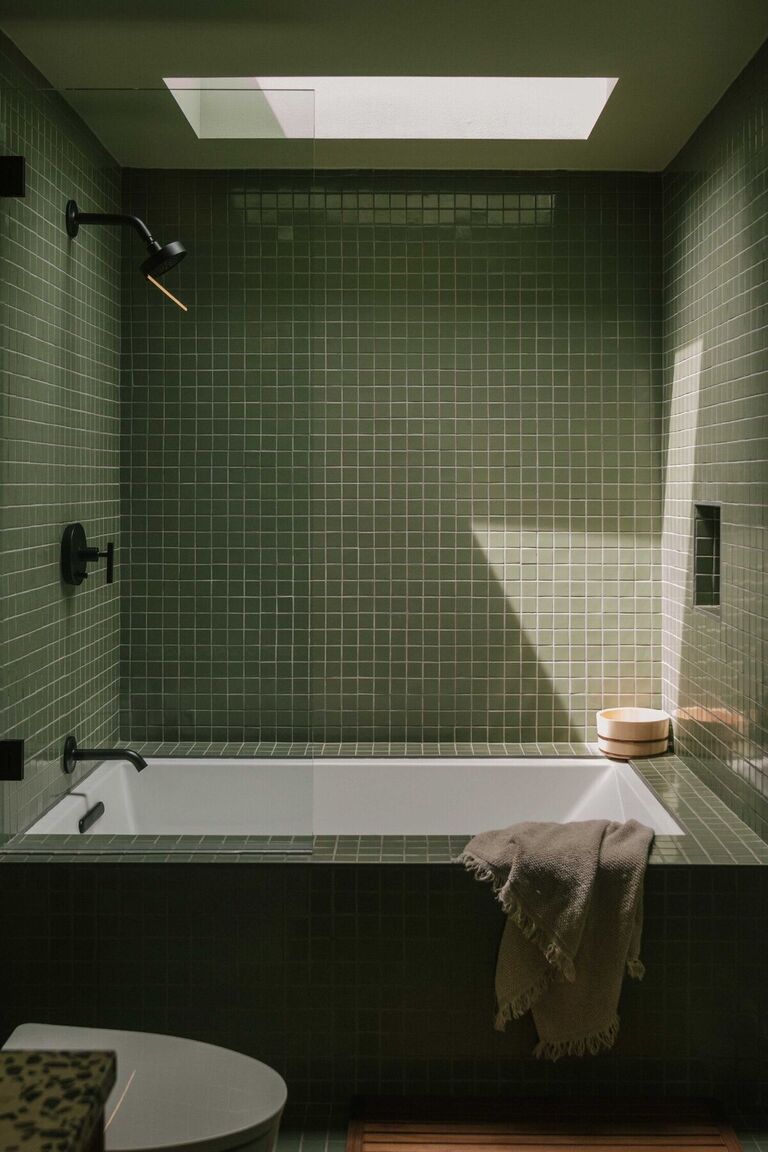 Tile Shown: Peabody 2x2 // Design & Image: Working Holiday Studio
Mosaic tiles can create limitless patterns or artistic renderings but they can also be the perfect medium for a single color. This bathroom, coined the Zen Den, is full of order and calm energy thanks to the 2x2 tile and muted green colorway.

Sprightly Seedling
Tile Shown: Seedling 2x6 // Design: Kyla Phung Linn
Green bathroom tile is so versatile, ranging from soothing to lively. This sprightly tub surround leans toward the latter and will give you a jolt of positive energy to start your day with.

Hexite Confetti

Tile Shown: Kelp, Eucalyptus & Halite Hexite // Design & Image: Darling Magazine
This Hexite tile tub surround is a celebration. of design featuring a random arrangement of white and green tile in a motif that reminds us of flying confetti.

Dark and Dapper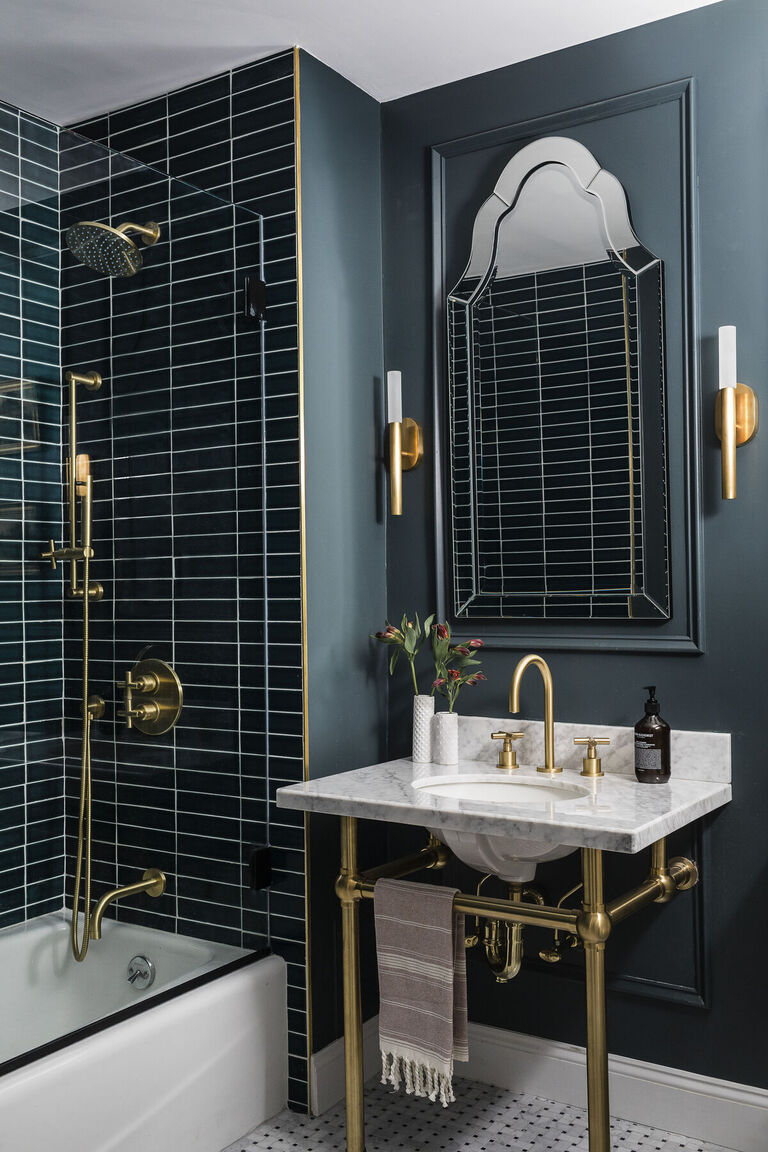 Tile Shown: Caspian Sea 2x8 // Design: Arazi Levine Design // Image: Joyelle West
This deep green tile looks dapper surrounded by petrol blue paint, gold trim and traditional fixtures.
Geometric Magic
Tile Shown: White Wash & Sea Glass 6" Triangle // Design: Handsome Salt // Image: Jenny Siegwart
A tub surround of triangle tiles gets what looks like an impromptu paint job with a green Sea Glass glaze randomly interspersed with the clean white.
True Timelessness
Tile Shown: Rosemary 3x6 // Design: Sarah Montgomery Design // Image: Margaret Rajic
If it's something truly timeless you're after, something to outlive trends, or the urge to renovate, you'd be hard-pressed to find a design for a family home as enduring as this: a deep soaking tub, and easy-on-the-eyes green subway tile in a traditional half offset pattern.
Instant Classic
Tile Shown: Rosemary 4x4 // Design & Image: Claire Thomas
This Los Angeles bathroom by Claire Thomas might be part of a new construction, but the install looks immediately Old Hollywood with 1920s inspiration pulled off flawlessly thanks to handmade tile and other vintage accents.

Alcove in Color
Tile Shown: Salton Sea 2x8 // Design: Mend Interiors // Image: Boston Virtual Imaging
In a bathroom of neutrals ranging from bright white to creamy beige, this tub surround stands out for its alcove clad in a fun and refreshing shade of green.
Craftsman Sensibilities
Tile Shown: Rosemary 3x6, Peabody 3x3 // Design: Velinda Hellen Design // Image: Sara Ligorria-Tramp
Earth tones and handmade materials are two major features of Craftsman design and this bathroom gets two shades of green, both on handmade tile made in the USA.
Vernal Variation
Tile Shown: Eucalyptus 4x4 // Design: TWENTY-TWO TWELVE, You Should Stay Here, Autumn Hachey // Image: Michelle Johnson
Choosing a single color of green tile for your bathroom doesn't spell uniformity when you're sourcing an artisan product. This bathroom demonstrates the range of shades contained in a single glaze.
Green Bathroom Backsplash Tiles
All About the Grout
Tile Shown: Tempest 1x4 // Design: Ann Mason
On their own, 1x6 tiles in blue-green glaze are a handsome appointment for this bathroom backsplash but the mesh of contrasting white grout created by the mosaic tiles makes this design really pop.
Salton Picket
Tile Shown: Salton Sea Picket // Design: Shannon Demma, Urbana Design Studio // Image: Kate Falconer
Salton Sea is our most popular green bathroom tile and for good reason. The cool green glaze has a different appearance depending on where it's installed making it uniquely yours. Make it even more unique with a specialty pattern like this Picket Braid.
Blended Backsplash
Tile Shown: Rosemary 3x6 // Design: Sarah Sherman Samuel, Emily Farnham Architecture // Image: Tessa Neustadt
We love how the color variation in the tile on Mandy Moore's bathroom backsplash all blends together uninterrupted thanks to the thoughtful shuffling of shades and a grout color that complements the tile.

Powerful Powder Room

Tile Shown: Evergreen 3x12 // Design: Ali Hynek // Image: Becky Kimball
Harness your powerful aura in this powder room decorated with deep green tile, landscape-inspired wallpaper, and an out-of-this-world combination of mirror and vanity lighting.

Tonal Layers

Tile Shown: Salton Sea Ogee // Design: Harper Design Projects, Janie Clark // Image: Blake Verdoorn
Light green tile in a decorative shape backs up the dark green vanity in a thoughtful pairing that's both eye-catching and effortless.
Boho Organic
Tile Shown: Cardamom & Amalfi Coast Hexite // Design: Bethany Fay Designs // Image: Open House Photography
This boho bathroom sports organic colors and a creative Hexite pattern for a standout backsplash that's echoed behind the tub.
New Traditional Tastes
Tile Shown: Flagstone 3x9 // Design: JL Interior Design // Image: Thomas Kuoh
Open concept and large scale, this backsplash is grounded by the bold color that differentiates it from the neutrals around it with depth and New Traditional design detail.
Stunning Minimalism
Tile Shown: Salton Sea 2x8 // Design: KSDesigns LLC // Image: Madeline Harper
This bathroom is an exercise in restraint, from the natural wood vanity to the simple yet refined backsplash.

Green Bathroom Accent Wall Tiles
Arched Accent
Tile Shown: Tempest Mini Star & Cross // Design & Image: Claire Thomas
With Large Star and Cross on the floor, wide green tiles on the shower and walls, and gorgeous marble throughout, this soaking tub needed an accent wall to stand out. The Mini Star and Cross framed by an archway do just that in this dream bathroom by Claire Thomas.

Dramatic Backdrop
Tile Shown: Hunter Green 2x8 // Design: Adele Lapointe // Image: Mitch Shenker Studio
Deep green tile brings depth to this bathroom decorated with modern light fixtures, a double vanity and hanging plants.

Flowing Fun

Tile Shown: Daisy & Seaglass 3x9 // Design: Claire Thomas // Image: Stephanie Todaro Photography
This accent wall was too good to stop where the wall ends. Instead, this striped basketweave pattern continues onto the floor with a fun and flowing look.

Eyes on the Angles

Tile Shown: Seedling Hexite // Design: Jessica Atal // Image: Angelica Vasquez
Hexite tile has the power to create so many shapes in a space, and in a green glaze with contrasting white grout the lines of this accent wall really pop.

Cascading Lines
Tile Shown: Fresco Motif Roundabout 2 + 4, 4x4 Jade, and 4x4 Oyster Shell
Other than a short curb and a barely-there glass partition, there's little separating the shower from the rest of the space in this wet bathroom, an illusion accentuated by the continuous lines coursing from the accent wall through to the floor.
Scalloped Centerpiece
Tile Shown: Rosemary Ogee Drop, White Wash 3x12 // Design & Image: EFE Creative Lab
A luxurious oceanfront bathroom gets an accent wall that sets the scene thanks to scalloped Ogee Drop tile in a shade of glaze as green as the sea.
Feeling inspired to introduce green tile to your bathroom? Bring home up to five free color samples to find the perfect shade for your space. Not sure where to start? Fill out this simple form to receive free one-on-one design assistance from our friendly tile experts.