Designer Spotlight: Joy Cho
Joy Cho of Oh Joy! has a design style that's easy to spot, partly because her interiors are so original and partly because we feature them so often! How couldn't we when she's constantly pushing the boundary of color and pattern in homes?
Tile Shown: 4x4 Egret, Dove, Sparrow, Snowy Owl, Rosy Finch, and Lark // Bethany Nauert
Joy just wrapped up construction on her own home, built from raw land with no detail overlooked, so we caught up with the trendsetting designer to hear her top tips, lessons learned, and why she loves working with tile.
Meet Joy!
Can you tell me about yourself and what you do? How did you get your start in design?
I started my career as a graphic designer and worked at a couple of companies in NYC before starting Oh Joy! in 2005. Eventually, my design company evolved into a lifestyle brand as social media grew and I saw the ability to reach people virtually with my voice and aesthetic. Now we do a range of work from social media content, designed products with brands, books, and business coaching.
What made you choose these 8 colors in your palette? What do you like about them?
It came down to what worked for each space and what colors made me smile. Contrast and complementary shades were important, too!
Love Joy's playful style? Bring home her favorite colors with her sample pack featuring 2x4 samples in Painted Sky, Tumbleweed, Amalfi Coast, Evergreen, Halite, Blue Velvet, Daisy, and Dawn: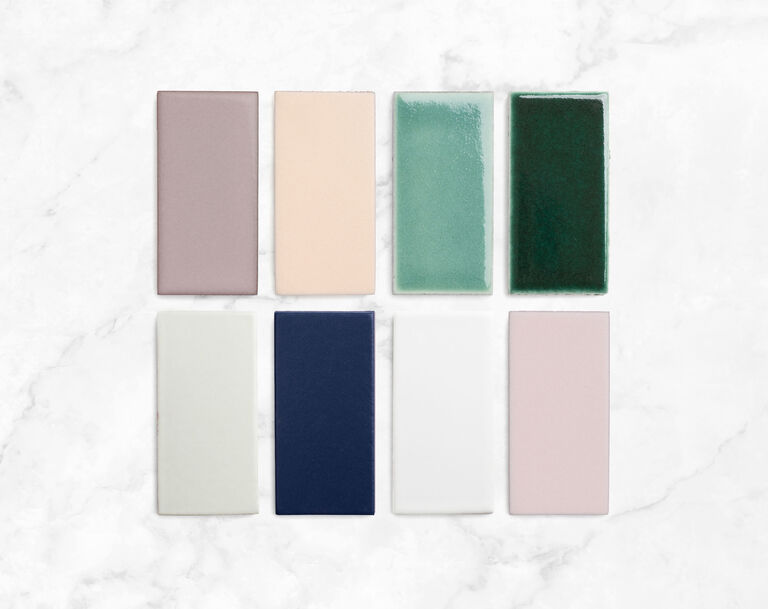 Why do you love tile? How do you like to use tile in your designs?
Tile mixes high function (they need to be water-resistant and hold up in common use areas) with design. Plus, since I love patterns, tiles by nature are always creating a pattern that is different with every combination of colors and shapes picked for a project. Having had the chance to work on multiple tiles spaces at once allowed us to use lots of different tiles in a variety of ways.
Tile Shown: 2x4 in Evergreen
Tile Shown: handpainted Fallow in a custom colorway // Image: Bethany Nauert
Let's talk about your new house! Can you tell us a bit about it?
We started our home build project in 2014 (when we first purchased land) and finally finished and moved in 2020! It was a VERY long process (partially due to living in a city with a long permit process and the unknown nature of building on untouched land and obstacles that came with that). But in the end, we are so happy we did it. You just need A LOT of patience throughout the process (and maybe a therapist).
Tile Shown: 3" Triangles in Halite // Image: Bethany Nauert
Was any of the work affected by COVID?
All of the major work happened pre-COVID but we were in the final leg and move right in the early stages of COVID and moved in April 2020. It was insane as we didn't know if we'd be able to move as things were in the early stages of being shut down but luckily construction was able to finish and get us in just in time to be home for a whole year!
Tile Shown: 3" Triangles in Halite // Image: Bethany Nauert
As a graphic designer yourself, did you work with an architect or designer on your home?
I worked with the team at Project M+ for both architecture and design (and Boswell Construction for the build) so they were really our leads during the whole process. As a graphic designer with an established aesthetic, I had lots of opinions and collaborated on interiors, but I was so grateful to have a team I could trust to help us the whole way.
Tile Shown: 4x12 in Rosy Finch Gloss // Image: Bethany Nauert
What are your top 3 design tips?
Don't go too basic. It can be easy to think you want the most neutral tile for future resale value or so that everybody will like it, and then you end up with the same white tile that you've seen in a million other bathrooms. Pick something YOU like but that also brings you out of your comfort zone if you always tend to choose the same things. If you're working on a reno, now is the time to choose something you'll absolutely love.
Tile Shown: 4x12 in Rosy Finch Gloss // Image: Bethany Nauert
Be practical with what type of tile you choose for the space. Is it an area that gets lots of water? Is it a space you'd walk on with your shoes? Think about what colors and textures hold up best in the situation your surface will be in. For example, I would not choose a light-colored cement or matte tile on a surface that people walk with their shoes on. It will get dirty fast, and you'll be annoyed having to always keep it looking clean. Instead, choose a color that might hide the dust better and save the lighter colors for a wall or floor where you only walk with bare feet where dirt isn't touching them as often.
Tile Shown: Handpainted Harvest in Neutral Motif // Image: Bethany Nauert
If you're working on a home design project with a partner that will live in the space with you, decide from the beginning who will take the lead on the project and be the main contact person for the vendors/subs/contractor and who can step in to make decisions when needed. It can be very hard to have two people who need to have an equal say. Often one person cares more than the other, or one person has more flexibility in their workday to be more available, so access that from the beginning. That makes it easier for your subs and vendors, too, so they know who to call with questions or approvals.
Tile Shown: 3" Triangle in Halite // Image: Bethany Nauert
What sort of style or aesthetic were you going for? What were your sources of inspiration?
I worked with the team at Project M+ on the design, and we definitely collected lots of images to a shared Pinterest board in the beginning stages. There was lots of inspiration from hotels, restaurants, and retails spaces because those spaces tend to experiment a bit more and push the envelope when it comes to tile colors and patterns. Also, color and pattern were a big must for me because of my work and the way I naturally design.
Tile Shown: 2x4 in Evergreen / /Image: Bethany Nauert
Let's talk tile! You used a mix of our glass, tile and, handpainted--do you have a favorite tile moment?
I love all tile - truly! And I really feel like different tiles work better for different spaces and uses so I am lucky to have used so many types because of the process of having to design and install all the rooms at the same time. Since glass tile is one of the newer ones for me, I am still very much obsessed with it and was excited to use it in a few different spaces.
Tile Shown: 4x4 in Egret, Dove, Sparrow, Snowy Owl, Rosy Finch, Lark, and Daisy / / Image: Bethany Nauert
Tile Shown: 4x4 in Snowy Owl, Warbler, Kingfisher, and Magpie // Image: Bethany Nauert
Any lessons learned?
Even if you pick your grout using your tile samples, after the tile is installed (but before the grout is), take that grout sampler and hold it up against the installed tile again before grouting. I made the mistake of not checking that and once installed, the light changes the way some of the tiles and grouts work together. It's better to double-check before the grout goes in and it's much harder to fix at that point!
Tile Shown: 4x12 in Rosy Finch Gloss // Image: Bethany Nauert
Shop the Story