Designer Spotlight: Jean Stoffer
By Kali
All images by: Stoffer Photography Interiors
With an award-winning design firm, a show, The Effortless Home, on the Magnolia Network, and the exquisite restoration of her 1902 Greek Revival, Jean Stoffer has firmly established herself as the queen of modern classic interiors.
Jean recently completed the final project in her home, the North Porch, using a classic yet fresh blend of Fireclay Tile–including a stunning handpainted border–and we sat down to chat with her about the process, obstacles, and inspiration. Keep reading for the full interview!

Meet Jean!

Can you tell me a bit about yourself and your firm?
Our firm started with just me as a custom kitchen designer and continued that way for almost 30 years. When my daughter, Grace Start joined me in 2016, we became a full-service interior design firm specializing in kitchens, then opened a retail home decor store (Stoffer Home), then launched our very own British-inspired cabinetry line (Stoffer Home Cabinetry.) We all work together and each branch provides inspiration and support for each other. It's really great.
How did you get your start?
I worked for a small interior design firm as their receptionist, and it went from there! I tell all about it in my book "Establishing Home" which is going to be released on November 1st.
Can you tell me about your design process? What is your favorite part?
My favorite part is more architectural in nature. I love doing layouts and kitchen designs.

Sample Jean's Fireclay Favorites: Feldspar, Cardamom, Rosemary, Pigeon, Sand Dune, Tempest, Evergreen, Limestone:
What made you choose the 8 colors in your palette?
These are all very natural, organic colors that provide a neutral backdrop for almost any interior. And I love them all together.

How would you describe your aesthetic?
Classic with a modern twist.
Where do you draw inspiration from?
Most of my inspiration comes from classic architecture - both interiors and exteriors.
Tile Shown: 6x6 in Iron Ore + Pyrite with a border in 3x9 + 1x6 in Basalt and Chicago in Grey Motif
What are your 3 best design tips?
Stain original wood floors dark brown, paint a whole room the same color (walls, trim, ceiling), and get a professional involved when designing your kitchen.

How do you factor sustainability into your designs?
I try to save as much in an old house as possible, and I try to order only the amount of tile, flooring, etc that is needed for the project.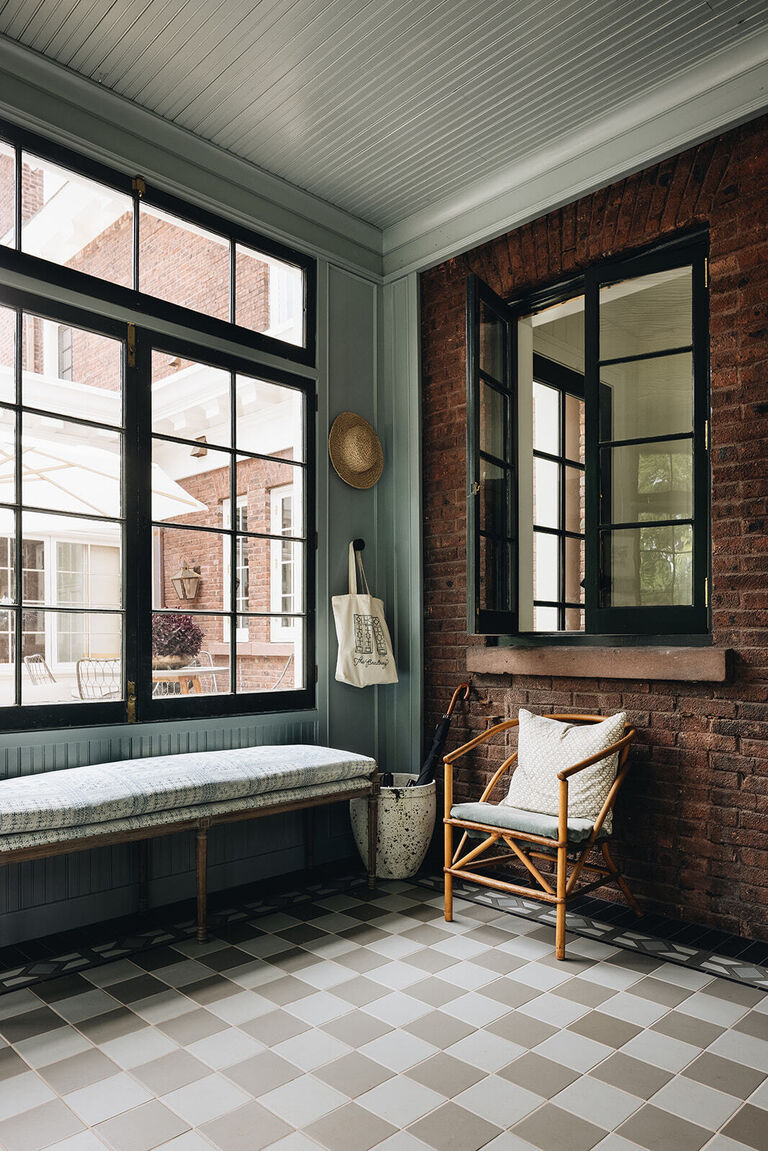 Tile Shown: 6x6 in Iron Ore + Pyrite with a border in 3x9 + 1x6 in Basalt and Chicago in Grey Motif
Why do you like using tile in your designs?
There is something so interesting about tile that cannot be achieved with any other material. The vast array of patterns, textures, and shapes available is exciting.
Tile Shown: 6x6 in Iron Ore + Pyrite with a border in 3x9 + 1x6 in Basalt and Chicago in Grey Motif
Let's talk about your most recent project. Can you tell us about this home? Was it a remodel or renovation?
The Madison home was a very substantial whole-house project that transformed the 1902 home into a beautiful, functional modern home with all the architectural goodies of the early 1900s detailing.

The Madison North Porch was a combination of restoration, remodeling, and renovation. The porch has thirteen sets of original french windows with transoms above. They are extraordinary and I just had to save them. The porch had its original beadboard ceiling, which, even though a little rough, still had so much character. The porch originally was divided into two spaces and a service staircase to the basement. It was all on a concrete slab that had seen much better days.
Tile Shown: 6x6 in Iron Ore + Pyrite with a border in 3x9 + 1x6 in Basalt and Chicago in Grey Motif

What were the goals for this space?
The space was very awkward and was clearly designed with only the exterior in mind. The stairs to the basement started within inches of the entry door; in fact, one leaf of the french doors swung over the top of the stairs. The space was divided in a way that required a job in the wall so that it didn't die into the middle of a window.
All the radiators ceased working decades ago since the lines froze, and so it was frigid in the winter and as hot as a greenhouse in the summer. It was useless. I wanted to make the space the beautiful rear entry to the home that it could be. Almost all the traffic, both foot and auto come to this entrance. I wanted to condition the space so it would be comfortable year-round, and serve as a garden room on one end and boot room/entry on the other end. The stairs were no longer needed, so I was able to remove that very difficult obstacle from the space.

What sort of look were you going for?
I wanted it to look As British As Possible, which my daughter Grace and I happily call "ABAP." I also really wanted the space to look like it could have been part of the home's original design, even the materials chosen, particularly the floor tile.
What was the inspiration behind the North Porch?
Boot rooms of country homes in England were my primary inspiration. I loved these spaces for their functionality and beauty. They were "perfectly imperfect" which is something I find both beautiful and charming.

What made you choose your tile colors for the floor?
The whole floor tile design started with Fireclay's "Chicago" Border tile in their Metropolitan collection. I saw that design and knew it would be perfect. I kept it for about two years as I figured out how to deal with the difficult space. The tile sample I received had several colors in it, all worked well with the color palette I had developed in the rest of the home.
Tile Shown: 6x6 in Iron Ore + Pyrite with a border in 3x9 + 1x6 in Basalt and Chicago in Grey Motif
It was just a matter of choosing which colors to pull out of the Chicago border tile and use for the checkerboard. Eventually, I chose the colors Iron Ore and Pyrite. I selected the checkerboard in a 6 x 6 size, which I felt was more appropriate for the house's age than something larger, even though it's a large space.
How did you come up with your border pattern?
I wanted to make sure that the Chicago border tile would be seen, and the best way to do that is to pull it away from the wall enough to give it prominence. I hearkened back to classic brick laying patterns and put a soldier course of 3" x 9" in Basalt around the perimeter. Then laid the Chicago border tile, then finished the border design with a 1" wide liner piece in Basalt. The whole design reminds me of patterns I've seen in old homes - the inset border away from the wall was an important decision.
Tile Shown: 6x6 in Iron Ore + Pyrite with a border in 3x9 + 1x6 in Basalt and Chicago in Grey Motif
Which of our tiles would you love to use in future projects?
Oh, that is so hard, because I love so many things, I always want to try something new. But I truly love the tones of the checkerboard. A grayed down blue and olive green - both in similar values of color. I could see using that again.
Tile Shown: 6x6 in Peabody
Want to create your own modern classic checkerboard? Bring home up to five free samples to find the perfect combination for your space. Need some help? Our tile experts can bring your dreams to life with our free design assistance.