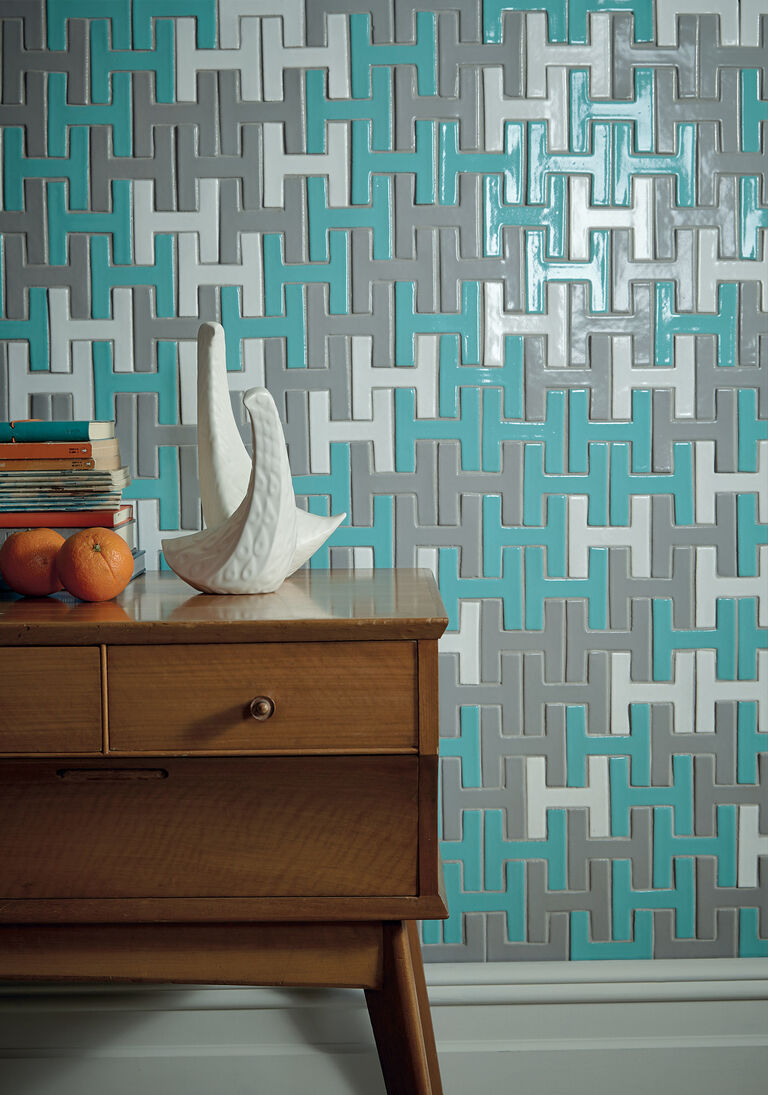 Tile Shown: LaPlante designed the Chaine Homme specialty shape.
This week, we're doing something a little different...a flip-flop interview! Kelly LaPlante, friend of Fireclay and designer, caught up with our Creative Director Jamie Chappell about her newest endeavor, what keeps her blood pumping, and advice for new designers. Kelly is currently a guest editor at Trove, an online market that connects individuals who are buying or selling vintage pieces within their communities. Similar to Fireclay, Trove has the environment in mind and believes that "preloved treasures have more character, buying locally is better for the environment and your community, and unique finds spark so much more joy." We love that! You can read Jamie's interview with Kelly below and you can find Kelly's interview with Jamie here!
Image: This is Kelly!
JC: I love your style! You were designing with vintage pieces long before it was commonplace, and you've remained a steadfast leader in sustainable design throughout your career. What is it about vintage that keeps your blood pumping?
KLP: When I started my career as a sustainable designer, there just weren't that many eco options out there—I quickly figured out that I could have a lot more at my disposal if I went the reuse route. So I got to know and love vintage furnishings, almost by default. Since then, there are so many wonderful companies who have championed sustainable practices, and that gives me a lot more to work with, but I still bring a lot of vintage into my projects, because it is so soulful.
Tile Shown: Chaine Femme in Sea Foam.
JC: I know that Trove is fairly new to the online vintage space. Can you tell us a little bit about what makes Trove so unique and why you jumped at the opportunity to work with them?
KLP: Trove's goal is to connect people locally for buying and selling vintage and other unique pieces. Promoting local is something that really resonates with me—obviously, that's better for the environment. Also, from a logistical perspective, if I'm looking for a vintage piece and I find it in LA but my project halfway across the country, the shipping costs are going to kill it. I like that
Trove is always going to show me what's nearby and then help me connect with the seller. There's not even an option to ship, that's just not what they're about. Trove invited me to come onboard as their Guest Editor and I couldn't help but say yes to that opportunity. What I'm doing for them is a lot like what I did when I ran Standard Magazine. It's all about meeting amazing people and hearing their amazing stories.


JC: You are a master of collaboration and have had the opportunity to be involved in some really fun partnerships. What has been the most inspiring collaboration for you so far?
KLP: I've been fortunate to work on some really awesome things, like the shapes I designed for Fireclay a few years ago—and I still get excited when I see how designers and homeowners
are using the product! To date, my most inspiring collaboration was the Lexus Hybrid Living Suites at Fairmont Hotels. Creatively, I still have yet to match that experience! I was challenged to merge the sensibilities of two iconic, but very different brands and create high-concept case-study hotel suites for them. The experience of working with such established companies—and the kinds of resources that were available to me, as a result—precipitated a significant shift in my perspective. At the time, I also had a really great team of assistants and project managers who I loved working with, so that was incredibly gratifying.


JC: I know you're always on the prowl for great collaboration opportunities and design inspirations. So what's on the radar for Kelly LaPlante?
KLP: I've become really interested in biophilic design and have been exploring some ways that I can intersect with that world. My research is still in early stages, but I have a feeling that biophilia is
going to make its way into my work, one way or another. I'm also a serial entrepreneur so I'm almost always doing R&D on potential new ventures. Right now I've got a few things brewing in my hometown of Austin, but I'm also looking at some opportunities that would take me away from this very hot and humid place (ask me again in the fall, when it's 72 degrees, and I'll probably swear my allegiance to Austin again)! And... who knows what Trove and I might decide to do together after my stint as Guest Editor is over in October! I really enjoy working with those guys.
Tile Shown: Chaine Homme in White Wash

JC: You are one of the most tenacious and fearless spirits I know. I've always been inspired by your independence and the fact that you set out on your own straight out of design school. Can you offer any sage advice for designers or creative types who are setting out on their own for the first time?
KLP: My best advice is this: When you're going out on your own, fear and self-doubt is part of the territory. You must co-exist with them, but you must never let them take control— fear-based decisions do not ever produce desired results. Confidence has to be in the driver's seat. Sometimes, you will fail. That is also part of the territory. Learning to accept failure, and to see it as a tool for informing your next move, is one of the best gifts you can give yourself.
Like any of the shapes and colors you see here? Order samples online now! Need some help? Simply call, chat, or fill out our Design Assistance Form and one of our talented Design Consultants will get back to you shortly.