Design Trends: Triangle Tiles
By Kali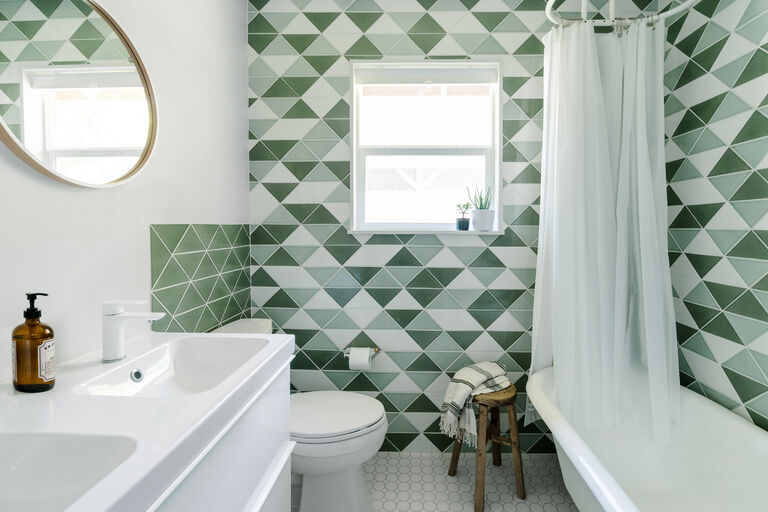 Our creative director, Jamie Chappell, said, "This will be the year of the triangle" and her words rang true. We added four triangle sizes to our offering earlier this year and it has been a treat to see this shape become such a popular choice. We're sharing a few triangle tile installations below, but if you want more design inspiration, head to our Pinterest Board dedicated to this shape.
Right Triangles:
We make three size of our Right Triangle (3", 4" and 6"). From bathroom floors to kitchen backsplashes, this shape makes for a dynamic tile installation.
You can make triangle tiles really pop by choosing a contrasting grout, as you can see from Light Lab's tiled kitchen island: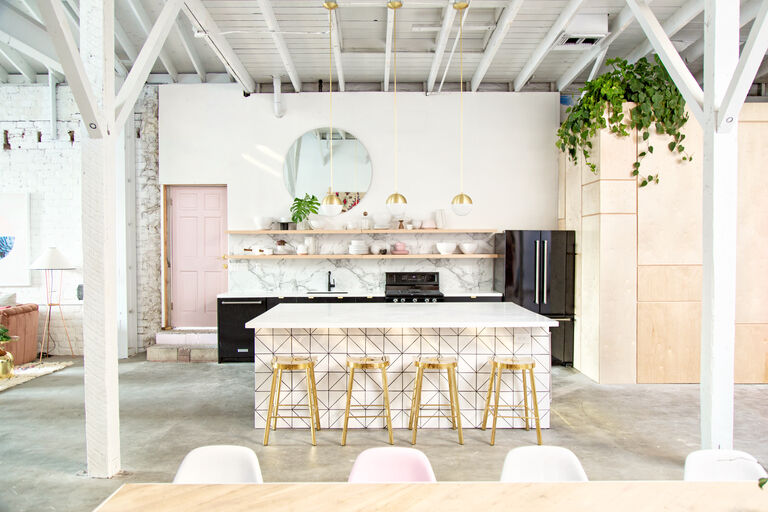 Tile Shown: 6" Triangles in Calcite.
A take on classic black and white checkered tile, Light Lab went for triangle tiles on their bathroom floor:
Tile Shown: 6" Triangles in Calcite and Basalt.
Looking to create a bold tiled accent wall? Triangles might be the ticket. From a structured pattern, to something a bit more randomized (like the install below), you're guaranteed a result that will get attention.
Tile Shown: 6" Triangles in Frost, Iron Ore, Salton Sea and Sea Glass.
We're huge fans of the triangle bathroom below. The blend of three similar tones allows for the randomized pattern to shine, but still has a soothing effect: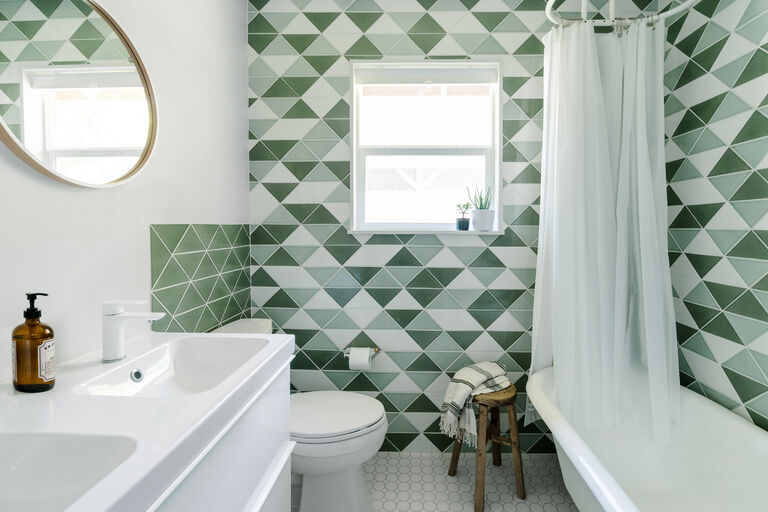 Tile Shown: 6" Triangles in Frost, Rosemary and Salton Sea.
If you really want to show of a triangle tile pattern, choose a few contrasting colors:
Tile Shown: 4" Triangles in Dolomite, Tomato Red and White Wash.
Scalene Triangle:
We like the idea of treating this triangle much like you would subway tile. These triangles look great set vertically, horizontally and in an offset pattern too.
Tile Shown: Scalene Triangles in White Wash.
Tile Shown: Scalene Triangles in Haystack.
Can you imagine how beautiful a shower wall would be decked out in vertically offset Scalene Triangles, in a deep blue like Azul? We can!
Tile Shown: Scalene Triangles in Azul.
Love any of the featured colors? Order color samples online now. Need some help? Simply call, chat or fill out our Design Assistance Form and one of our talented
Design Consultants will get back to you shortly.
Shop the Story