Design Trends: Styling Your Kitchen with Open Shelving and Tile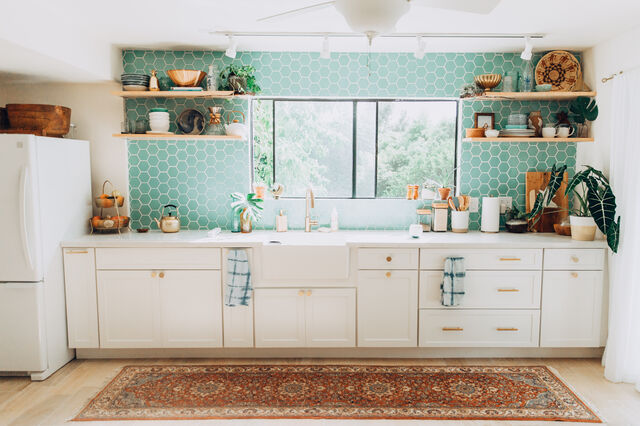 If you like your favorite things where you can see them, and you prefer storage that feels airy instead of bulky, then open shelving might be for you. Less storage space above the counter encourages you to make edits, displaying only what you absolutely love and need. Not only does open shelving add character, it also provides an opportunity to highlight the real showstopper in your kitchen: your tile backsplash.
We're sharing design inspiration below, but if you'd like more, check out our Pinterest Board.
Add interest with a shape:
Another way to add interest is place open shelving against an interesting tile shape. The kitchen below places warm wood shelving against our Ogee Drop tile in a polished white hue and the contrasting grout helps accentuates the tile and the shelving. The shelves themselves are carefully curated, providing just enough interest to the design. Additional storage is added to the side of the backsplash and below for day-to-day items that aren't necessarily display-worthy.
Tile shown: Ogee Drop in White Wash
A real plus of open shelving? Being able to see what you have and easily get to it without the constant opening and closing of doors.
Tile Shown: Paseos in White Gloss
Clean and Simple:
Using a white backsplash behind open shelving provides a clean backdrop and helps prevent extra clutter. Less above the counter places emphasis on architectural foundations of a kitchen, allowing everything to breathe visually. Consistency and consideration are important when you have your items constantly on display.
Tile shown: 2 x 8 in White Gloss
Have a smaller kitchen? Open shelving is a great way to keep a space feeling light and airy.
Brick Shown: Ceres
A pop of color:
Open shelving can allow a lot of your personality to come through, choose a pop of your favorite color to add something a little unexpected to your space.
Tile Shown: 3x6 in Kiwi
The warm sunny yellow tile pairs perfectly in this Mid-Century Modern kitchen. The open shelving is minimal and reserved only for daily essentials.
Tile Shown: 2x4s in Daffodil
Shape and color:
Go big or go home, right? Sometimes a burst of color in a compelling shape is just what a space needs to take it to the next level.
Tile Shown: 6" Hexagons in Navy Blue
Allow a colorful tile to shine by pairing with neutral and wood finishes (without the space ever feeling overwhelming):
Tile Shown: 4" Hexagons in Aqua
The Short Splash:
When creating a backsplash with open shelving and tile, you don't have to tile the entire wall. The eye-catching kitchen backsplash showcases our intricate Chaine Homme pattern while only going up the wall mid-way:
Tile Shown: Chaine Homme in Daisy
The larger square tiles on the backsplash below add a refreshing modification to the more traditional 3x6 subway choice. A black paint color above makes the wood shelving and white tile pop:
Not just for the kitchen, in the office below the upper cabinets hide desk clutter while photos and treasures are displayed on a single open shelf. A neutral tile color provides a pleasing backdrop to the playful pops of yellow decor.
Tile shown: 2 x 8 in Sand Dune
Love this look? Order color samples samples now. Need some help? Simply call, chat, or fill out our Design Assistance Form and one of our talented Design Consultants will get back to you shortly.
Shop the Story