Between classic subway tile and trending geometric patterns, square tiles can get lost in the shuffle. However, we've noticed that this versatile shape is back on the map. Tried and true, square tile is definitively versatile and well suited for spaces ranging from traditional to contemporary.
We make our square ceramic tiles as small as sheeted 2x2s and as large as a 12x12s, so we most certainly have enough sizes to fit any need.
Tile Shown: All our square tile sizes in White Wash
Below we'll share a few of our favorite ways to use square tile.
All White:
Like subway tile, you'll get a timeless design element from square tiles. White square tiles are subtle enough to seamlessly fit alongside various design elements, but interesting enough to still stand out. You can opt for a matching white grout for a softer approach or choose to highlight the grid pattern squares create with a contrasting grout.
In a bright white, square tiles have a fresh, modern look. Paired with open shelving and striking blue cabinetry, the kitchen below illustrates the subtle beauty of square tile. For a look like this one, try in of our white tiles in a 4x4 size.
You can set tile in a straight set for a grid pattern, or try an offset pattern as they have done in the industrial style kitchen below:
Thinking of using one of our handpainted patterns for a focal point? Square tile is ideal for a complimentary surround.
Tile Shown: Madrid handpainted tiles and 4x4 square tiles in Gardenia.
Neutrals:
Warm or cool, neutral toned square tiles can be a great way to highlight the natural pattern of this shape.
This gray, square tiled bathroom has gone an extra step and extended the patter onto the floor as well. Smaller sized square tile makes for a smart flooring option as all the grout lines create grip for your feet; we think 4x4 or 2x2s are perfect for bathroom floors.

For gray walls like the one above, try Rainy Day:
Pair it with a shade like Slate Blue for the flooring:
You can also opt for a smaller format tile for your kitchen backsplash:
For a pale gray like the kitchen above, you could try Oyster Shell in 2x2 tiles with a bright white grout.
Black:
There is something about black square tile that really works. Whether you choose it for your backsplash, bathroom or hearth, you'll have a good thing going.
The rustic wood details and white walls are anchored by the short black backsplash in the charming kitchen below.
Image: Bloglovin'
Paired with bright white and colorful details, black square tile is anything but overly moody.
Image: The Design Files
Try our matte black tile, Basalt in 6x6:
Black square tile makes for an inspiring fireplace surround and hearth, as you can see from the installation below.
Image: Apartment Therapy
For a fireplace like the one above, you might try Basalt in 3x3:
Color:
Colorful squares are a great way to show off our more saturated glaze colors.
We love the calming color palette of the bathroom below. A great option for bathrooms, you can go with a 4x4 on the walls and scale down to a 2x2 square tile on the floor.
Looking to create a look like the one above? Try our Aqua in 4x4:
The Scandinavian style kitchen below uses a soft green square tile to compliment both the modern and rustic finishes of the space:
Image: Remodelista
You might try Rosemary in a 6x6 for a tranquil look like the one above: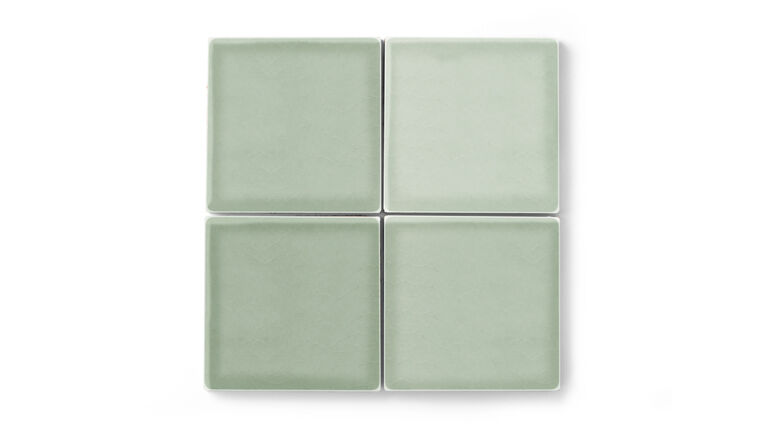 We love how our Saffron tiles look in an offset pattern:
Tile Shown: 4x4 Saffron tiles in the kitchen of The Advocate.
Need more inspiration? Visti our Pinterest board dedicated soley to Square Tile.
Like any of the feaured colors? Order free samples online. Need some help? Simply call, chat, or fill out our Design Assistance Form and one of our talented Design Consultants will get back to you shortly.
Shop the Story