Craftsman Style is Right at Home with Today's Design Sensibilities
By Ted Ryan
From the food we eat to the clothes we wear to the materials we build with to the products that improve our lives, consumers are demanding not just quality but craftsmanship that contains a story about the place it was made, the people who made it, and the impact it leaves on our earth and communities.

More and more, consumers are rejecting the mass-produced, industrialized products that meet our basic needs at the lowest possible price and instead are embracing products that live up to our values.
While this trend is more popular–and arguably more important–than ever, it's not the first we've seen of it. The turn of the 20th century saw a very similar ethos emerge, and judging by today's culture and the Craftsman homes that still decorate some of the most sought-after neighborhoods of America, it's an enduring philosophy as much as a design style.
If you're a lover of artisan quality handmade goods made responsibly with natural materials, Craftsman style is sure to appeal to you.
History of Craftsman Style
To understand the Arts and Crafts movement, it's important to understand what came before it.
The Victorian era was marked by significant changes in the way goods were produced. Industrialization made the production of products faster, cheaper, and on a much larger scale. These factories required significant laborers to operate.
Prior to this industrialization, goods were made by craftspeople. Master craftspeople would train apprentices who would carry on the high-quality craftsmanship that an individual or region was known for. Competing with the price and prevalence of mass-produced goods in the mid-19th century, craftspeople were put out of business and would-be apprentices became barely-skilled laborers. This cycle devalued both the products made and the people making them.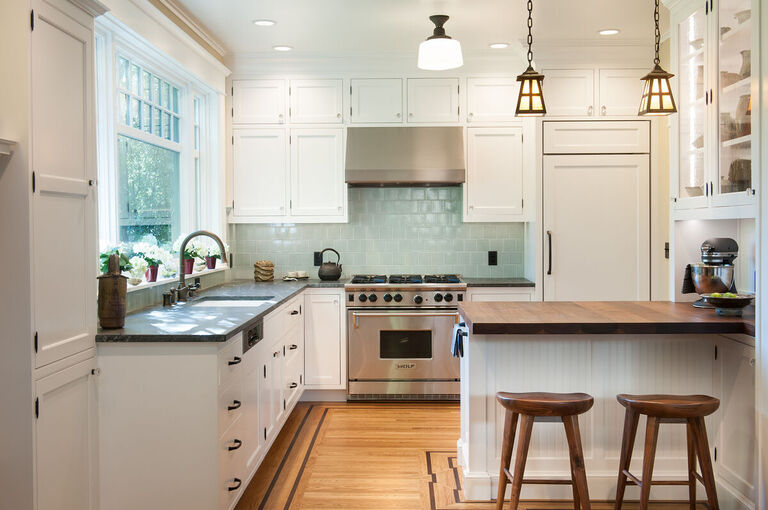 Tile Shown: Salton Sea 4x4 // Install: Arthur Krikor Halajian // Image: Stuart Lirette

England was ground zero of the Industrial Revolution and by the middle of the Victorian era, critics of its namesake design style and the way its goods were produced were coalescing around a new philosophy, or rather, a return to an older one. The British Arts and Crafts Movement rejected machinery and the division of labor required to operate it. Instead they prized high-quality handmade goods created entirely by, or at least under the sole direction, of a single craftsperson.
Tile Shown: Clover 4x4 & 2x4 // Design & Image: Brasstracks KC
While the British Arts and Crafts movement manifested itself in new forms of architecture, furniture, textile, and interior design, to the leaders of the movement, the goods were simply a bellwether for the superior project of preserving the dignity of the worker and thus society at large.
American Craftsman
Arts and Crafts spread through the British Isles and then through Continental Europe before American observers began introducing it to a US audience, most notably Gustav Stickley, who through his magazine The Craftsman, disseminated the principles and aesthetics of the Arts and Crafts movement to a country in the throes of its own Industrial Revolution.
Tile Shown: Bryce Canyon 4x4 // Design: Sabrina Alfin Interiors // Image: Tim Coy
The architecture, interior design, and decorative arts that flourished in the early days of the American Crafts movement were targeted at a uniquely American demographic at the time, the middle class. And a significant number of craftsmen who emerged from the movement weren't men at all. Women makers were front and center of the movement, who, while blocked from the industrial economy, found great opportunity and success in this new makers movement.
Characteristics of Craftsman Style
Craftsman style is typified by the use of natural, local materials constructed with handmade artisanal craftsmanship.
Tile Shown: Basalt Mini Star and Cross // Design: DMB Design Studio // Image: Katia Popik
Craftsman Style Exterior Design
Recognizable most easily in its architectural influences, a craftsman-style home feature low-pitched roofs that extend past the exterior walls of the house and tapered columns that support the roof above a large front porch. The porch itself is a notable example of the social harmony the craftsman movement was meant to create as front porches, as opposed to back yards, invited neighbors to socialize and know one another.
Tile Shown: Bitterroot Brick // Design: Best Practice Architecture // Image: Ed Sozinho
These elements make up the quintessential craftsman bungalow or California bungalow, a style inspired by designs of South and East Asia and popularized in Southern California where many of the most famous examples still stand with robust historical preservation and public admiration.
Craftsman Style Interior Design
The interior design of a craftsman house features a cozy, yet open concept footprint. Showcasing a woodworker's craftsmanship, wood is plentiful, from exposed beams–including the quintessentially Craftsman box beam ceiling–to turned banisters, built-in bookshelves, wainscoting, molding, and solid wood doors. With so much dark wood, natural light was prioritized, which also illuminated stained glass accents, a favorite decorative element of the movement.
Tile Shown: Navy Blue 3x9 // Design & Image: Shane Strickman
A fireplace is a must-have in any Craftsman home. In fact, you'll find at least two and often times several more in a well-preserved Craftsman.
Craftsman Style Color Palette
With a reverence for nature and the environments where local materials were sourced, the Craftsman color palette consists completely of earth tones including rusty reds, greens, browns, beiges, greys and whites.
Tile Shown: Rosemary 3x6, Peabody 3x3 Sheeted // Design: Velinda Hellen Design // Image: Sara Ligorria-Tramp
Our favorite tile colors to complement a Craftsman kitchen are Antique, Hunter Green, Feldspar, Sand Dune, Carbon, Cardamom, Tempest, and Magnolia w/ Black Patine. Sample them here!





Craftsman Style Decor
Since Craftsman is an ideology as much as an aesthetic style, the things you fill your home with will speak to the design of the home as well as your own values. Seek out local makers and artisans whenever possible for your furniture and wares. Choose companies that are using traditional and sustainable manufacturing techniques and natural materials as well as those that are mission-driven to have a positive impact on their environment and communities.
Tile Shown: Absaroka Brick // Design: Decorotation // Image: Sen Creative
While Craftsman can be fairly easily identifiable based on the characteristics listed above, the style will always be more about how something is made than what it looks like.
Fireclay is just one company in a thriving community of makers. Some of our favorites that we've had the fortune to work with include:
Craftsman Tile
Ceramic tile played a major role in the original Craftsman movement. Thanks to the Craftsman movement, ceramic art tile making proliferated in the early 20th century. Today, we still paint tiles by hand, creating one-of-a-kind works of art that keep the Craftsman tradition alive.

Tile Shown: Sintra Neutral Motif // Design: JL Interior Design // Image: Kuoh Photography
At Fireclay, we pride ourselves on pairing well with practically every design style, but there's an obvious soft spot for Craftsman. Creating tile by hand using artisan techniques and locally sourced materials while using our business as a force for good for our community and environment is what we're all about and few styles align with those principles as perfectly as Craftsman.
Craftsman Style Fireplaces
As we mentioned above, the fireplace is an essential element of a Craftsman home. Here are a few of our favorites.
Tile Shown: Salton Sea 2x6 & 3x3 Sheeted, Frost 1x6 Sheeted & Round Liner // Design: TVL Creative // Image: Jess Blackwell Photography

Tile Shown: Jardin Fretwork in Cool Motif // Design: Rudy Winston Design // Image: Janis Nicolay

Tile Shown: Frost 6" Triangle // Design: Gina Rachelle Design // Image: Max Maloney
Tile Shown: Calcite 2x6 // Install: Anja Michals Design
Craftsman Style Kitchens

The kitchen is the heart of a Craftsman home but unlike the living or dining room, it requires more frequent updating to keep it looking and functioning at its best. These kitchens keep the soul of Craftsman alive with handmade tile.
Find everything you need to know about Craftsman kitchens here.
Tile Shown: White Mountains Brick, Antique 6" Hexagon // Design: RT Design Studio // Image: Open Homes Photography
Tile Shown: Calcite 4x4, Antique 8" Hexagon
Tile Shown: Tusk 2x8 // Design & Image: Grace Lee-Lim
Tile Shown: 2x4 Egret Matte // Design: Ollie Pop Design // Image: Belu Photography, Ollie Pop Design

Craftsman Style Bathrooms
The bathroom is often the first room to diverge from a specific design style but it's easy to bring the principles of Craftsman style to yours.
Click here for an in depth look at the Craftsman bathroom.
Tile Shown: Antique 4" Hexagon, Rosemary 4x4 // Design & Image: Claire Thomas
Tile Shown: Clover 2x6, 3x6 & 6x6 // Design: Brownstone Boys // Image: Nick Glimenakis
Tile Shown: Eucalyptus 4x4 // Design: TWENTY-TWO TWELVE, You Should Stay Here, Autumn Hachey // Image: Michelle Johnson
Tile Shown: Sand Dune 2x8 // Design & Image: Rejuvenation
Ready to curate the Craftsman design of your dreams? Get in touch with our Design Consultants for free personalized design assistance including sampling, estimating, renderings and ordering.