Commercial Spotlight: Corporate Amenity Space from Gensler
Sometimes inspiration can come in the unlikeliest of places. Tasked with reviving a dated office building, David Dymond looked to his love for music and a vintage record player to transform it into a playfully engaging space that sparks conversation between the old and the new. We caught up with the Gensler Studio Director and Project Architect to learn more about this project. Keep reading for our full interview!
Meet David Dymond, AIA!
David Dymond, Project Architect at Gensler, Baltimore
Tell us about your job at Gensler! What types of projects do you typically focus on?
I work in Gensler's Baltimore office, and what I love is that we have the best of both worlds. We're a relatively small Gensler office, but have the immense backing of Gensler research, talent, and expertise. It has the feel of working for a boutique firm, but with the resources of the biggest firm in the world to support our work. My studio focuses on commercial office buildings; however, we have a diverse portfolio and experience in government, mixed-use, retail, mission critical, and community engagement projects. We are a global firm, but a good number of our projects are regional, including this one which is in Columbia, Maryland.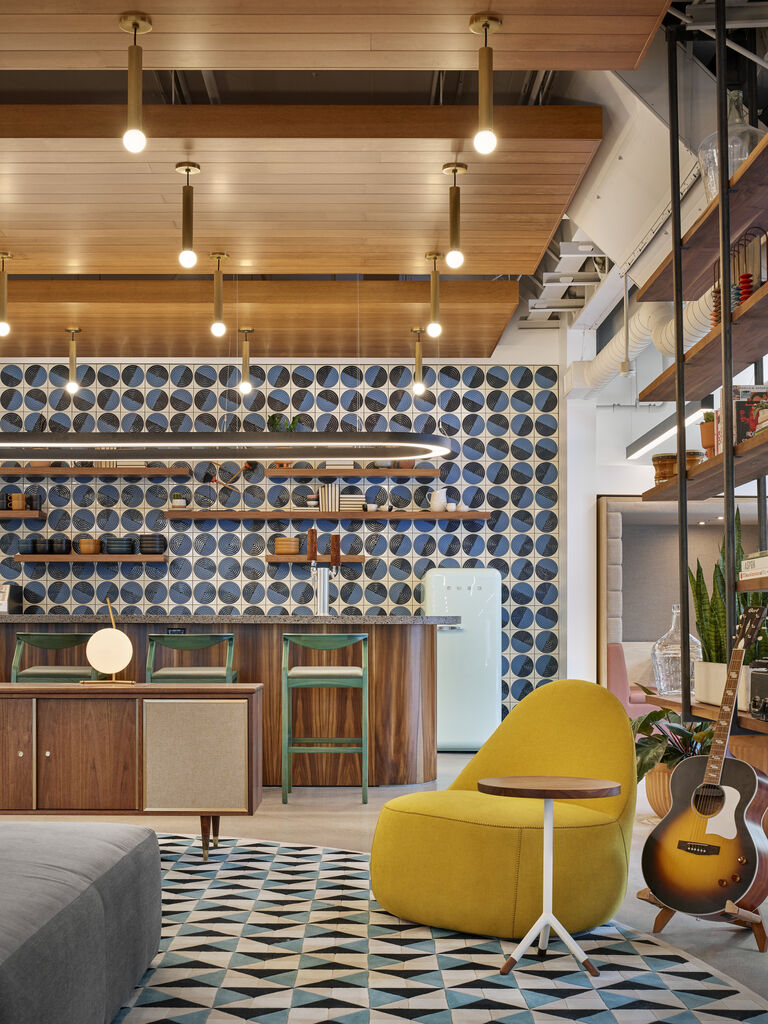 Tile shown: Maze in Warm Motif // Design: Gensler for Corporate Office Properties Trust (COPT) // Photos: Halkin Mason Photography

What do you love about working with tile?
I love the versatility of tile which can be subdued and elegant or wild and fun and anywhere in between. It's been a lot of fun seeing the new, innovative products coming out over the last few years. Tile can be successful in so many applications because it can take on so many forms depending on the size, pattern, geometry, grout size and color, etc. It also relies so much on the installation itself, and I enjoy the challenge of getting all the joints and alignments figured out with the sub-contractor.
Tile shown: White Wash Picket

What's one design tip or tool you can't live without?
A red pencil. For me, it gets the design juices flowing, and it takes away any "white page syndrome" fear of starting a sketch or idea. If I land on something that's working, it looks great to draw on top of with a fat black pen.
What's one fun fact about yourself that your colleagues might not know about?
I love to play guitar and sing, and my friends and I have a band that plays in our buddy's garage and the occasional open mic. The theme is that we always record our first take, and we have at least 50 – 60 recordings that our wives all make fun of and secretly enjoy.
Tell us more about your recent office kitchen project for Corporate Office Properties Trust?
We've had a great relationship with this client for years. The director of design and development called me about this one and said they had a unique challenge turning a very dated, suburban office building into something special. We have a wealth of experience in updating and repositioning office buildings, so this project was right in our wheelhouse.
What's important to you when designing commercial office spaces?
It's all about the experience, and we spend so much time in our workplaces, that's it's important that these spaces are as comfortable, beautiful and engaging as our personal environments. Flexibility and choices are so important to offer in any commercial design—we want to create a place where everyone can do their best work.
Tell us more about the space-- What did your inspiration stem from?
The project was to refresh a 1990s suburban commercial office building while their single tenant was relocating. While the building was vacant, the developer wanted to turn their asset into something new and fresh to attract new tenants. The scope was to create a new entry and vestibule, paint the exterior, and design and curate a fun amenity and conferencing space and fitness center. We accepted from the start that we couldn't change the dated geometry of the building. So, we came up with a paint strategy that obscured and dissolved the 45 degree angles and the rhythm of the fenestration, and this spurred a theme of accepting the old while adding a layer of something new that permeated the interior space as well.
Coincidentally, I went with a friend and collaborator on this project to visit a former colleague in South Carolina. He showed us his new pad, and he had bought a vintage mid-century modern record player. I was obsessed with the record player, and it got me thinking about the ongoing challenge for the latest and greatest in amenities in office environments. We've done ping-pong tables, shuffleboard, coffee bars, etc. (yes, we included these in the design, too), but I had never seen a music room in an office amenity space.

Just as the painted façade accepts a retro form and adds a layer of "new," the focal piece of the amenity experience became a custom, mid-century modern record player with the addition of Bluetooth and WiFi technology. This nostalgic element with both analogue and current technology embodies the playful juxtaposition of time periods seen throughout the design.
When we found the Maze in Warm Motif tile, it reminded us of a record, and we had to use it as the full height backsplash to the amenity area and pantry featuring cold brew and nitro coffee. It's the backdrop to the space and embodies the curated, artisanal, and playful theme throughout.

Tile shown: Maze in Warm Motif
How did the installation process go?
Great. We had a pre-construction meeting to sort out working points and expectations, and ensure the whole team was on the same page.
Final thoughts on your office project?
The project was a great collaboration with our client. They had the foresight to see that a relatively affordable design intervention would greatly increase the draw to attract new tenants. I don't think any of us anticipated how much the project would exceed expectations by having the building 80% leased within mere months of substantial completion.
What Fireclay products are you dying to use in future projects?
I was dying to use the Glazed Thin Brick, so now it's the flooring in my kitchen at home. My next home improvement project will be the master bathroom tile.
Brick Shown: Cascade
Want a sample of Maze in Warm Motif? Click here. Need some help on your own project? Simply call, chat or fill out our Design Assistance Form and one of our talented Design Consultants will get back to you shortly.
Shop the Story