5 Rules for New Traditional Design
Are you new to new traditional? Drawing from traditional design with edits influenced by contemporary principles, new traditional is a timeless design style that's both familiar and refreshingly new.

New traditional is a little more laid back than its predecessor, but not without a few rules to follow. Stick to these five before putting your own spin on a space for a new traditional design that's guaranteed to stand out (and stand the test of time).
What is New Traditional Design?
Just like Spanish revival or neoclassical, new traditional is an updated take on a time-honored design style. So to understand new traditional, it's important to first put our finger on what we mean by traditional.
Tile Shown: Glazed Thin Brick in Sierra Nevada & Adirondack // Design & Image: Shavonda Gardner
Traditional design style is actually an interpretation of an older style as well, taking inspiration from 18 and 19th-century interior design. Elegance, comfort, and order were all hallmarks of this era and distilled into what we today call traditional.
Ornately patterned carpets, richly upholstered furniture, and dramatic window dressings fit right in. Furniture and finishes are meant to match as complete sets and motifs. Kitchens are highly decorative with influences from the past.
Fast forward to today where formalities are more easygoing and fashions have streamlined in a modern direction.
Tile Shown: Basalt, Blue Velvet & Dust Storm 2x8, Dust Storm 3x6 // Design & Image: Camille Kurtz

New traditional still draws most of its influence from traditional but with a contemporary character that is less heavy and more fun than the ornate, matching decor of traditional while still being timeless and elegant.
Lines are a little cleaner, spaces are a little more edited and opportunities to inflect your own personality are rife.

So how can you update your traditional home or start a new traditional design from scratch? Follow these 5 rules.
1. Layer
Tile Shown: Appalachian Glazed Thin Brick // Design & Image: Leslie Murchie
Layering texture, colors, and patterns is a hallmark of new traditional style. Fabrics such as velvet or silk, jute rugs, large-scale window treatments, and even your tile choices are all prime opportunities to add layers of intrigue.
Just like with clothing, layers allow you to be comfortable without the need for any bulky, overbearing pieces. Instead, layers of lighter effects fill out the room without feeling heavy.
2. Keep Coordination Loose
Tile Shown: Shetland Wool Ogee Drop // Design: Collected Studio // Image: SEN Creative
New traditional skews far more eclectic than traditional decor. Furniture should have commonalities and pair well together but matching sets are much less in style. This makes evolving a space over time far easier. If you're drawn to a furniture piece you discover a year or two from now, you can include it without having to redo your whole room's decor.
Loose coordination means as you grow and tastes change, so can your home, making new traditional truly timeless.
3. Make it Pop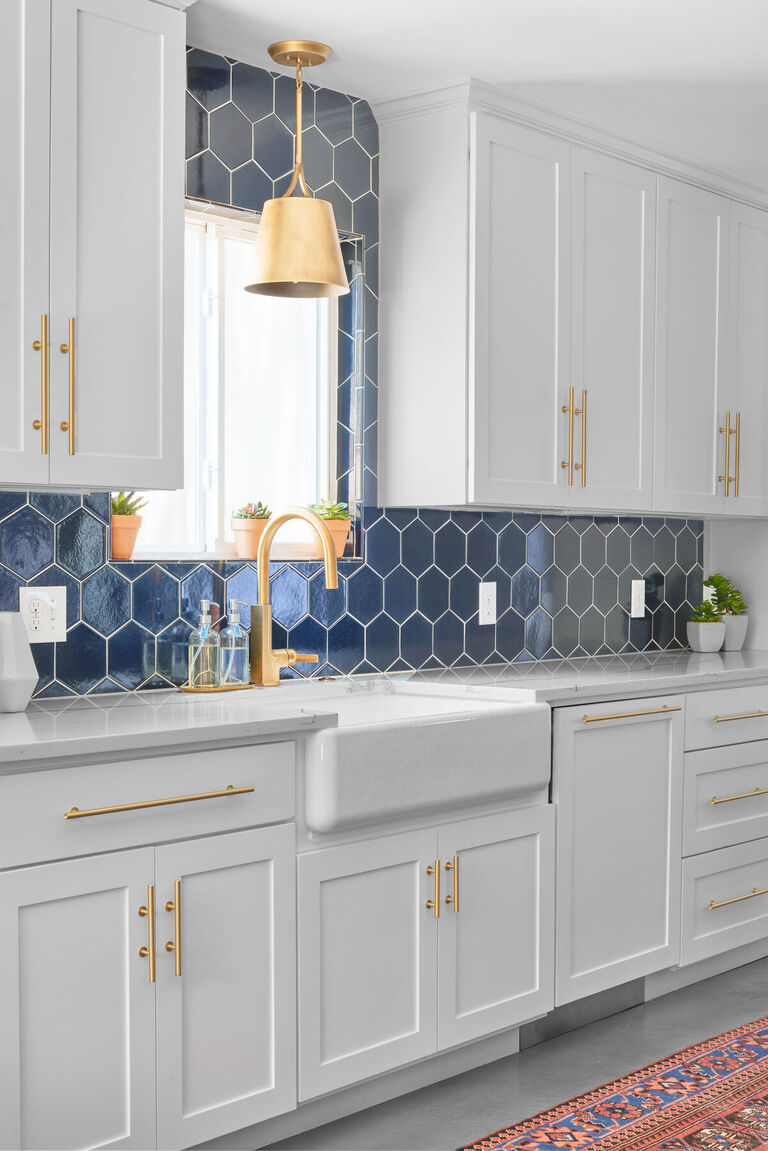 Tile Shown: Navy Blue 6" Hexagon // Design: John Gioffre // Image: Leonid Furmansky
Pops of color bring a new traditional style to life and make for a truly memorable room design. Rich, saturated colors against neutral backgrounds and wood accents are common, along with dark & moody accents.
New Traditional Color Palette Combos:
Our favorite new traditional colors include: Navy Blue, Sand Dune, Antique, Cardamom, Salton Sea, Flagstone, Tusk & Evergreen. Get your new traditional color samples here!

Neutral Base:
Color Pop:
Greens: Bright Green, Deep Forest Green, Soft Sage Green
Deep Reds
Blues: Antique China Blue, Deep Navy Blue
Glossy & Matte Black
4. Fill in with Florals
Tile Shown: White Wash, Oyster Shell & Evergreen 4" Hexagon // Design: Caroline Myers Interior Design // Image: Thomas Kuoh
Florals are huge when it comes to new traditional style. Found most prominently in wallpaper but also in furniture, carpets, curtains, artwork, throw pillows, and floor tile, no other pattern is more at home in new traditional than floral.
5. Keep it Comfortable
Tile Shown: Brooks & Rocky Mountain Glazed Thin Brick // Design: Megan Low // Image: Melati Citrawireja
New traditional design is more informal and inviting than traditional so consider how you, your family, and your guests will approach a space, and the impression your design will leave.
All the things that make traditional so appealing, warmth, upholstery, wood, stone, and the overall feeling of luxury will still apply but the moderation of modern design should make a space feel relaxed as though a room doesn't require a special occasion to enjoy.
New Traditional Kitchens
Tile Shown: Driftwood 2x8 // Design: Evgenia Merson Design // Image: SEN Creative
This kitchen is a clean and comfortable space that invites guests to gather around the central island to admire the green backsplash set against the neutral walls and natural wood cabinets.
Tile Shown: Rosemary 3x6 // Design & Image: Rejuvenation
White, wood, neutral marble, and a pop of green are perfectly balanced in this kitchen with clean contemporary lines for a refined look.
Tile Shown: Evergreen Star and Cross // Design: Rebecca Gibbs Design // Image: No Bad Things
A bold display of green tile walls complemented by the sage green paint sets this kitchen up for success with wood beams, floors, and open shelving accents.
Tile Shown: Sintra in Custom Motif // Design: Annabode Interior Design // Image: S. Brenner Photography
This handpainted tile backsplash combines the splash of color and floral pattern hallmarks of new traditional.
Tile Shown: White Wash & Daisy Ogee Drop, Jardin Fretwork in Custom Motif // Design: Susan Hall Studio // Image: Emily Minton Redfield
The double island, modern seating and custom handpainted tile take this impressive new traditional kitchen in a contemporary direction.
Tile Shown: Flagstone 3x6 // Design & Image: Rejuvenation
Along with luxurious lighting, the use of color and wood tones gives this spectacular kitchen depth and detail.
New Traditional Bathrooms
Tile Shown: Flagstone 3x9 // Design: JL Interior Design // Image: Thomas Kuoh
Refined fixtures and contemporary cabinetry put the new in this new traditional bathroom that ties its open concept together with a gorgeous green backsplash and matching perimeter tile.
Tile Shown: Rosemary 2x8 // Design & Image: Erin Kestenbaum
This refreshing bathroom ticks all of the new traditional boxes with tile walls with round liner trim that go perfectly with the tree-themed wallpaper, modest wall sconces, and classic sink design with brass accents for a traditional look that's undeniably new.
Tile Shown: Rosemary 3x6 & Peabody 3x3 // Design: Velinda Hellen Design // Image: Sara Ligorria-Tramp
Wood cabinets, brass accents, a marble backsplash and two shades of green tile against a clean neutral backdrop give this charming bathroom a noticeably new appeal. Bonus points for the deep red towels, candle, and floral arrangement to solidify the look.
Tile Shown: Navy Blue Chaine Femme & 6x12 // Design: Noz Design
With cutting-edge contemporary design, this luxurious bathroom is far from your parents' traditional bathroom, but the combination of clean marble, deep navy tile, wood floors, white walls, and dark cabinets all pay homage to the classics of the past.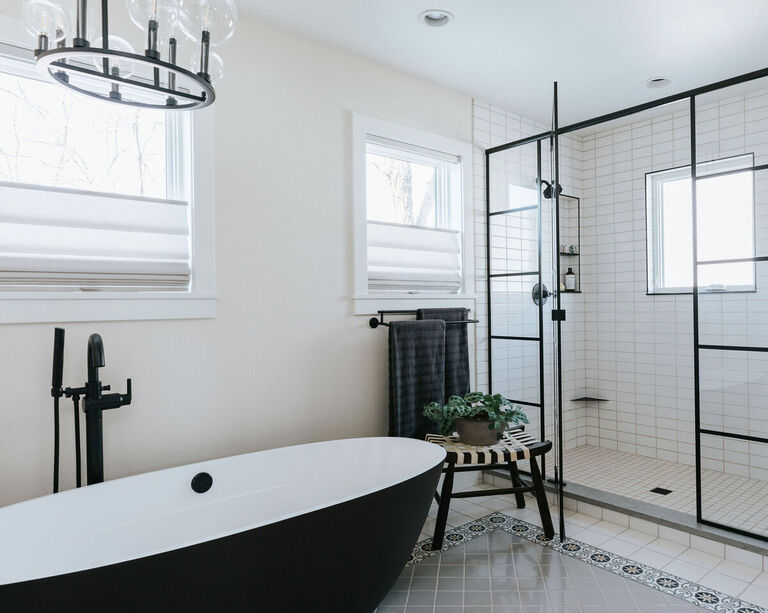 Tile Shown: Shetland Woold 4x4, Ivory 6x6, Tusk 3x6, Ivory 2x2, Seville in Neutral Motif // Design: K.Squared Design // Image: Sierra Ann Photography
A bright neutral bathroom gets a dramatic new traditional twist with a black soaking tub, black framed shower glass, black fixtures and accents throughout.
Tile Shown: Alpaca 2x6 & 6x6, Slate Blue Chaine Homme // Design: Collected Studio // Image: Sen Creative
Blue shower floor and ceiling tile and a matching blue vanity give this spacious neutral bathroom a bold pop of new traditional color.
New Traditional First Impressions
Tile Shown: Evergreen Picket // Design: HIR A+D // Image: Hannah Robertson
This elegant entryway reveals the home's style instantly with a splash of glossy green color to compliment the bright white interior.

Ready to start a new tradition in your home? Our design consultants can help bring your unique vision to life with our free design services. Reach out to be connected with your personal consultant today!