5 Rules for Desert Modernism
Drawing on the climate and landscape of the Colorado Desert, the natural resources present as well as the manufactured materials of the mid-20th century when the style was created, and the cultural influences of desert communities around the world, Desert modernism is an iconic subset of Modern design that's immediately recognizable.
Desert modernism has been a hallmark of Palm Springs and the greater Coachella Valley since the 1940s and is increasingly common in desert communities across the West. Learn how to nail the look with 5 rules for desert modernism.
Our Desert Collection is the perfect palette for a desert modern design, featuring the desert-inspired colors of Red Rock, Mesa, Tumbleweed, Evening Glow, Painted Sky, Dawn, Dust Storm, and Adobe.
What is Desert Modern Interior Design?
Desert modern interior design is based on the principles of Modernism: clean lines, industrial materials, and building methods, simplicity, and affordability. What specifies desert modernism from other Modern styles is the influence of its environment.
Tile: Columbia Plateau Brick // Design: HubbaHubba // Image: Lauren Engel
Where Scandinavian design, for example, is Modern interpreted through the lens of nordic landscapes and society, desert modernism draws on the unique features of the desert. That includes colors, materials, and culture.
5 Rules for Desert Modern Design
1. Highlight the Environment
The operative word in desert modernism is of course 'desert' and no decorating can replace the natural design of the desert outdoors. Large, unobstructed glass walls and windows will let you enjoy the captivating arid landscape from inside the home, and functional outdoor areas like pools and patios will allow you to immerse yourself in the environment in comfort.
Tile: Dust Storm 3x3 // Design & Image: Claire Thomas
This cuts both ways. Not only should your views be unobstructed from the inside, eschewing curtains, blinds, or closed-off walls, but the views should also be unobstructed from the outside as well. Desert modern architecture is defined by low-pitched roofs tucked into building sites to appear virtually invisible and maintain a near-pristine landscape.
When building, renovating, or decorating a desert modern home, it's better to blend in than stand out.
Tile: Tumbleweed 2x8 // Design: Kimberly Pinola // Image: John Park
You can still use elements of desert modernism in your design even if you don't live in the desert, but if you do, celebrating that sense of place is a must.
2. Mimic the Outdoors
While rule number one instructs one to let the environment remain the center of attention, it's also important to let the environment influence your interior design finishes.
Tile: Custom Jardin Fretwork // Design & Image: Sara Combs & Rich Combs
Starting with color, choose shades that match the outdoors from warm neutrals to reflect granite peaks and boulders, soft pinks and brick reds to mimic smooth sandstone, soft greens to match desert sagebrush, and pops of vibrant yellows, oranges, and pinks to pay homage to flowering cacti.
Tile: Mojave Brick // Design & Image: The Joshua Tree House, Sara + Rich Combs
Speaking of cacti, plants play a crucial role in bringing the outdoors in. Decorate your home generously with cacti and succulent plants. Not only are these desert plants beautiful, but they're also some of the simplest to care for, making them great for short-term rentals.
3. Weave in Texture
Where the first two rules of desert modernism draw on the natural environment of the desert, rule number 3 brings attention to the cultures of desert locales by introducing woven decor to your design.
Tile: Adobe Star & Cross // Design & Image: Claire Thomas
Cahuilla baskets, Bolivian blankets, Moroccan rugs, and Moorish macrame wall hangings all originated from desert cultures and complement a modern desert design perfectly.
This is one area where desert modernism diverges from some of its more minimalist siblings, bringing in a Boho look that honors the history of not modern design, but the hardscrabble settlement of desert lands around the world that continues today.
4. Mix Natural and Manufactured Materials
Modern design was revolutionary at large because of the advancements in manufacturing that were taking place during its dawning. Modernism took advantage of new industrial techniques that made available mass-produced affordable materials like steel, molded plywood, and plastics.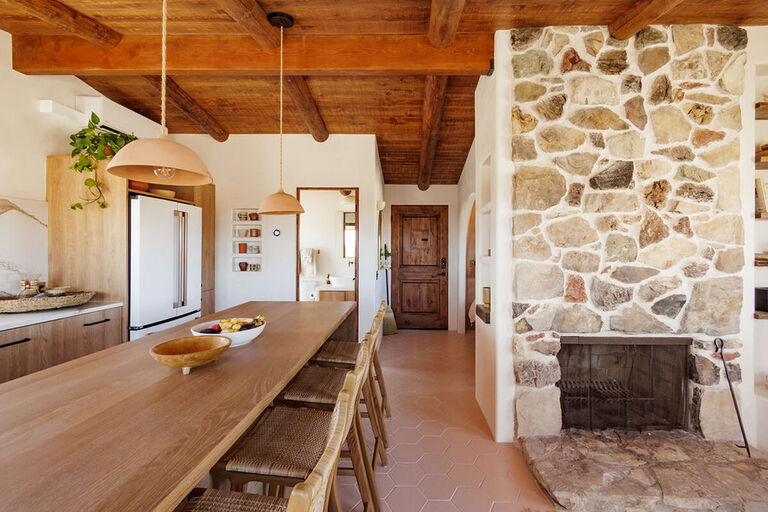 Tile: Tumbleweed 8" Hexagon // Design & Image: The Joshua Tree House, Sara + Rich Combs
These readily available industrial materials (along with lax building codes of the time in the Palm Springs area) made architectural experimentation fast and inexpensive. Most of the original Modern homes in Palm Springs weren't meant to last more than a few decades.
What separates many of the most iconic examples of desert modernism from broader midcentury modern architecture was the incorporation of natural materials available on the properties, namely stone.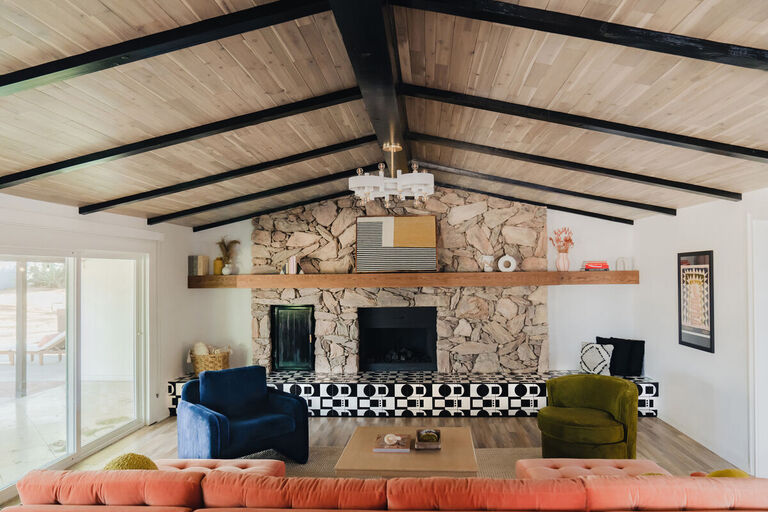 Tile: Block Shop x Fireclay Tile Dot Dash // Design: Rae Rockwell // Image: S. Cole Kiburz
The juxtaposition of elemental and experimental, and the unlikely marriage working so well, is something that makes desert modernism so unique, not just within the umbrella of Modern design but architecture and design in general.
5. Keep it Simple
At the end of the day, desert modern design is still firmly rooted in Modernism and the principles of simplicity still apply. The iconic homes of Neutra, Krisel, Frey, Wexler were deliberately meant to be simple forms.
Tile: Tusk 1x6 // Design & Image: Jessica Jones
Albert Frey's legendary Frey House II is only 800 square feet. Frank Sinatra's Twin Palms estate designed by E Stewart Williams, while much larger, only exists because Williams succeeded in talking Sinatra out of an elaborate Georgian design.
Keep in mind, these homes were not built for full-time occupancy, and many of today's iterations aren't either, so designs can naturally be simplified to fulfill their intended purpose.
Tile: Salton Sea 3x6 // Design: Kimberly Pinola // Image: John Park
Last but not least, we must remember the nature of the desert itself. Compared to other environs, deserts can appear austere and inhospitable. But spend time in one and the simplicity becomes its attribute, where the superfluous is stripped away and the open space becomes not a deficiency of inspiration, but the purest source.
Dreaming of desert modernism? Ready to express yourself in your maximalist home? Start with free tile samples to find bold inspiration. Want some expert advice on where to work in handmade tile? Fill out this simple form to get free assistance from a dedicated consultant, including cost estimates and photo-realistic renderings.