5 Fall Tile Trends for 2021
You may have noticed a chill at night, a change in the leaves, kids going back to school, or everything going pumpkin spice. Yep, fall is back! As another summer fades and autumn creeps in, you may be looking for more than a change of season. Fall is a perfect time to start a new renovation project at home and we're here to help with 5 fall tile style trends for 2021.
Colors to Watch for This Fall:
Muted colors of nature set the tone for the season of change. Cool water, crisp fall fruit, and chlorophyll fading landscapes are all represented. Featuring Mustard Seed, Cardamom, Caspian Sea, Salton Sea, Tumbleweed, Antique, Sand Dune, and Hunter Green, sample the season with our Fall Favorites.
1: Warm Memories
The weather might be getting cooler but warm colors are cropping up everywhere you look in autumn. Forests ablaze in fall foliage, pumpkins polka dotting fields in orange, and people piling on layers of fall color schemes. A warm color palette in your home sets the scene for cozy memories over hot drinks with family and friends.
Photographer Maria del Rio takes the sepia tones of nostalgic fall memories and infuses them into her warm and welcoming guest bathroom.
Tile Shown: 4x4 in Koi // Design: Anthony Roxas Architecture // Image: María del Río
A combo of Hunter Green and Mustard Seed yellow perfectly captures the transition of fall landscapes in these twin duplex kitchens by Taylor and Taylor.
Tile Shown: Mustard Seed 2x8 // Design:Taylor + Taylor Co // Image: Tiffany J. Photography
Tile Shown: Hunter Green 2x8 // Design: Taylor + Taylor Co // Image: Tiffany J. Photography
Handsome Salt matches a rich red and soft pink to warm up this spacious glass tile bathroom.
Tile Shown: 3x12 Glass Tiles in Pheasant and Rosy Finch with 3x9 tiles in Limestone // Design: Handsome Salt // Image: Jenny Siegwart
Mexican paver floors and walls of rich brown brick give this kitchen a warm and rustic atmosphere.
Brick Shown: Columbia Plateau and Lewis Range // Design: Mark Williams Design Association + Niki Papadopoulos // Image: Emily Followill
Blush-colored Tumbleweed tile gives this black and white kitchen a burst of warmth that makes it feel like home.
Tile Shown: 2x8 in Tumbleweed // Design: Dominique Gebru // Image: Tyler Hooks for Laura Metzler Photography

Hues of goldenrod and aging grass give this cottage tile floor by Claire Thomas a distinctly fall feeling that invites you to draw a warm bath.
Tile Shown: 3x3 tiles in Calcite and Haystack // Design + Image: Claire Thomas
2: The Return to the Office
Whether you're working from home or heading back to the office, good design goes a long way. If you spend your time on the clock in an office, invigorate it with a tile design that makes going to work more fun.
Stick around for a stop and chat when your office kitchen is as inviting as Dollar Shave Club's.
Tile Shown: 3x6 in Neptune // Design: Rapt Studio // Image: Rapt Studio
Inspire creativity with intricate handpainted tile like the common space of this Baltimore office.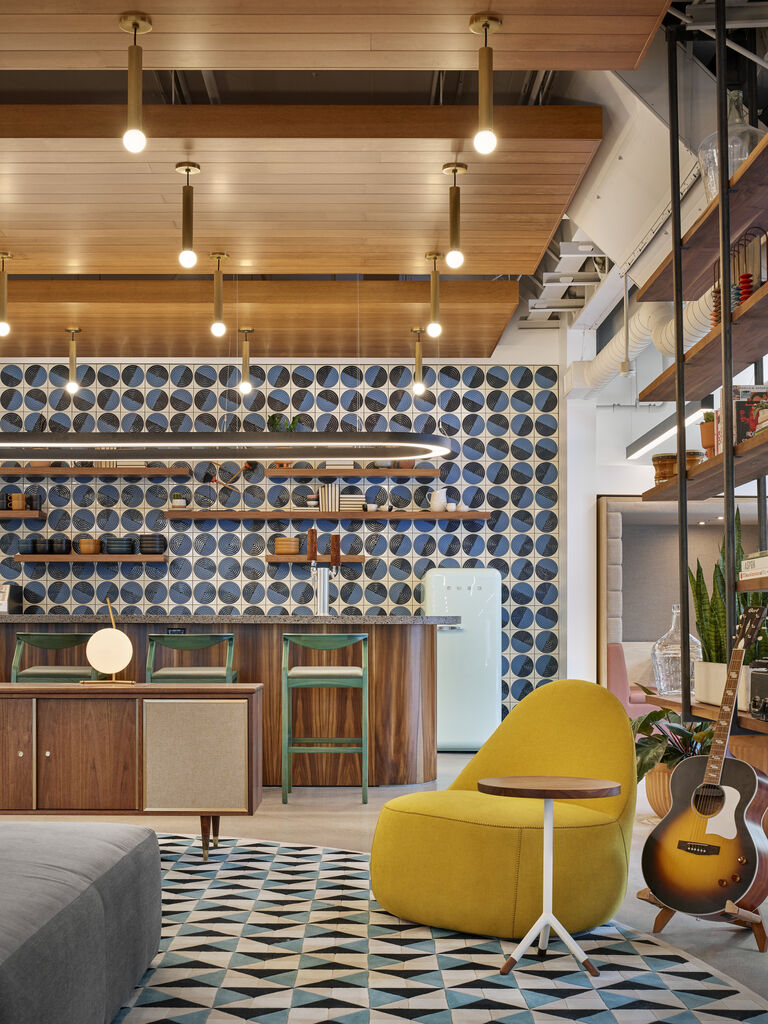 Tile Shown: Handpainted Maze in Warm Motif // Design: Gensler Baltimore // Image: Halkin Mason Photography
Bring the comforts of home to work with you, including good taste in kitchen finishes like this glossy backsplash by Project M Plus.
Tile Shown: 2x4 tiles in Halite and Tusk // Design: Project M Plus // Image: Project M Plus
Ceramic tile stands up to years of wear and tear and looks great doing it, like at this Austin coworking space, The Commune.
Tile Shown: 3x3 in Sand Dune // Design: Claire Zinnecker// Image: Leonid Furmansky and Son of Rand
If you're work-from-home for the long haul, create an office space that helps you get into a productive mindset and inspires your best work.
Tile Shown: 8x8 in White Wash, Shale, Moonshine, and Nickel // Design: Luke Williams // Image: Jessica Lynn Williams
3: Home is Where the Hearth is
Need more hygge vibes in your home? An indoor fireplace is a perfect way to bring cozy comfort to your home. From rustic brick to handpainted ceramic tile, turn your fireplace into a focal point you'll love to gather around.
Bold black brick makes this fireplace the center of attention in a bright open concept home.
Brick Shown: Black Hills // Design: Brasstacks // Image: Erin Hassett
Rich and rustic, this glazed brick fireplace feels warm and welcoming even without a fire.
Brick Shown: Columbia Plateau // Design: Monaca Brown Design Co. // Image: Lauren Moore
Speaking of sans fire, a tiled faux firebox is a perfect way to turn attention to a non-functional fireplace.
Tile Shown: 2x6 in Dawn // Design + Image: Reserve Home
Want more en fuego inspo? Check out our 3 top fireplace trends.
4: Self-Care at Home
The rush of summer is finally over and now's the time to slow down with some soothing self-care. Create an oasis for yourself by turning your bathroom into an at-home sanctuary.
Tile shown: Ogee in Salton Sea // Design: Harper Design Projects, Janie Clark // Image: Blake Verdoorn
Let the day melt away in this peaceful spa bathroom with dark tile surrounding a deep soaking tub.
Tile Shown: 2x2 in Peabody // Design + Image: Working Holiday Studio
Pampering yourself is a priority in this elegant bathroom that invites you to stay awhile.
Tile Shown: 2x8 in Caspian Sea // Design: Arazi Levine Design // Image: Joyelle West
This Art Deco-inspired powder room designed by Claire Thomas for Harding House is truly one for the books.
Tile Shown: 3x3 tiles in Cardamom and Mist // Design + Image: Claire Thomas
Glazed brick mimics the exposed brick interiors New York is known for in Vanessa Carlton's SOHO loft bathroom.
Brick Shown: Lewis Range // Design: Sarah Sherman Samuel // Image: Nicole Franzen
5: Timeless Trend: Go Green!
When designing to current trends, it's always important to think long-term too. That means considering what a living space will look like in the future but also what our planet will look like.
Tile Shown: 3x9 in Tumbleweed // Design: Ginny Macdonald, Styling by CJ Sandgren // Image: Sara Tramp, Jessica Bordner
Sustainability is always in style and you can design knowing Fireclay is Zero Waste, Climate Neutral, LEED Qualifying, and a Certified B Corp in part because of our industry-leading environmental practices.
Plus, 1% of all brick sales are donated to the National Parks Conservation Association to fund the preservation of our national parks for generations to come.
Need handmade, sustainably made tile fast? Browse our Quick Ship catalog for top styles that are out the door in 5 days or less.


Tile Shown: Mini Starr and Cross in Antique // Design + Image: Mallory Lunke
Shop the Story