3 Timeless White Bathroom Tile Trends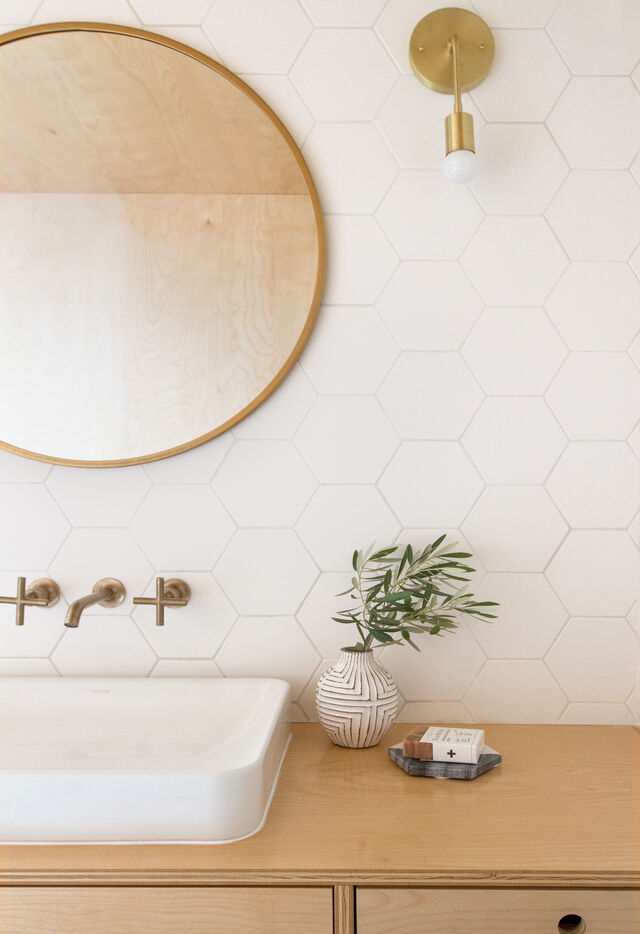 All-purpose and always flattering, there's everything to love about white bathroom tile. Bright white tile is one of the best ways to make your bathroom feel more spacious–it's a staple of interior design for good reason! No matter what your style is, you can count on white to go the distance.
Although we love the timeless look of subway tile, there's so much more that white tile has to offer! We've rounded up three ways to work with white that will never fall out of favor. If you're looking for white tile ideas for your bathroom design, check out these timeless trends (and if you can't get enough, our Pinterest Board has even more!).
Remodeling your entire bathroom? Start here with our complete guide to bathroom tile.
Herringbone
Herringbone tile has been around for centuries and remains a go-to pattern to this day. The woven veneer adds texture and visual interest, and white tile laid in a herringbone pattern is a beautifully understated way to elevate your bathroom. Play with different sizes of field tile to find the herringbone style that works in your space–whether you use it as a backsplash, in the shower, on the floor, or another application, white herringbone tile leaves a lasting impression.
Go for a bold and beautiful look with herringbone from floor to ceiling, like this clean, modern white tile bathroom.

Tile Shown: 2x6 in White Wash // Design: Becki Owens
For a fresh twist on this classic, consider flipping the pattern on its side. This shower installation featuring White Wash tile with dark grout is what black-and-white geometric dreams are made of.

Tile Shown: 3x6 in White Wash // Design: Whitney Leigh Morris
Want an instantly elevated backsplash? Installing soft white ceramic wall tile in a herringbone pattern above the marble tile vanity oozes sophistication in Mandy Moore's guest bathroom:
Tile Shown: 2x8 in Calcite // Design: Sarah Sherman Samuel, Emily Farnham Architecture
Straight Set
If you're going for a mid-century modern look, consider a straight set installation for your white tiles. Use square tiles in a straight set for a timeless look, or rectangular tiles in either a horizontal or vertical stack. This installation, also known as stacked tile, works well with contemporary and modern spaces and is a versatile, classic choice for standard white subway tile.

White straight set tile provides a distinctive modern touch to this tranquil bathroom along the floors and up the walls.


Tile Shown: 2x8 in Sugar // Design: Jen Pinkston // Image: Katie Jameson
Our mosaic tiles are available sheeted for your convenience. These straight set mosaic tiles epitomize minimalist shower goals, and the matte white pops when set against a slightly contrasting floor tile color.

Tile Shown: 1x6 in Sugar with 2" Hexagons in London Fog // Design: Sarah Sherman Samuel // Image: Zan Passante

A vertical straight set pattern can help your bathroom ceilings appear higher, making your bathroom look and feel more spacious. This installation evokes simplicity and symmetry, tenets of minimalist and Scandinavian design.
Tile Shown: 2x8 in White Gloss with 6" Hexagons in Daisy // Design: Caitlin Flemming
Playing around with a straight set installation can pay off with beautiful results. These vertically installed white field tiles are slightly offset in the shower for a clean yet cozy Scandi look.

Tile Shown: 3x12 in Calcite // Design: Mokume Design Studio
Pattern Play

Fireclay offers handmade tile patterns and shapes that will make the bathroom your favorite room in the house. If you've fallen in love with a tile pattern or shape but aren't sure how to make it work, go white! White tile is an approachable way to introduce patterns and shapes into your bathroom for a timeless look with major visual interest.
Hexagon tile is a classic choice for a bathroom application. You simply can't go wrong with this always-on-trend shape–it's lovely as both floor and wall tile. How perfect does our hex tile look against that natural stone tub?


Tile Shown: 6" Hexagons in Calcite // Design: Sarah Sherman Samuel
Looking for ceramic tiles that are a little more distinctive? A specialty shape, like our Ogee Drop, can add dimension and texture to an all-white tile installation:

Tile Shown: Ogee Drops in White Wash // Design: Becki Owens
Who says white can't be bold? With just the right amount of color variation and luster, our Chaine Homme Tile in White Gloss takes Emily Henderson's guest bathroom from standard to extra special.

Tile Shown: Chaine Homme in White Gloss // Design: Emily Henderson // Image: Tessa Neustadt
There are lots of opportunities to pattern play with our field tile sizes in small or large format; this parquet floor is a perfect example. If you want your pattern to stand out a bit, choose a slightly darker tone of grout for your bathroom floor tile like this:

Tile Shown: 3x12 in White Wash // Design: Becki Owens
White diamond tile across the bathroom floor provides an attention-grabbing modern foundation, especially when paired with dark grout.
Tile Installation Tip: Highlighting your chosen pattern with a darker grout color can make your pattern pop (see install below), but make sure to check with your Design Consultant about how dark you should go with your grout color and always use grout release with a white or light shade of tile to prevent staining during installation.

Tile Shown: Small Diamonds in White Wash // Design: Whitney Leigh Morris // Image: Monica Wang Photography
Our Star and Cross Tile is another classic shape that makes any space shine with a hint of Moroccan flair. Perfect for bathroom floors or walls, this pattern is just as dynamic in white as it is in one of our bright glazes:
Tile Shown: Mini Star and Cross in Tusk // Design: In Honor of Design // Image: Rustic White Photography
Adding tonal specialty shapes into a shower niche is a fun way to incorporate patterns into your bathroom in small doses. How cute is our Small Diamond Tile in this built-in niche?

Tile Shown: Small Diamond Escher in Calcite with 4x8 in Calcite // Design: Clara Jung
A favorite for industrial design, don't discount Glazed Thin Brick in the bathroom! Brick brings texture and rustic beauty into any space–plus, 1% of all Brick sales is donated to National Parks Conservation Association. With four shades of white to choose from, this material can absolutely be used for your bathroom backsplash, shower walls, and bathroom floor. Please note that we do not recommend Brick for your shower pan flooring due to its more porous nature.

Brick Shown: White Mountains // Design: Anja Michals // Image: Vivian Johnson
Ready to work it with white tile? Order color samples online to see what shade and material will work best for your project. And if you need some help with all of those bathroom ideas, our Design Consultants are here to help with free design services! Reach out to be connected with your personal consultant today.
Shop the Story