15 Glass Backsplash Tile Ideas
By Ted Ryan
Glass tile gives any space a sleek, contemporary look. Impervious to water and stains, glass is a great choice for backsplashes. A glass backsplash makes a kitchen or bathroom easier to care for and provides a freshness that pairs perfectly with today's modern fixtures.
Glass Shown: Rosy Finch Matte in 3x12 // Design: Handsome Salt // Image: Jenny Siegwart
We're walking you through 15 glass tile backsplash ideas on the cutting edge of backsplash design.
Learn the 6 Things to Consider When Choosing a Tile Backsplash
Reasons to Consider Glass for Your Backsplash
Stands up to Backsplash Wear and Tear
Our handmade Glass Tile is made by fusing clear glass with ceramic glazes at a high temperature. Glass tiles can be installed on interior or exterior wall areas, in wet or dry locations. Our glass tile is made of pure impervious glass, and have the following qualities:
• Impervious to water and stains
• Highly resistant to chemical attack
• Resistant to fading and discoloration
In abrasion tests predicting real-life wear of tile, our glass tile is rated Class 3, meaning it is appropriate for heavy residential to light commercial use. For routine cleaning, we recommend using non-abrasive glass cleaners like a microfiber towel on glass tile.

Design Choices
Glass tile is available in a huge variety of dimensions and vivid colors, offering vast possibilities for your kitchen or bathroom backsplash.
We offer 24 colors, each available in either matte or gloss, and 12 sizes including 6 sheeted mosaic shapes. Sizes and colors can be mixed and matched together, or glass can be paired with ceramic tile, opening up even more colors, shapes, and ways to customize your backsplash.

Contemporary Appeal
Precision laser-cut glass fused with vivid glaze is as futuristic as it gets when it comes to visionary design. A glass backsplash is a stylish backdrop for today's countertops, cabinets, appliances, and fixtures.

15 Glass Kitchen Backsplash Ideas
Matte Monochromes
White tile, especially subway tile, is usually the safest option for a kitchen backsplash. But white glass grabs attention the way other tiles may not. Neutral glass tile is a conservative choice but anything but conventional.
Choose a matte finish to diffuse the reflectiveness of light if you have a bright kitchen that gets plenty of daytime sun. The light shade keeps the kitchen bright without blinding you with glare when you're trying to cook.
This kitchen backsplash in Egret Matte Glass offsets the dark hardwood with a frosty finish that matches the light grey cabinets.
Glass Shown: Egret Matte in 2x4 // Design: Ollie Pop Design // Image: Belu Photography, Ollie Pop Design
The same colorway tile gets an even more contemporary appearance by using 4x4 Tile in a Straight Set pattern.
Glass Shown: Egret Matte in 4x4 // Design + Image: Victoria Ninette Interiors

Boxi by Semihandmade's showroom shows of its cabinets with a pink matte backsplash that gives a pop of soft color to the white kitchen.
Tile: Rosy Finch Matte // Design: BOXI by Semihandmade // Image: Molly Rose Photo

Taking the pop of color in a white kitchen a step further, this contemporary kitchen opts for bold blue matte glass tile.
Tile: Magpie Matte 3x12 // Design & Image: Joy Street Design
Instead of complementing a white kitchen, this space makes the backsplash the primary color using a soothing matte green glass tile.
Tile: Flycatcher Matte 2x12 // Design & Image: SIN
Matte & Gloss Matchup
If you like matte glass tile but want to add a little more design detail to your backsplash, consider mixing and matching matte and gloss tiles with the same color. The backsplash will appear uniform but reflect and diffuse light differently between the scattered finishes.
Tile: Sparrow Matte 4x12, Sparrow Gloss 4x12 // Design: Megan Warren // Image: Kathryn MacDonald
Color Combination
While a light, monochromatic backsplash screams contemporary, adding a little color and variety can bring warmth and a more classic look to your kitchen.
This backsplash comes together with a tonal assortment of complementary colors that pays homage to the look of a classic brick wall with a modern twist.
Glass Shown: Chickadee Gloss, Oriole Gloss, and Falcon Matte in 2x6 // Design: Velic Construction
Glass Bathroom Backsplash Ideas
Tall Tile
A single course of 12-inch tile offers sharp design detail as well as the benefits of no horizontal grout lines to clean.
This powder room uses warm Dove Gloss glass to give the vanity area vertical coverage in a subtle neutral.
Glass Shown: Dove Gloss in 2x12 // Design: Andrea Dabene // Image: Alex Strohl
Rosy Finch Matte Glass with white grout gives this backsplash a soft pink pinstripe design.
Glass Shown: Rosy Fing Matte in 2x12 // Design: Metro Design Build // Image: Jeffrey Johnson

This bathroom features vertical 12" tile all the way to the ceiling to contrast the deep red glass shower tile.
Glass Shown: 3x12 in Sparrow Matte and Pheasant Gloss // Design + Image: Chase Daniel

Modern Mosaic
Intricate straight-set glass mosaic tiles give this pink powder room a charming aura.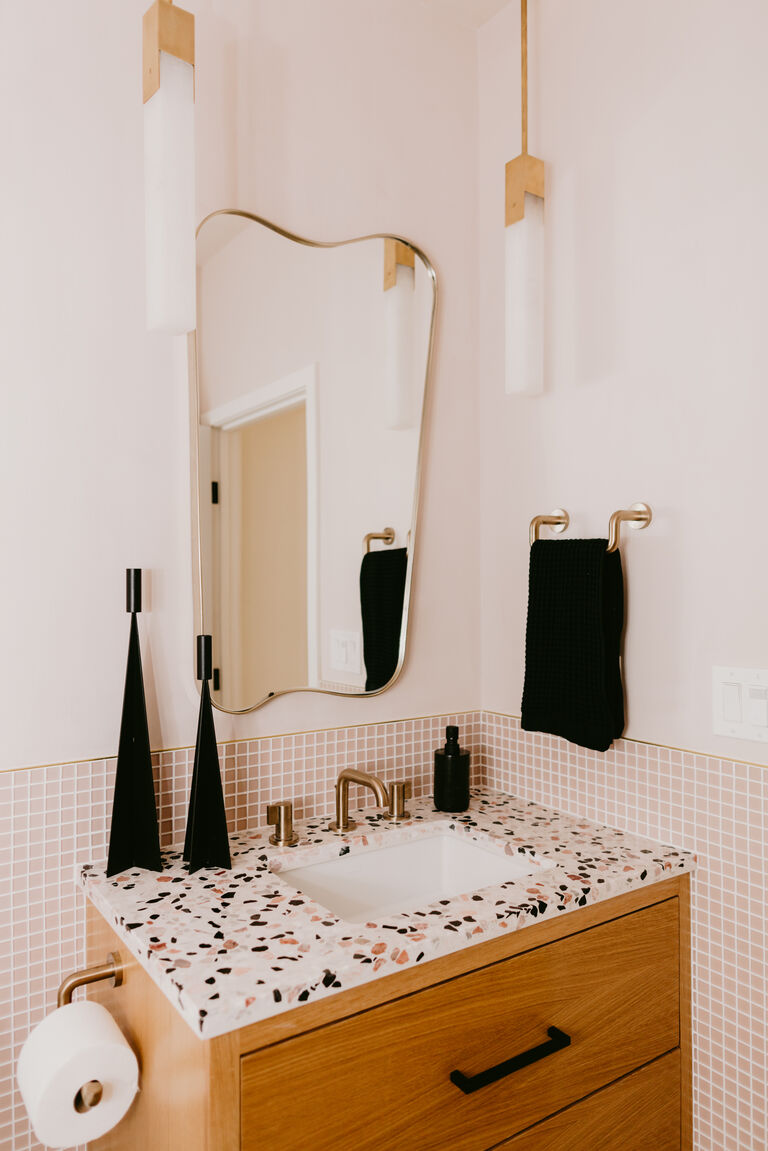 Glass Shown: Rosy Finch Matte in 1x1 //Design:Ginny Macdonald, Styling by CJ Sandgren //Image: Sara Tramp, Jessica Bordner

Large Format
The smaller the tile, the more grout lines will be needed to install your backsplash, grout lines that need to be cleaned regularly.
For larger area backsplashes, consider a larger format tile like Joy Cho of Oh Joy! did with this wall of offset 4x12 Glass Tile in Rosy Finch Gloss.
Glass Shown: Rosy Finch Gloss in 4x12 //Design: Project M plus, Oh Joy // Image: Bethany Nauert

Beyond the Backsplash
A glass backsplash works best as one element in a cohesive bathroom design. Consider connecting your backsplash to other tiled surfaces throughout the bathroom.
This herringbone bathroom gets a complete coverage of Blue Jay Matte Glass Tile that includes the backsplash area.
Glass Shown: Blue Jay Matte in 2x12 //Ginny Macdonald, Styling by CJ Sandgren //Image: Sara Tramp, Jessica Bordner
This laundry room is a mixed media marvel. Glass tiles in 4 colors combine in a color block pattern that corresponds across 3 dimensions with the perfectly matched paint.
Tile: Carolina Wren Matte, Falcon Matte, Rosy Finch Matte & Oriole Matte 4x4 // Design: SOKO DAI // Image: Tramp Studio
This low-profile backsplash in cool Warbler Matte lines up perfectly with the half wall separating the sink from the custom shower tiled in the same 4x4 glass.

Glass Shown: Warbler Matte in 4x4 //Design + Image: Victoria Ninette Interiors

Remodeling your entire bathroom? Start here with our complete guide to bathroom tile.
Ready to get some glass and start designing your kitchen or bathroom backsplash? Sample from our extensive collection of colors in gloss and matte finish.

Shop the Story