Top 10 Commercial Projects of 2017
With 2018 just around the corner, we're counting down are favorite commercial projects of 2017. From swoon-worthy spas to office kitchens to custom mosaic murals, it was exciting to see our tile go to work in so many incredible commercial spaces. Working on a commercial project? Contact us to get started! A resolution for 2018? We'd love to see even more of your commercial projects! If you're sharing on social, be sure to tag and use #Fireclaytile
Here's our Top 10:
10. Hai Poke Restaurant
A rippling wall of Adriatic Sea, Daisy, and White Wash Ogee Drops is the perfect backdrop for Hai Poke's fresh seafood fare, designed by Black Ink. We love how much pattern and texture was thoughtfully put into this small space without feeling overwhelming.
We're also big fans of pairing two of our favorite white glazes, White Wash and Daisy together, as they've done here:
9. Goop Test Kitchen
The lifestyle gurus at Goop collaborated with MARCH and us to develop an inviting custom tile backslash for their studio test kitchen. We're big fans of floor to ceiling tile and loved seeing this 4x8 size put to use more often in 2017.
Tile Shown: 4x8s in a custom glaze
8. De Maria
Using a primary palette, The MP Shift created a statement with swaths of our handcrafted 4x4 tiles in the New York restaurant, De Maria. We love this art inspired bar backsplash that showcases a few of our favorite things: bold color, square tile and a fresh take on installing a blend of colors.
Tile Shown: 4x4s in St. Alban's Blue, Persimmon, Daffodil, Sea Green and Shale.
7. Secret Agent PR x Simply Grove
With the aim of a modern and cheerful look, Kirsten Grove of Simply Grove designed an office space for her friends at Secret Agent PR that would reflect their fun work environment. Wanting to add something to the space that felt timeless, Kirsten chose our handpainted Old Cairo tiles in our Black and White Motif. This project goes to show that a small pop of pattern can go a long way in any space.
6. A-Mano
Walls of Scalene Triangle Tile in White Wash wrap around the modern Italian eatery A Mano, reinforcing the space's old school meets new school sensibility. This sky high installation highlights one of our favorite shapes in the best way: with slightly contrasting grout for maximum impact.
Design: Hannah Collins Design; Image: Aubrie Pick
5. Wit & Delight Studio Kitchen
We collobrated with creative mastermind Kate Arends behind the celebrated blog Wit & Delight, upgrading the Studio MLPS's kitchen with a dark and dramatic backsplash in
6" Hexagons in Navy Blue.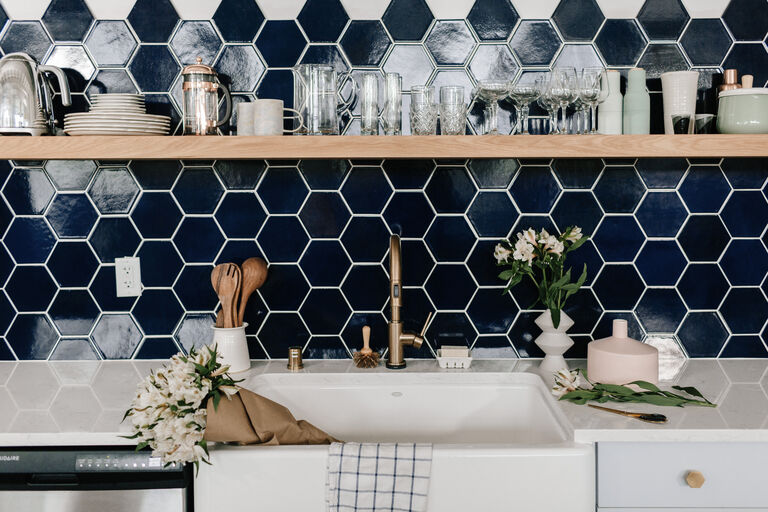 Later in the year, they expanded their studio, thus needing more tile, which resulted in this (insert heart eye emojis here):
Tile Shown: 2x8s in Navy Blue
4. Bernardus Lodge and Spa
The bathrooms at Bernardus Lodge & Spa make for a sweet escape, adorned with our Picket Tile and Handpainted Kabuki Sphere accents. We're all wishing we could go home to a bathroom this everyday.
Tile Shown: Pickets in Celadon and handpainted Kabuki Sphere in Neutral Motif
A closer look at the tub surround:
Design: Arcsine; Image: Paul Dyer
3. Robin's Sushi
Custom pink and red engobe glazes were blended with Basalt to create a striking koi fish-inspired Picket backsplash for one of San Francisco's hippest sushi restaurants. We love the bold color pairings, textured finishes and materials and the neon sign too.
Design: T-D Architecture; Image: Patricia Chang
2. Da Kikokiko
Conceived by design studio DUST & Co., Da Kikokiko serves up a fresh twist on island style with custom Triangle tiles across the floor and bar. This project really showcases our custom capabilities; from the custom colors to the abrasive finish used to make the floor tiles commercial ready, we love, love, love this project.
Images: Bethany Nauert
1. Salesforce
With over 5000SF of 2x2 tiles in a rainbow of colors, Salesforce East in San Francisco is what happens when a talented group of designers, artists, colorists and tile come together. While it began in San Francisco, these mosaic backplashes will be installed in Salesforce buildings throughout the country and globally as well. After the success of this project, they signed on for our tile in New York, Boston, Washington state, Colorado, Indiana and globally in: London, Munich, India, Sydney and Amsterdam. The themes in each location are loosely based on the cities they are in. We can't wait to share more of this incredible collaboration with you in 2018!
Let's have a closer look at one of the 2x2 murals:
Image: Patricia Chang; Design: Gensler and The Wiseman Group, inspired by art by Shinji Murakami
Inspired by these projects? Order color samples online now. Need some help? Simply call, chat or fill out our Design Assistance Form and one of our Design Consultants will get back to you shortly. Working on a commercial project? Contact us to get started!
Shop the Story