Tile School: The Importance of a Dry Lay
When it comes to buying tile, we like to be there for you every step of the way. From helping you choose the perfect color to figuring out whether you need trim or not, we want to set you up for success. We'll give you a lot of advice along the way, but one of the most important things we'll tell you about is a dry lay.


Laying out your tile with your tile installer in your desired pattern, along with your chosen grout lines before the tile is set will ensure that you'll be happy with the final result of your installation. Whether you're installing a classic subway pattern or a something a bit more intricate (like the triangle island below), a dry lay is a must, we're going over the reasons why below:
Image: Anne Sage Tile Shown: 6" Triangles in Calcite.
Making Sure You're Covered:
First and foremost, you want to make sure you have enough tile for your project; a dry lay can confirm if you are good to go. We'll always confirm square footage with you and suggest trim, as well as a 15-20% overage, but sometimes you can still come up short. If this is the case, you'll need to do an add-on order and it's best to wait to install so that you can blend the two orders (keep scrolling for more on this).
Making the Cut:
A dry lay is a way to determine where cuts will be made in an install. This is especially true if you've chosen a specialty shape. You can see from the Ogee Drop bathroom where careful planning would have had to have taken place. From making sure the Ogee Drops met up at the corner to how they started the pattern at the top of the bathtub.
Tile Shown: Ogee Drops in Crater Lake
Justina Blakeney's bathroom would have taken careful cuts and thoughtful planning. The installer had to align the herringbone pattern in the corner of the shower and then there's the arched niche to consider as well:
Tile Shown: 2x8 in Tidewater with handpainted Elephant Star
Color Variation:
We rate our tiles from a low level of color variation (V1) to high (V4)--more on that here. Color variation can differ from batch to batch and between different firings. If you have a larger order, it's possible that your order went through different firings, thus there could be color variation within your order. A dry lay is a great way to make sure you're spreading out the variation for a clean, evenly blended installation, like the one below.
Tile Shown: 2x6 Tiles in Sea Foam.
Size Variation:
Our tile is handmade and not modular, thus there will be size variation between tiles and this can affect the size of your grout joints. You can see in the close up of the herringbone pattern below, how the grout lines are adjusted for the size of the tiles. A dry lay can help you see where adjustments will have to be made.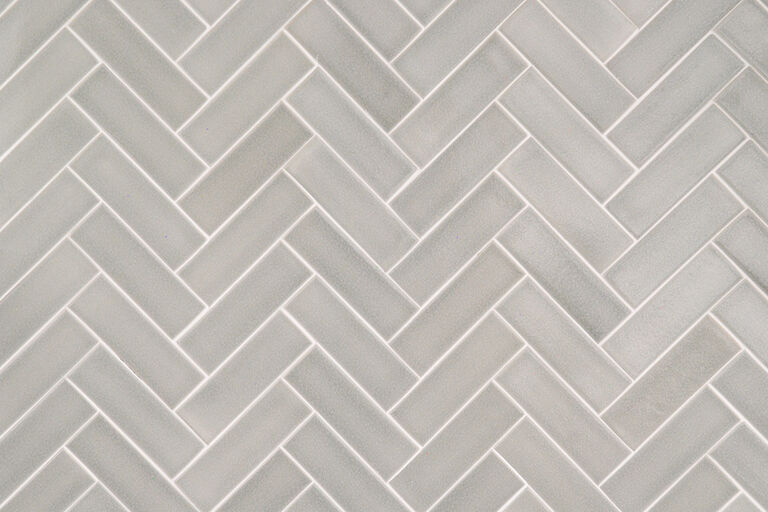 Tile Shown: 2x6 Tiles in Foggy Morning.
You can see the nature of our handmade tiles in the kitchen backsplash below. The installers of this project had to adjust grout lines for both the size variation and the more intricate pattern--a dry lay, in this case, was very necessary in order to have this beautiful result.
Tile Shown: Pickets in Sea Glass.
Collaboration:
Installing a more intricate pattern or blend of colors? Collaborating with your installer will ensure that you'll get the best installation.
Tile Shown: Small Diamonds in Frost, Naples Blue and Salton Sea; Design: Urbanism Designs
Speaking of Small Diamonds, while we do sheet Mosaics for you, it is still important to work with your installer to make sure they understand your vision, especially if it's a more randomized pattern, like this:
Tile Shown: Small Diamonds in Akoya, Chartreuse, Dolomite and White Wash
If you're installing a randomized pattern in a blend of colors, a dry lay can help determine the balance and allocation of color. We suggest working closely with your installer and to either you yourself be present during the installation or someone you trust who understands the look you're going for.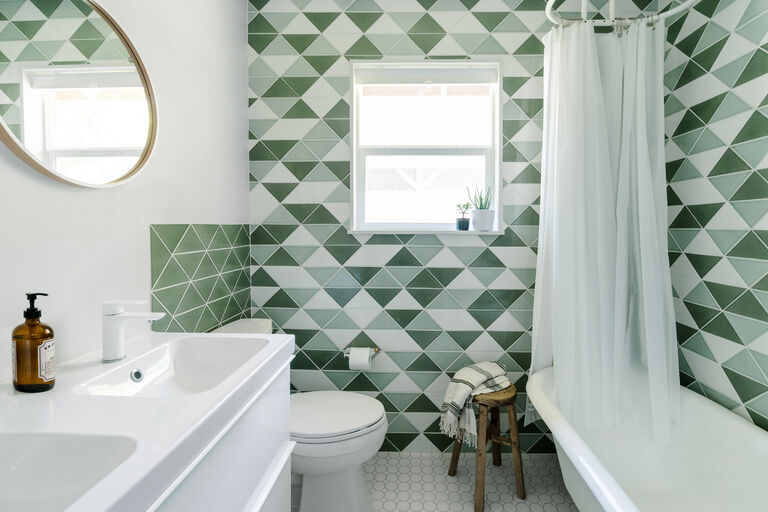 Tile Shown: 6" Triangles in Frost, Rosemary and Salton Sea; Image: Chase Daniel
Like any of the featured colors? Order samples online now. Need some help? Simply call, chat, or fill out our Design Assistance Form and one of our talented Design Consultants will get back to you shortly.
Shop the Story