How is the holiday season already upon us?! And we'll be ringing in 2016 before you know it...On top of all the holiday hoopla, are you also in the midst of a remodel? If so, now is a good time to plan ahead if you're thinking of unveiling your space with some seasonal entertaining. We do make everything to order, so it is important that you keep lead times in mind.
Image: Paseo in White Gloss; we'd love to prepare a festive meal in this gorgeous kitchen!
You will want to make sure you factor in the time it takes to receive your color samples (we offer the first 5 for free), working with a design consultant (we do offer complimentary renderings for projects 75 SqFt and greater), the time it takes to ship to you, along with the installation process. We'll run through the 5 steps of our tile ordering process and current lead times below:
1: Order Free Samples
We offer your first 5 color samples for free! Are you interested in seeing one of our shapes in person? Feel free to call, chat or email your Design Consultant and we'll be happy to send it your way. Are you thinking about using one of the patterns from our Handpainted Collections into your home? Have some fun with our COLOR-IT Tool and make sure to allow 1-3 weeks for a sample to be made and shipped to you.
Below is an example of a custom handpainted backsplash. Our handpainted tiles do have the longest lead times at 4-6 weeks. Keep this time frame in mind if you are hoping to have tile installed within this year.
Tile Shown: Custom handpainted Madrid and 4x4 in Gardenia
Sometimes, it can be a matter of having to choosing which tone of white you want, which is why color samples help so much!
Tile Shown: A selection of our white tile and brick colors.
2: Free Design Assistance
We truly like to help! We know that buying tile isn't easy and want to make the process as simple and enjoyable for you, which is why we offer free design assistance. We're happy to answer your questions, set up additional sample orders and give you our opinions along the way. Keep in mind that our lead times vary between our materials, so make sure to take a look at the infographic below to make sure the materials you are interested in fit into your time frame.
3: Complimentary Renderings
Did you know we offer free 3D design renderings as well? A rendering can be a wonderful visualization and decision making tool as you move through the design process. If you are having trouble deciding between a couple of our colors, shapes or patterns, this might be the answer for you.
Image: An example of what one of our 3D design renderings can look like.
4: Production
Once you've made your purchase, your order will move into production. We'll send you notifications as your order moves through the production process, but you can feel free to reach out to us if you would like an update.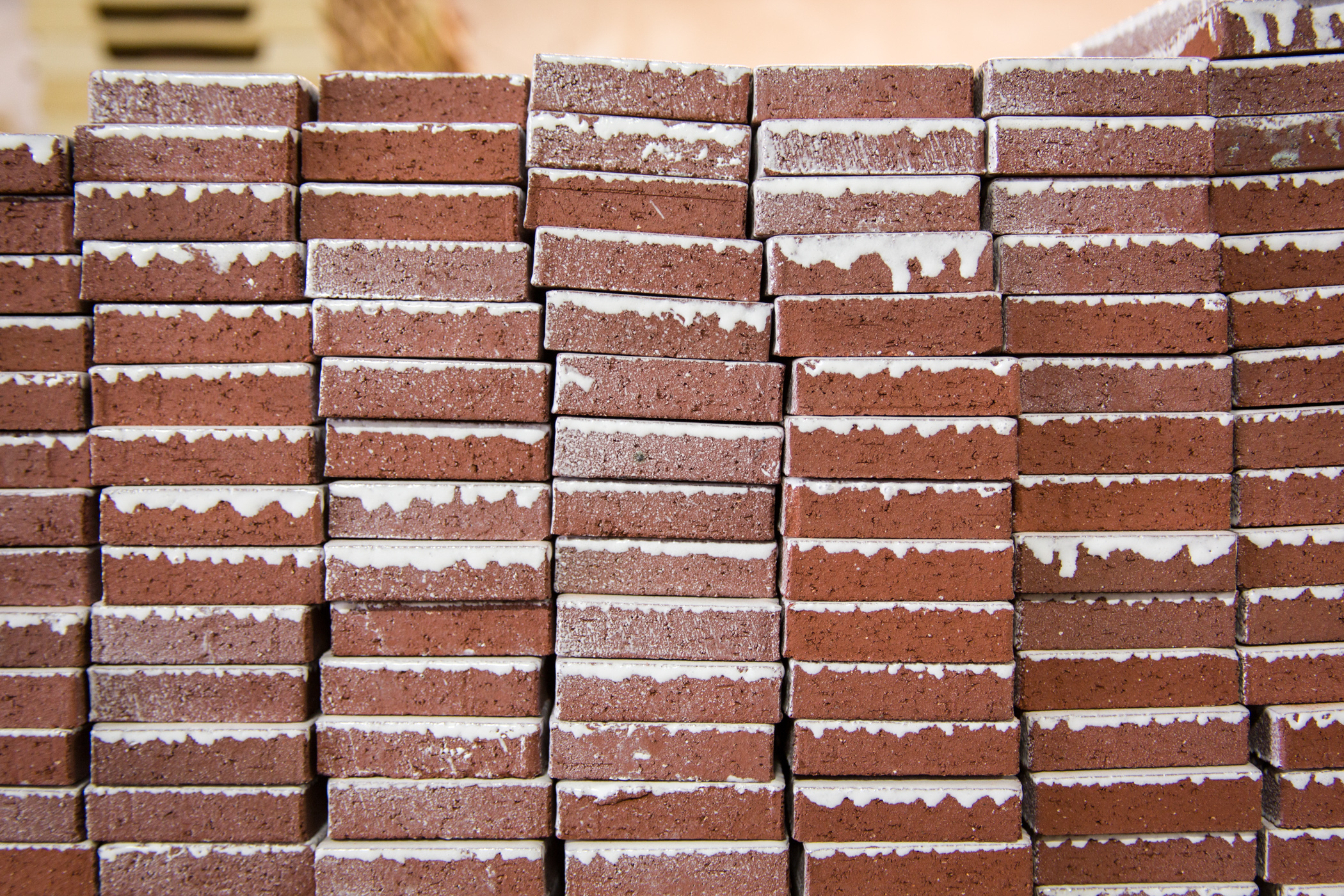 Image: Brick in production phase
5: Shipping
When your order goes into packing, you will receive a notifcation from us to let you know that your order will ship soon (that way you can start getting really excited). Once your order ships, we will also notify you and send you your tracking number so that you can keep tabs on your tile. Shipping generally takes about a week depending on where you are located. Keep in mind that this is the season where weather can cause delays. If you live in a colder region where you get snow, make sure to factor that possibility into your time frame.
We'll leave you with this image of a cozy kitchen...how about that in-kitchen fireplace? Swoon. We hope that whichever of our materials you choose that you are as happy with the end result as we are looking at this picture:
For a look like the one above you could try our Cotton Brick for the fireplace and any of our white 3x6 subway tiles for the backsplash.
Do you have questions about our lead times or materials? Simply call, chat, or fill out our Design Assistance Form and one of our talented Design Consultants will get back to you shortly.
Shop the Story