Tile School: How to Match Your Tile with Your Countertops
Tile shown: 3 x 6 in Loch Ness; Design: Studio Claro
When choosing tile for your kitchen there are a variety of other surface materials you'll need to consider, and one of the most important surfaces to consider are your countertops. When selecting your tile you'll need to think about what your countertops are going to look like, and how your tile will look up against those countertops. Below are a few of our favorite countertop types and how to select complementary tile.
Marble
Marble is a popular countertop choice, and works well in any kitchen style. The subtle white hue tinged with hints of gray make it the perfect neutral backdrop for just about any color. Depending on your other finish materials you can pair anything from subtle neutrals to bold brights with a marble countertop.
Tile shown: Ogee Drop in White Wash; Image: Shooting LA; Design: AIH Development
Colorful Caesarstone
Caesarstone is a great choice for countertops for those looking for a durable, low maintenance option available in a large selection of colors. Caesarstone even comes in fun bright colors such as the lime green looking hue below. When pairing tile with a bright color like this we recommend choosing a neutral hue to keep the design from feeling overwhelming.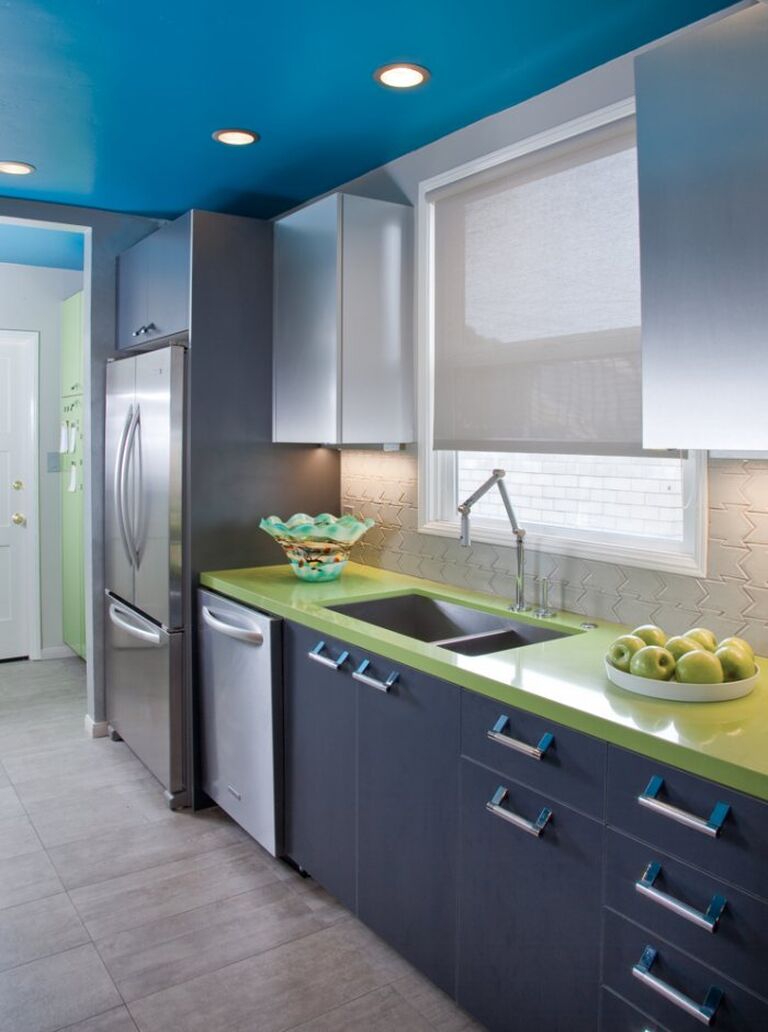 Tile shown: Cravat in Foggy Morning; Design: Kropat Interior Design
Tile
Tile countertops might seem like a thing of the past, but they are making a comeback! When choosing tile to go next to a tile countertop you can use the same hue and continue the tile to your backsplash, or you can choose any color that complements the tile color used on the countertops. You should also consider the tile pattern being used on your countertops to prevent choosing a clashing backsplash pattern. We love the idea of a black subway tile countertop tile with a contrasting white subway tile backsplash.
Tile shown: 3 x 6 in Pitch Black; Image: GE Appliances / Power Creative
Wood
Wood countertops bring warmth and texture to your design, and the great part?–Wood goes with just about everything. Try a bright white or a fun splash of blue. if you choose a neutral tile hue go a shade darker or lighter to prevent your tile from blending in with your countertop.
Cement
Cement countertops give your space an industrial chic look that feels fresh and contemporary. When choosing tile to pair with your cement countertops, keep the entire design in mind. For an industrial, contemporary look we suggest bright whites, gray, or cool neutrals.
Tile shown: Paseo in White Gloss; Image: Malcolm Fearon Photography; Design: EAG Studio
Ready to order tile to pair with your countertops? Order free samples now. Need some help? Simply call, chat, or fill out our Design Assistance Form and one of our talented Design Consultants will get back to you shortly.
Shop the Story