Tile School: Choosing the Right Tile for Your Backsplash
If you're working on designing your kitchen backsplash, you know that you've got a lot of options. If you're going for handmade backsplash tile, we've got you covered. All of our materials, Glazed Thin Brick, Handpainted and Tile, are suitable for a backsplash application. You just have to decide which one best suits your style! We'll go over a few things that are good to consider (along with design tips and ideas) below:
1. Don't Be Afraid to Mix Materials
Perhaps you've fallen in love with two of our materials and cannot decide between them...maybe you don't have to? If you have opposing walls in your kitchen, two materials can really complement each other, while adding texture to your space. A lot of people want to use handpainted tiles, but find it's out of their budget, but you can always just create a focal point and pair with one of our Foundations Collection colors and sizes at $18/SF.
Tile Shown: Handpainted Malta in a motif created with our Color-It Tool, paired with 2x6 in Tusk // Design: Kristen Peña
The founder of Fireclay Tile, Paul Burns, chose to feature hand-painted tiles behind his stovetop and then used 4x4s in Gardenia in the rest of his kitchen:
Tile Shown: Custom Madrid handpainted tiles and 4x4s in Gardenia
You can also consider one material for your backsplash and another for your floors. As you can see below, our Glazed Thin Brick and ceramic tile pair together with ease in the same space:
Tile Shown: Glazed Thin Brick in Olympic with 6x12 in Gypsum // Design: Studio McGee // Image: Monica Wang
2. A little tile can go a long way
On a budget? Don't underestimate how far a bit of tile can go. If you really love our handpainted tiles, you can opt for just a focal point, as they have done in the two kitchens below:
Tile Shown: Kasbah Trellis in Neutral Motif
Tile Shown: Old Cairo in Black and White Motif // Design: Kirsten Grove // Image: Laure Joilet
3. Gloss vs. Matte
Within each of our materials, we offer different finishes (more on that here). It's important to consider what finish, Gloss, Matte or Satin, will work best in your space. Consider both the natural and artificial light that will exist in your kitchen and make sure to look at your color samples at different times of day and under lights to make sure the color and finish is the one you want.
The kitchen below uses a mix of gloss and matte finishes (which we love). You can see here how much more the gloss tiles will reflect light.
Tile Shown: 3x6 Subway tiles in Raven and Carbon.
You can see how this matte glaze doesn't reflect as much light and has a slightly softer look:
Tile Shown: Hexite in Calcite // Design + Image: Urbanism Designs
4. Myths about Brick
Some people worry that our Glazed Thin Brick will be difficult to clean, but it actually cleans just as easily as our other materials! Also, sometimes the thickness of our Brick concerns people, but this really doesn't pose an issue for your space or during installation. The width of the brick can actually be a blessing if you are doing a lipped marble countertop. These two materials are roughly the same width, making for a seamless transition between the materials!
Brick Shown: Front Range // Design: Jon de la Cruz // Image: House Beautiful
Brick Shown: Lewis Range
5. Your Grout
Your grout is an important material for backsplash too, both as an installation and design element. (Grout 101 here). We always recommend sanded grout for most installations, but If you are using our Tile or Brick consider investing in Epoxy grout, it's a real game changer. Tile is easy to clean, but your grout will show wear. Epoxy grout requires very little maintenance, so even if you've tiled behind your stove top (the area that will ultimately get the dirtiest), you're looking at a lot less cleaning.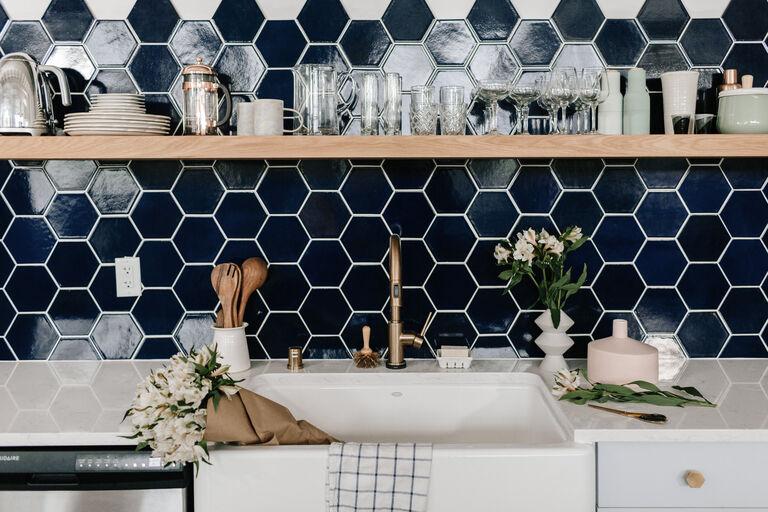 Tile Shown: 6" Hexagons in Navy Blue // Design: Kate Arends
Like any of the featured colors? Order samples online now. Need some help? Simply call, chat or fill out our Design Assistance Form and one of our talented Design Consultants will get back to you shortly.