Brick Shown: Great Smoky // Design: Design Harmony // Photo: Holland Photography

Glazed thin brick is one of our most popular and beloved products that we make. We sat down with Fireclay Tile's own Contractor and Installation Guru, Dan Chollet to get the insider knowledge you need to know when it comes to our glazed brick tiles.
Meet Dan!
I help our Sales and Customers of Fireclay Tile with questions about the correct installation methods and material specifications using the American National Specifications for Installation (ANSI) from Tile Council of North America (TCNA) Handbook and the National Tile Contractor's Association (NTCA) Reference Manual. I also handle and organize all of our tile testing and am involved with our custom development from an installer's point of view. In addition, I help commercial architects concerning layouts and appropriate use of ceramic tile and glazed thin brick.
Brick Shown: Appalachian// Design: Anja Michals Design // Photo: Vivian Johnson
How did you get your start in the tile world?
I've been involved with tile installation since high school. After college, I worked managing and installing commercial and residential tile jobs. I have a tile contractor's license in the state of California and have worked for myself for several years. I spent over 20 years as the Superintendent for the largest tile contractor on the West Coast before I opened a tile office for a Design Center in San Jose as the General Manager. The last job I helped run was some of the tile installation at Apple Park in Cupertino, Ca. for one of the premier installation companies around.
Fun facts about yourself?
Most of all I'm husband to my wife, Elaine. I scuba dive, sail, bike ride, and walk our 2 English Springer Spaniels, Allove and Brutus, on the beach. They actually run the whole time, I walk.
Let's talk Glazed Thin Brick. What are the differences between Glazed Brick and regular Masonry Brick?
Glazed Thin Brick is a decorative masonry veneer used to give the same look as structural rectangular block brick. Thin brick is lighter in weight and costs less to install.
Do you install Glazed Thin Brick differently than you would ceramic tile or masonry brick?
Thin brick is installed like ceramic tile, mostly using dry set cement mortar over a suitable substrate, and can be grouted like ceramic tile as well. TCNA and Building Industry Association (BIA) both have closely related installation methods for thin brick. Thin Brick is not structural like Masonry brick can be.
Brick Shown: White Mountains // Design: K Interiors

What do you love about our glazed brick?
The variety of patterns that can be done when installing. Because of our glazes, you can mix up the colors to create bright and fun designs.
Brick Shown (Top to bottom): San Gabriel, Ozark, Green Mountains, Cascade
Do you have any recommendations when it comes to installing/cutting our glazed thin bricks?
I recommend whenever possible to dry lay your thin brick and tiles. This gives you an idea of what the cuts will be, and what the finished job will look like. Dry laying allows blending of the thin brick for shade variation as well.
Our Engobe brick glazes have crazing (crackle). You should take extra precaution when cutting these bricks with a wet tile saw as the wastewater can stain the craze. Dunking the thin brick in a bucket of clean water before cutting will help keep it from staining the craze. Use a grout release when grouting, and test any contrasting grout colors before installation. A grout bag can be used to pipe in the grout which can help prevent any staining or keep the grout from the surface of the thin brick.
Brick Shown (Left to Right): Absaroka, Front Range, Beartooth, Appalachian, Great Smoky, Olympic, Elk, Sierra Nevada, & Columbia Plateau

What type of grout/setting materials should you use with our glazed thin brick?
Materials that meet ANSI A118 for modified thinsets, A118.4 or better, and grouts, A118.6 or better, are the only ones to use. The bags or containers will state on the packaging what standards they meet. I always recommend sticking with one brand because they are designed to work together and for warranty reasons-- you're only dealing with one company for any questions and help. These companies are great at helping people use the correct materials for their installation. I recommend calling their help lines if you have questions.
Brick Shown: Great Smoky // Design: Design Harmony // Photo: Holland Photography

Is our glazed thin brick appropriate for both commercial and residential installs?
Our glazed thin brick has been used for commercial and residential installations with great results and is fine for both. High traffic commercial floors should not use thin brick and slippery conditions should always be considered.

Brick Shown: Bitterroot // Design: David Baker Architects // Photos: Patricia Chang

Is our glazed thin brick appropriate for both interior and exterior applications?
The glazed thin brick can be used in most interior applications. Exterior applications are typically okay if it's installed on a vertical surface, like walls.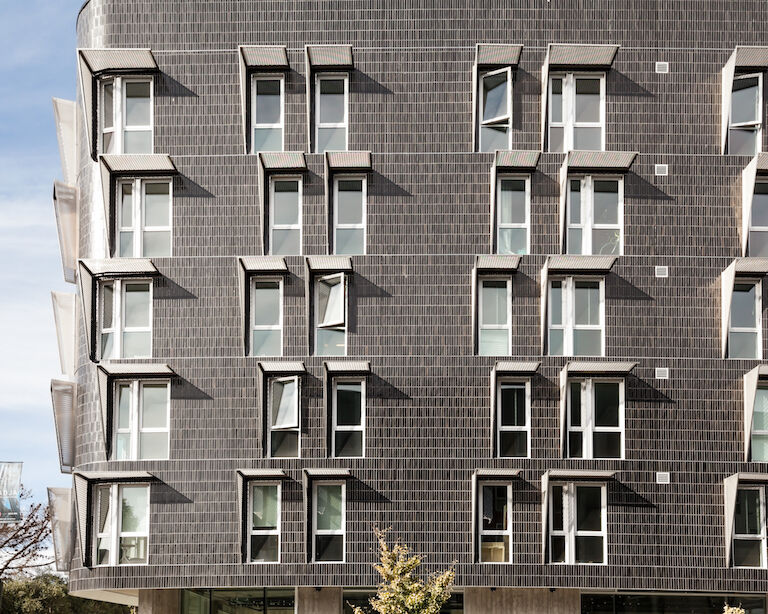 Brick Shown: Bitterroot // Design: David Baker Architects // Photos: Patricia Chang

Is there an application you would not recommend the Glazed Thin Brick for?
If the particular glaze has a high craze, and is outside with no protection, it should not be installed. Never install glazed thin brick or ceramic tile inside a working fireplace. They are not firebrick and the installation materials will not hold up to the repeated shock of heating and cooling. The outside face and hearth floor of a fireplace are fine applications.
Brick Shown: Aleutian // Design: Destination Eichler// Photo: Christopher Dibble
Can brick be used on the floor?
The thin brick is fine on light duty commercial floors. It shouldn't be used in high traffic floors, commercial areas that have direct access to the outside. As with any ceramic floor, direct blows from objects can chip the glaze. Again, slippery conditions should be evaluated. Outside floors in freeze/thaw conditions should not use thin brick or ceramic tile.
Brick Shown: Cascade // Design: Sarah Sherman Samuel
What's your favorite pattern to lay brick tiles?
I like herringbone. It is fun to install, and the finished look is different enough to contrast and create a happy space.


Any tips/tricks when it comes to laying brick in a herringbone pattern?
Dry lay any tile or thin brick. It helps immensely for avoiding mistakes. The herringbone pattern will not have the grout joints lining up. The straight lines are at a 45 degree angle to the grout joints. You'll instead want to align the corners of the thin brick:
Parquet layouts will have the long side of the thin brick determining the grout joint size.
Brick Shown: Klamath + Blue Ridge
For running bond brick lay, you need to keep in mind that a half brick does not exactly line up with the edge of a full brick--you must account for the grout joint. A half brick cut will also have half the grout joint cut off. Sometimes you can see this in a finished job.
Brick Shown: White Mountains // Design: The Fresh Exchange

Why do the pieces per SqFt of our brick include grout space? How much overage should be purchased?
Since thin brick is designed to look like a real brick installation, the industry has always included a 3/8" to 1/2" grout joint in the amount of pieces per square foot (6 pcs/SqFt). It's the amount of footage the thin brick will cover for a recommended installation. With the recommended 3/8" grout joint, order 15% extra. 1/4" use 16%. 3/16", the minimum grout joint advised, use 20%.
Left-Right: 3/8"grout space, 1/4" grout space, 3/16" grout space
Brick Shown: Olympic// Design: Heidi LaChapelle Interiors // Photo: Erin Little
What are our trim options with glazed thin brick? Can metal trim be used?
Our glazed thin brick has "L-Shape" corners designed to look like masonry brick (structural brick) when you're wrapping an outside corner.
We can also glaze the exposed edges of the thin brick which can finish off backsplashes, fireplaces, etc. Several companies make metal trims that can be used to finish the edge that are embedded in the modified thinset. The metal should be around 1/2" wide or more to allow for the thin brick thickness and thinset.
Brick Shown: Lewis Range with the Short Side edge glazed
What's your favorite Fireclay brick install?
You're not going to get just one-- there're a lot of great looking Fireclay Glazed Thin Brick installations.
I like the contrast from this kitchen floor and of course the pattern:

Brick Shown: Cascade // Design: Sarah Sherman Samuel
This kitchen backsplash has a great twist for the layout:

Brick Shown: Front Range // Design: Jon De La Cruz // Photos: House Beautiful
For a commercial restaurant, I like this 33% stagger, or maybe because it's a pizza oven ;-)

Brick Shown: Lewis Range // Design: et al. Collaborative
Have Fireclay installation questions? Feel free to reach out to Dan directly at Dan@Fireclaytile.com or learn more about installing Glazed Thin Brick by reading our Brick Installation Guide.
Interested in using brick for your project? Order color samples online now. Need some help? Simply call, chat, or fill out our Design Assistance Form and one of our talented Design Consultants will get back to you shortly.
Shop the Story