Refreshing Sea Glass green tile creates a sublime yet energizing interior color palette. This is a green that rejuvenates, lifts the spirit and clears the mind. Use in large or small doses to inject some cool and calm into any space.
Generate a beachy vibe in your kitchen with a soft Sea Glass color scheme. A popular interior color for centuries, this subtle monochromatic color way of pretty pastel greens exudes a clean and modern sensibility.
Tile shown: Sea Glass
Image: House to Home
To add extra texture to your walls, try the green tile hue in one of our Moroccan shapes such as Ogee.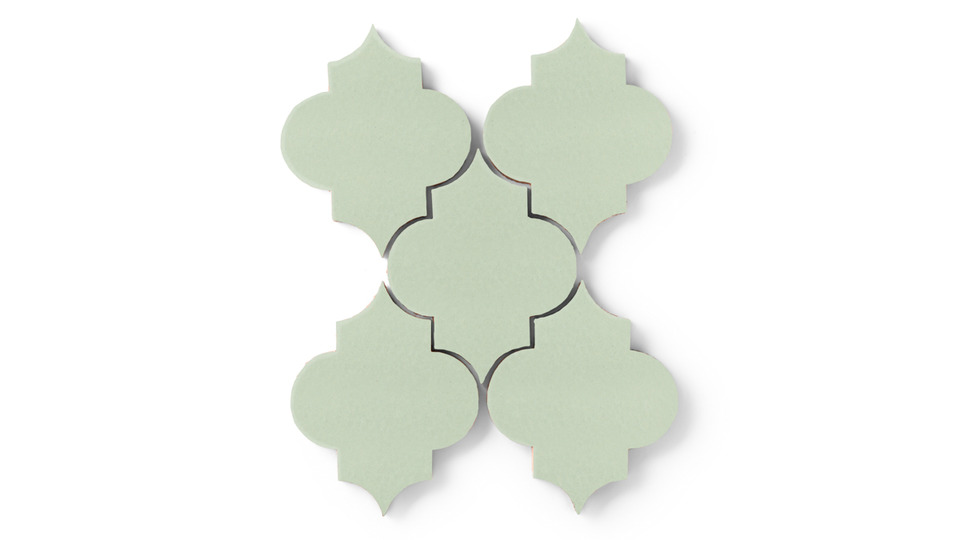 Tile shown: Sea Glass in Paseo
Tile from counter to cabinets makes a clean, cohesive statement. Whenever possible go for the fully tiled kitchen backsplash. Crisp modernism is implied by the mint-green mini subway tile mosaics installed in a straight set pattern. The color is light and refreshing, and the small-scale of the tiles helps the space feel airy and spacious. And, of course, the big plus is that these walls will never need painting.

A dose of light, pastel green definitely livens up this rustic kitchen. The classic, subway style tile, marble slab, and open shelving create a nice contrast against the strong, rougher, wood beam elements. Recreate this look with Sea Glass in our classic 3 x 6 size subway tile size.

In the powder room below this pale, pretty shade is at its subtle best, proving pastels can be sophisticated.

Below the kitchen uses the modern Scandinavian style of color blocking to keep the space serene. The cabinets and backsplash match, as do the grounding dark wood cabinets stained the same color as the wood floor, articulating the spare architectural lines of the minimalist presentation.

In the modern, rustic bath below the faded, gently sea green tile wall is strong enough to make a contrast, but is at the same time soft and receding so the effect is muted rather than bold.

Restoring or upgrading a period house using Sea Glass? The classic color palette of green, black and creamy white never goes out of style. The use of a parquet pattern installation brings a bit of innovative character to this appealing vintage bathroom.

Another way to introduce a bit of retro to a period project is choosing one of our Hexagon patterns for wall or flooring.
Tile shown: Sea Glass in 3" Hexagon
Love this look? Order free Sea Glass Samples now. Need some help? Simply call, chat, or fill out our Design Assistance Form and one of our talented Design Consultants will get back to you shortly.