Tile Color Spotlight: Go Boho Chic With Turquoise
If you are daring with color, at some time you have probably turned to the happy and pleasing color of Turquoise. Progressive, timeless and fresh, Turquoise has been embraced by cultures across the world as one that energizes interiors while providing pleasure and serenity.
From boho-chic abodes to tropical retreats, deep Turquoise's richly saturated finish makes for a lush and lustrous backdrop. In the kitchen below, our Ogee shape glazed in Turquoise elevates the color from backdrop to focal point.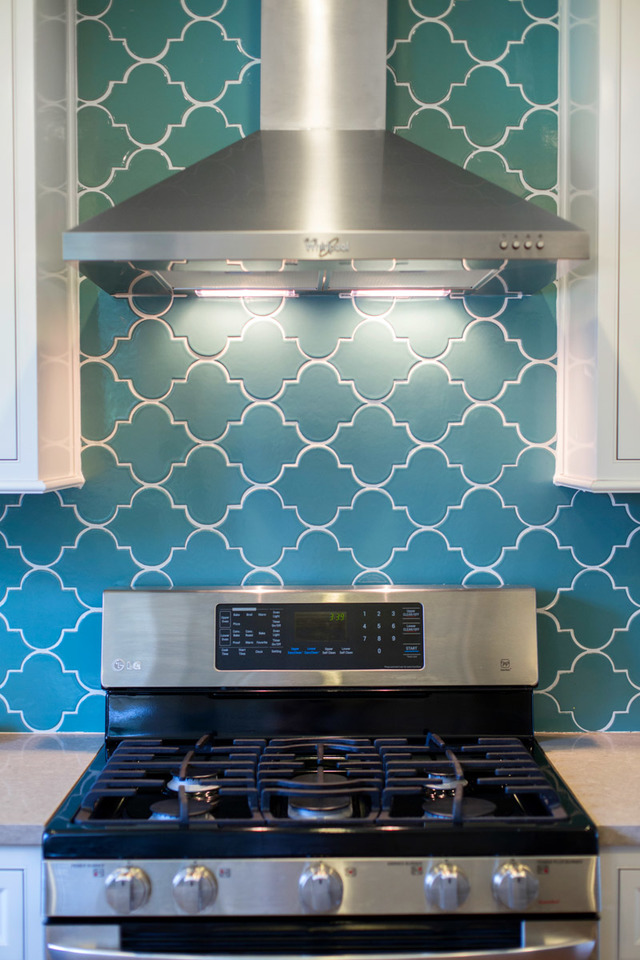 Tile shown: Turquoise in Paseo; Image: Kirstin Kaiser Photography
A joyful take on the classic blue and white kitchen, Turquoise subway tile takes this kitchen from generic to exuberant.
Tile Color Shown: Turquoise
Sleek surfaces, metallic touches, and vibrant Turquoise tile set in a modern, straight set pattern gives this small kitchen clean and fresh appeal.
Tile Pattern Shown: Straight Set
Turquoise is one color that can add just a touch of retro feel to any room. Far from dating the bath below,the classic color of the 40's and 50's on the tile wainscoting echos the styles of the past made contemporary by sourcing modern lighting elements and bathroom fixtures.
The over-sized subway tile add a mod touch to the sophisticated color palette in the contemporary bathroom below. To get this look, specify our 6 x 12 Tile with our Turquoise glaze.

The natural wood and Ogee Drop pattern lends a distinctive mid-century modern air to this striking bathroom. To get the look order our Ogee Drop in a 4 or 5 color blend including Turquoise.
Lively enough to hold its own in broad daylight, turquoise has often been thought of as a summer shade, but used right turquoise brings a bit of summer to every season.
Love this look? Order free Turquoise samples now. Need some help? Simply call, chat, or fill out our Design Assistance Form and one of our talented Design Consultants will get back to you shortly.