Tile Color Spotlight: Add a Burst of Green with Basil
This is actually a two-in-one color spotlight, as we have two versions of this gorgeous green: Basil and Basil with Black Patine. Earthy and herbal, Basil's mossy green tint and high crackle finish pair organic inspiration with a rustic artisanal feel. Truly one of the jewels in our crown, this delicious glossy green hue brightens and refreshes any space.
Tile Shown: Basil
Basil with Black Patine's texture is highlighted by a dramatic darkened patine crackle finish that infuses depth and dimension, giving the green a bit more intensity.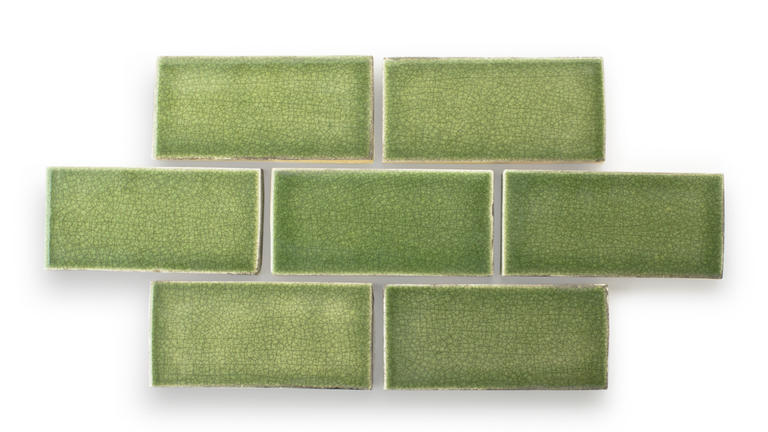 Tile Shown: Basil with Black Patine
A kitchen backsplash is a practical necessity protecting walls from inevitable splashes and spatters, it also happens to be the ideal spot to splurge a little on a special feature without busting your buget. A pop of green color can go a long way in making a space uniquely yours.
Image: Style at Home
Basil with Black Patine is a flawless color choice when it comes to contemporary design with bits of industrial and rustic elements thrown in for warmth and charm. Sparkling and inviting, the tiled backsplash below paired with open shelving is a real stunner.
Image: Houzz
Try a straight-set installation for modern appeal.
Tile color shown: Basil with Black Pantine
Create an eye-catching feature wall in your bath by extending a bright-colored glossy ceramic tile from floor to ceiling. To get the unique randomized effect below install 4x4 Basil in an offset pattern that is both artful and orderly.
Image: HGTV
Ready to play? Geometry and color can be tons of fun. Add pops a pop of green to whites and cool neutrals for a dynamic installation like the one below.
Image: Digs Digs
Tile Shown: 4" Hexagons in Basil
The color combination below, Azurine, Basil, Boundary Waters, and Sea Foam, is truly next-level. It's beautiful, interesting and soothing. This install shows that you don't have to limit yourself to one color, or even two, in your bathroom. Play with a few combinations and find just the right blend.
Tile Shown: 3" Hexagons in Basil, Azurine, Boundary Waters and Sea Foam.
Modern bathrooms are un-fussy, neat, and refeshing. This tiled space captures that style perfectly with clean, horizontal lines and minimal ornamentation. The green color choice adds a nice hit of color but keeps to the crisp, minimalist vibe of the space.
Image: Living in a Shoe Box
This reviving bath has vibrant green hues, but the intensity is broken up with a dash of a darker green tile installed randomly.
Image: Trendir
Do you love this look? Order color samples online now. Need some help? Simply call, chat, or fill out our Design Assistance Form and one of our talented Design Consultants will get back to you shortly.
Shop the Story