Tile by Style: The Reign of the Victorian Bathroom
Tile shown: 3 x 6 in Shell; Image: Malcolm Fearon Photography
What is Victorian Style?
Whether you're a broke student in the city or an up-and-coming urbanite, chances are you're familiar with Victorian interior design. Named after Queen Victoria (Britain and France customarily named architectural eras after the reigning monarchs at the time), Victorian Style was popularized around 1860 up until the early 1900s. Taking from a variety of historical styles intermingled with Middle Eastern and Asian influences, Victorian home design marked a turning point in history when millions were moving to the city for work during and after the Industrial Revolution. The advent of mass production made it easier for city-dwellers to live in homes that were not only comfortable but were ornately detailed and featured modern amenities like flushing toilets and electricity.
Although most of today's Victorian home don't have nearly the same amount of drama or opulence as they did in the past, there are several elements of a Victorian home that are preserved by even the most modern decorators.
Architectural Elements
From the outside, a Victorian home is fairly easy to spot. It will often have a flat facade with ornate woodwork and ornamentation and topped with steep roof lines and circular towers, somewhat reminiscent of the Gothic style. You'll also find decorative windows and double-entry doors. When you enter, you'll typically be greeted by a narrow entryway with high ceilings that lead you to a stairway and adjacent rooms. In addition, there were fireplaces in almost every room, hinting at an era before modern heating was implemented.
One key element of Victorian style is elaborate molding. Crown molding, wainscoting, cornicing, and contrasting wall panels all lend a Victorian home depth and dimension. Grand homes will have even more elaborate details like coving and ceiling medallions (which were made to catch the smoke rising from gaslights).
Materials

Because of its overwhelming presence not only as a building material but as a decorative element, wood was used throughout the Victorian home. You'll find warm and warm oak and deep mahogany finishes, giving an inviting grandeur to the space.
Ornate textiles were also a primary way of adding opulence to the home. Heavy drapes that pooled to the floor and elaborately crafted tapestries were popular adornments, as well as plushly-upholstered furniture and Oriental rugs.
Adding another level of ornamentation was tile and marble. Oftentimes, checkered and mosaic tile would line the floor of an entrance, hinting at its Art Nouveau influences. Rich materials like marble were also showcased as flooring and other surfaces.
We love the look of this updated Victorian kitchen design.


Color Palette
Victorian homes of the past showcased rich palettes in greens, golden browns, reds, and blues. Bold colors were used to distinguish entertaining rooms like the dining room or the library. Using these hues today will help you achieve a traditional aesthetic. You'll also find that many Victorian homes' exteriors will feature eclectic color palettes that harken back to the era's love of color.
If you love the bones of Victorian Style but your taste veers on modern, you'll probably want to use a more neutral palette (think creamy ivories and smoky grays). You'll often find contemporary Victorian homes that are dominantly neutral then sprinkled in with bold accents and furniture. This achieves an eclectic feel while maintaining the integrity of a home's Victorian architecture.
Tile for a Victorian Style Bathroom
Spare and simple to ornate and over-the-top, a Victorian Style bathrooms come in a surprisingly diverse range of sizes and styles. Despite this range, a Victorian Style bathroom will typically be equipped with a pedestal or console sink, a freestanding tub, paneled cabinetry, and sconces or vanity lights with frosted shades. Done right, a Victorian bathroom should be soothing, elegant, luxurious, and romantic.
Traditionally, tile could be used as an additional embellishment for Victorian homes. Geometric, checkered, and mosaic styles were common, all remnants of the Art Nouveau style. Today, tile can be a way to give your bathroom a chic and modern update while still paying homage to Victorian roots.
Hinting at urban origins, this small Victorian bathroom design still feels cozy with its wrap-around subway tile and subtle accents like a folding chair and painting.
If you can play with more space, feel free to adorn your bathroom with soft and sumptuous accents like upholstered vanity chairs, chandeliers, and sheer drapes.
There's a lot we love about this bathroom, but we especially adore the pairing of subway tile with ornately patterned flooring.
Dark subway tile gives this Victorian style bathroom sophisticated, Gothic-inspired drama.
Molding
Incorporating molding into your bathroom design can create a classic and sophisticated look that mimics the wood molding that dominates Victorian interiors. It also offers a sophisticated solution for masking the gap between the tile and the wall.
This handsome and distinctive bathroom's crown molding and geometric floor are beautiful testament to Victorian style.
Tile shown: 2 x 8 and 3" Hexagon in Sand Dune; Image: Bernard Andre Photography
This modern bathroom subtly hints at Victorian style with its freestanding tub and two-toned wall, separated by beautiful, marble-inspired molding.
Tile Patterns
Pattern another way to add a touch of ornamentation to a Victorian-inspired bathroom.
Subway
As you've probably noticed, subway tile is one of the most popular patterns for Victorian Bathrooms. Simple and classic, it adds an additional architectural element to your space.

Parquet/Herringbone
Parquet and herringbone flooring can also lend a vintage-inspired look to your space, incorporating an extra layer of depth and dimension to a sophisticated Victorian bathroom design.

Geometry
Hexagonal tile can also add visual interest to your floor that feels both classic and artistic.
Tile shown: 3 x 6 and 4" Hexagon in Shell; Image: Malcolm Fearon Photography
Tile shown: 4" Hexagon in Shell
4 Colorways for Victorian Bathrooms
WIth its many architectural elements, it's sometimes best to let the structure speak for itself. Our favorite Victorian Bathroom palettes feature soft neutrals, white tile and off white tile, and muted tones to give this timeless style a refreshed feel.
Creams
Tile colors shown: White Wash, Ivory and Feather Grass
Grays
Tile colors shown: Oyster Shell, Loch Ness and Basalt
Greens
Tile colors shown: Sea Glass, Basil and Venetian Green
Blues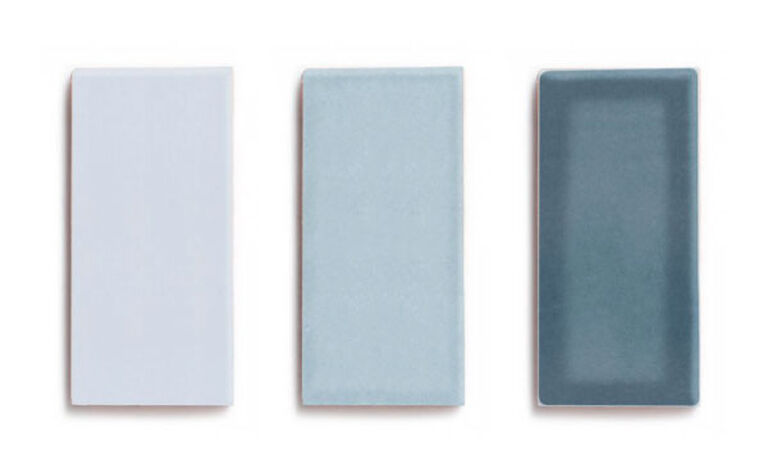 Tile colors shown: Moonshine, Crater Lake and Nautical
Love this look? Order free samples now. Need some help? Simply call, chat, or fill out our Design Assistance Form and one of our talented Design Consultants will get back to you shortly.