The Perennial Appeal of A Picket Tile Shower
By Blair Hagensen
Want to capture an elevated spa feel in your bathroom? Meet the beautifully articulated silhouette of our handmade Picket Tile. This elongated hexagonal shape allows for captivating pattern play with a multitude of installations possible.
Picket is especially apt in showers, as the uniquely shaped tile can be built into a design that adds an organic movement and flow into your space. Whether you go for a multi-colored installation or a crisp monochrome look, Picket will leave a lasting impression that you'll be enjoying for years to come.

This tile's name pays homage to the quintessential picket fence, and that's never clearer than when Picket is installed in a vertical straight set pattern. The elongated points of the tile line up neatly in rows like a classic picket fence in this arrangement. Picket can also be installed in a horizontal straight-set pattern or an intricate braided installation.
Love the idea of a built-in shower niche? Keep your Picket design flowing by incorporating the niche into your installation without breaking stride, as the wet room below did. The attention to detail in this small but impactful feature makes the niche even more impressive, creating space for shower necessities without interrupting the overall design of the intricately laid pattern.
The beauty of a Picket Braid pattern is that it can be installed at the perfect angle for you–whether you prefer a more obviously diagonal braid or like the look of the braid pattern rising at only a slight incline, it's perfectly customizable. Have a low ceiling? You might consider a vertical or deeply inclined Picket Braid to add the effect of height to your shower.
If you have a walk-in shower, tiling your Picket Braid at only a slight angle will make your space feel even more expansive. Take the stunning modern shower below–wrapped in blue-green Picket Tile that flows left-to-right at the slightest of inclines, it feels like a sumptuous oasis that's perfectly highlighted by the skylight in the right corner.

Like all of our tile, Picket is responsibly made in the USA–in Aromas, California to be precise. We incorporate domestically sourced (often locally sourced) materials to create our artisan-quality tile. Step inside our California and Washington Factories in the behind-the-scenes video below.
Picket plays well with our other tile shapes if you're up for some pattern mixing. How beautiful is Erin Zubot's historic-inspired shower below, featuring an eye-catching combination of Picket, square, and rectangular tiles? The sumptuous color palette adds to the elevated feel of the space.
One way to achieve maximum impact with Picket is to extend this shape beyond the shower, whether that's continuing your pattern along the bathroom walls, echoing the shape across the backsplash, laying Picket Tile on the floor, or something entirely different!
We love how the wet room bathroom below allowed the Picket wall tiles to stand out by extending them beyond the shower area across the back wall, and by choosing our orange Bryce Canyon glaze to shine against the otherwise white space. White grout outlines Picket's elegant shape while creating a cohesive color story in the space.

Picket's abstractly leafy shape will give your shower a new take on forest bathing if you choose one of our 25+ handmade green glazes. Like all of our glaze colors, our green glazes were specially developed in-house and hand-mixed using all-natural, 100% lead-free ingredients.
From jewel-toned evergreen to eye-popping chartreuse to soothing chlorophyll, Picket's oversized surface area allows your favorite shade of green to shine. The shower below brings to mind the laden branches of a weeping willow thanks to braided Picket in soft green Rosemary climbing up the surround and pony wall.

Want to explore our range of colors beyond just green? Bring home free color samples of our bestselling shades below so you can see the handmade characteristics and finishes of our tile in the comfort of your home. Observe them in different lighting and see how they match your finishes and aesthetics so you can find the perfect hue for you.
Sample Our Bestselling Ceramic Tile Colors
Bring home up to five free color samples of our Original Ceramic and Natural Press Ceramic Tile.
Tusk
Rosemary
Azurite Gloss
Salton Sea
Antique
Mustard Seed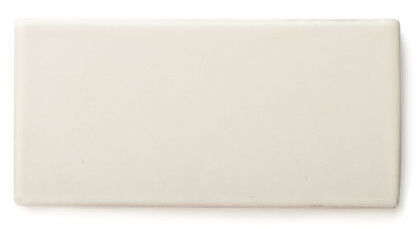 Feldspar
Bone Black Satin
Sap Green Satin
Get Started With Free Design Assistance
Ready to get your Picket project started? Our tile experts are here to help with our signature free design assistance, including sample selection, realistic renderings, individualized design advice, and more. Fill out the form below and we'll be in touch shortly.