Start Fresh with our Soft and Subtle Pastels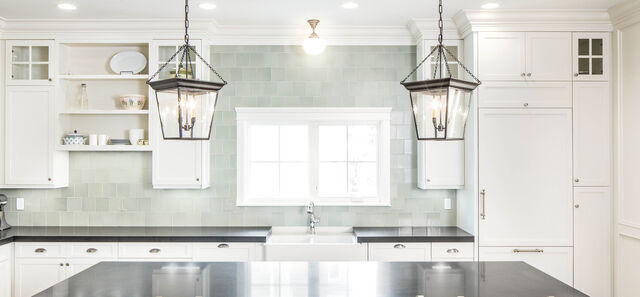 Our 4x4 Tile in Silver Sage. Designer: White+Gold Design; Image Credit: Scott Davis Photography
Spring is just around the corner and along with warm weather and colorful blooms, spring presents the idea of a fresh start. For many of us that means tackling those much-needed organizational projects, getting a head start on your spring cleaning, or maybe it is finally time for that kitchen remodel you have been dreaming about. Inspired by the idea of starting fresh, we have selected a few of our favorite soft and subtle pastels guaranteed to freshen up your space.
Whether you love yellows, blues or greens, start anew this spring with our subdued pastel tile colors. These muted hues offer a subtle hint of color, easing the transition between seasons. The kitchen above pairs our slightly de-saturated hue, Silver Sage with a white and charcoal interior, creating a space that is soft, light and refreshing.
Tile colors shown: Fossil, Silver Sage, Silver Haze, and Chardonnay
Color shown is Powder Blue
We love how our muted pastels work in spaces we associate with feeling clean, fresh and soothing, i.e the bathroom. These two pastel powder rooms take cue from the fresh start of spring by pairing subtle blue and green hues with warm neutrals.
Bathroom installations featuring our tile in Powder Blue, Sesame, Caraway and Basil with Balck Patine
Spring Pastels can be contemporary too, we swear! If you're looking to add a hint of soft color to a more streamlined look, try our Glazed Thin Brick in our subdued hues, Willow and Harbor. These two spring-ready colors will pair well with cool neutrals, and a variety of contemporary features, such as stainless steel fixtures and sleek wood surfaces.
Glazed Thin Brick colors shown: WIllow and Harbor
Our recycled glass tile is available in a fresh selection of spring-inspired hues. Our matte finish colors such as Icicle Matte, Barley Matte and Camellia Matte subdue the hue, creating a pillow soft splash of color, while our gloss hues provide a calm transparent look to your space.
Glass Tile colors shown: Icicle Matte, Lambs Ear, Dusty Olive, and Barley Matte
Color shown is Camellia Matte
Starting your spring cleaning off with a remodel? We're here to help! SImply fill out our Design Assistance Form and one of our talented Design Consultants will be in contact within 24 hours.