Spring Forward with Sakura Greens

Inspired by Japanese landscapes and organic patterns, Sakura was the perfect opportunity to introduce fresh greens into our expanding Handpainted tile line. An ideal choice for clean, Spring-inspired interiors, the Sakura Green Motif creates an effortless transition between natural interiors, and the budding season happening right outside your door.
The Green Motif is available in all 12 organic Sakura patterns, and offers an organic blend of our favorite nature-inspired hues. The fresh green color palette is tied together with soft whites and subtle grays.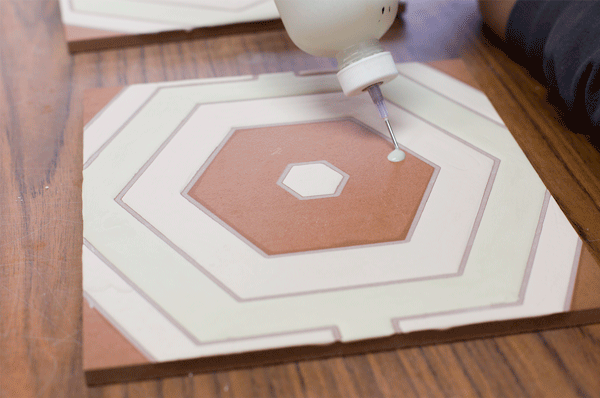 The Sakura Green Motif lends itself to nature-inspired interiors, pairing well with clean white walls, high texture wood finishes, and gorgeous views of the outdoors.
Try mixing and matching materials and textiles with our Sakura Green Motif. The textured chairs and pendant lighting below would provide natural contrast against the smooth finish of Sakura.

Image: Domaine
If you're color shy, the Sakura Green Motif works well in interiors where only a small pop of color is desired. The neutral kitchen below creates visual interest with dashes of greenery placed here and there. A hint of our Sakura Handpainted Tile in the Green Motif can create a similar effect. To recreate this look complement your neutral kitchen with a Sakura backsplash pattern that offers only a subtle hint of green, such as Uni Mountain.

The use of Sakura expands beyond just the kitchen and bath. These Handpainted patterns are the perfect statement making addition to other areas of the home. Use the Sakura Green Motif to create a focal fireplace surround, or a show-stopping bedroom floor. Flooded by natural light, the organic bedroom below is the perfect fit for a Sakura pattern in the Green Motif.

Along with a variety of organic textures and materials, the Sakura Green Motif pairs well with our field tile in the following colors: Tusk, Feldspar, Sea Glass, Clover, Peabody, and Barnwood.

Sakura patterns shown: Uni Mountain and Sensu
The Asian-inspired bathroom below has us dreaming of a day of rest and relaxation. The wide open space, modern glass shower, natural wood and creamy white walls all complement the natural aesthetic of Sakura.

Love this look? Order Sakura samples in the Green Motif now. Need some help? Simply call, chat, or fill out our Design Assistance Form and one of our talented Design Consultants will get back to you shortly.