Scandinavian Design Ideas for Your Kitchen or Bathroom
By Ted Ryan
Modern, minimalist with a reverence for nature, Scandinavian design is one of the most popular imports of American interior design. Incorporating the contributions of five nordic countries and being responsible for the aesthetic of some of the most enduring and influential design styles, Scandinavian design is less a singular style but rather a north star of design principles guiding designers from the early 20th century to the present day.

Tile Shown: Calcite in 3 x 3 // Design + Image: Working Holiday Studio

The style we call Scandinavian Design is the product of Scandinavia's physical environment, its cultural and political ideology, and a collection of visionary designers who translated those elements of nordic life into elegantly functional architectural, industrial, product, textile, and furniture design.
Tile Shown: Tusk in 3 x 6 // Design: Alessia Zanchi Loffredo, Redesign Home // Image: Ryan McDonald

We'll walk you through what Scandinavian design is, where it came from and ways to use these design principles in your own kitchen or bathroom.
Sample the Look
Our Scandinavian style favorites feature Ceramic color samples in Feldspar, White Wash, Gypsum, Eucalyptus, Daisy, Dolomite, Sand Dune, and Antique:

What Is Scandinavian Design?
Scandinavian Design is a design movement that prioritizes minimalism and functionality with simple clean lines and nature-inspired finishes including exposed wood floors, indoor plants, and spaces that draw in natural light.

Tile Shown: Milky Way in 3 x 3 // Design: Barrett Prendergast // Image: Sara Ligorria-Tramp

Learn More about Scandi Style:

The Scandinavian aesthetic is directly influenced by the natural environment. Tundras, dense forests, and mountainous terrain translate into bright, neutral color palettes darted with dark charcoals and browns, blonde wood floors, and airy open spaces.
Functionally, the presence of long winters creates a need to design interiors that are cozy and inviting when it's cold--think hygge--but also able to take advantage of the brief summers of the midnight sun.
Tile Shown: Calcite in 3 x 3 // Design + Image: Alison Mazurek
Culturally, Scandivanians prioritize the public good. WIth socially democratic political systems that mitigate poverty, inequality, and strata of ultra-rich, Scandivanian style evolved in kind, with an accessible, minimalist aesthetic available to all in society, jettisoning the ornate appearances of other European styles, most specifically Art Nouveau.
History of Scandinavian Design
Coinciding within many ways driving the mid-century modern movement, Scandinavian design began in the early 20th century and its golden age lasted between the 1930s to the 1970s.
Tile Shown: Calcite in 3 x 3 // Design + Image: Alison Mazurek
Designers like Finnish designer Alvar Aalto, Danish architect Arne Jacobsen, Danish modern furniture designer Hans Wegner, Finnish textile designer Maija Isola and Danish architect, interior, and industrial designer Finn Juhl are considered among the pioneers of Scandinavian style. Along with Juhl's design contributions, he is also credited with introducing Scandinavian furniture to America.
Scandinavian Kitchen Design
For a design adhering to a clean and functional aesthetic, there is almost nowhere better suited for Scandinavian than the kitchen. Kitchen tile brings the simple lines and industrial utilitarianism Scandi is known for with an abundance of neutral colors to nail the look.
Warm white tiles with open shelving, modern fixtures, and natural wood cabinets, this kitchen is a perfect example of the Scandinavian aesthetic that brings beauty and functionality to the space. Extra points for the hits of green from the indoor plants!
Tile Shown: Tusk in 3 x 6 // Design: Alessia Zanchi Loffredo, Redesign Home // Image: Ryan McDonald

Brick is a common choice for Scandi design for its durability. Glazed with a bright neutral along with white wall cabinets opens up the space and the natural wood counter cabinets introduce the elements of nature outside.
Brick Shown: White Mountains // Design: Lauren Bradshaw Design // Image: Joseph Bradshaw

Minimalism is more than an aesthetic choice, it's a lifestyle and few have mastered the art of minimalism better than designer Alison Mazurek. Raising a family in a 600 square foot home taught Mazurek the value of Scandinavian design and her recent kitchen renovation celebrates all she's learned.
Tile Shown: Calcite in 3 x 3 // Design + Image: Alison Mazurek

Warm, neutral tile backsplash with clean straight-set lines? Check. Broad blonde wood floorboards and cabinets. Check! Open wood shelving, plant accents, and Danish Modern furniture? Check, check, check! Throw in the skylight and sunlit windows and you'd think it were summer in Stockholm but Barrett Prendergast simply slayed the Scandi vibe in her Los Angeles home.
Tile Shown: Milky Way in 3 x 3 // Design: Barrett Prendergast // Image: Sara Ligorria-Tramp

Scandinavian Bathroom Design
Clean, modern minimalism goes a long way in the bathroom too. After all, freshening up is more than just taking a shower, it's about clearing your head and cooling your nerves. A well-designed bathroom can assist in all of this and Scandi design can bring clean calming vibes to your private time.
White Subway Tile might be the ultimate example of Scandinavian bathroom design. Utilitarian as it gets and splendidly simple, it's no wonder it's a favorite of Scandinavian-style designers. Featured among a natural wood vanity, white shiplap walls, and a chunky jute frame mirror, this bathroom is noticeably Nordic.
Tile Shown: Calcite in 3 x 6 , Calcite in Mini Star & Cross, Sea Glass in Mini Star & Cross // Design + Image: Stephanie Feinerman Design

Clean, yet cozy, this bathroom hits all the notes of Scandinavian style. Bright white tiles, blonde wood cabinets, and live plants all combine to complete the Scandi look. The offset shower niche is just an added bonus of a distinct style designed to be functional.
Tile Shown: Calcite in 3 x 12 // Design: Mokume Design Studio // Image: Christopher Stark


It doesn't get much cleaner than glass. A modern material that's impervious to water, it makes total Scandinavian sense to use glass tile in a shower. The warm neutral color creates a welcoming feeling that helps invite you into the space even in the dead of winter.
Tile Shown: Sparrow Gloss in 2 x 6 // Design: Lorla Studio // Image: Vivian Johnson

Scandinavian Design Variations

Japandi
For a movement as influential as Scandinavian design, responsible for much of the mid-century, modern, and minimalist movements themselves, it's no surprise Scandi has spin-off newly defined styles in recent years as well.
Mixing complementary attributes of Japanese design with Scandinavian, Japandi is an obvious match and designers are using the fusion to create some amazing looks.
Bringing nature indoors, using warm neutrals, and featuring asymmetrical design elements are hallmarks of Japandi design.
Tile Shown: Milky Way in 1 x 6 // Design: Tamar Barnoon // Image: Laure Joliet
Celebrating the clean simplicity of Scandinavian design and the clarifying qualities of Zen, this Japandi bathroom is a respite to clear your head or simply appreciate the great design of two incredible cultures.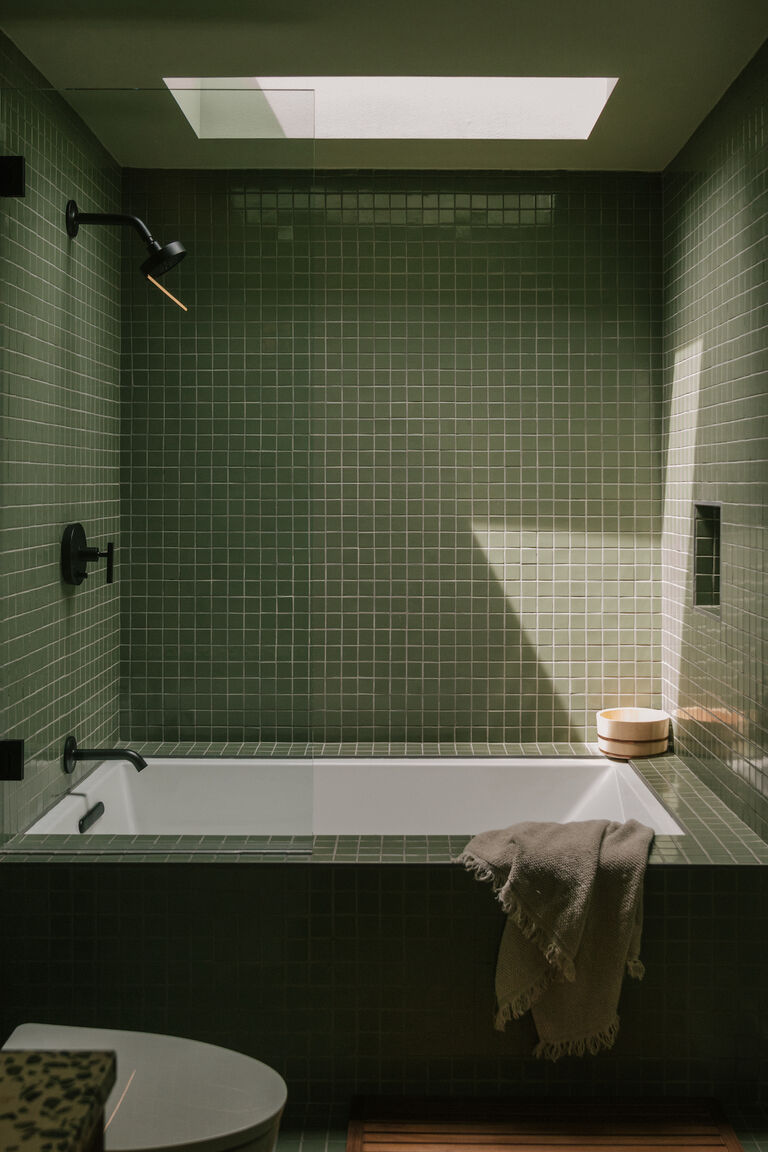 Tile Shown: Calcite in 3 x 3 // Design + Image: Working Holiday Studio

Shop the Story