Restaurant Tile: Where Does it Fit in Your Design?
Read any restaurant review and it's clear that guests weigh the atmosphere of a restaurant as much as the food. Restauranteurs are responding in kind with ever more emphasis placed on the aesthetics of a space.
For its durability, cleanliness and attractive appearance, tile has been featured in restaurant design for centuries. Today, tile can be found in every detail of the contemporary restaurant, from the kitchen floor, the bar backsplash, the exterior walls, bathroom interiors, and beyond.
We're looking at where tile fits into restaurant design and the restaurants doing it best.

Restaurant Exterior Tile
Your dishes are world-class, your staff is on point and your tableware is on trend. But your curb appeal–apart from a peek online–is the first impression of your restaurant that guests will have. Set the tone with spectacular design and tile that tells a story about what your guests can expect before they even step foot in your space.
Billy Can Can (Dallas, TX)
Tile: Bitterroot Brick // Design: Kate Murphy Interior Architecture // Image: Charlie Walker Creative
Dallas's luxury sendup to the classic western saloon, Billy Can Can welcomes guests to their corner restaurant with elegant black brick and contrasting light grout.
Dumpling Time (San Jose, CA)
Tile: Custom Fallow, Custom Grange // Design: Aya Jessani Interiors // Image: Fireclay Tile
Fun and vibrant hand painted tile in custom colors decorates the exterior of Dumpling Time's San Jose location on Santana Row.
Restaurant Kitchen Tile
A kitchen is one of the most high-traffic areas in a restaurant and requires a workhorse surface to stand up to the day in day out needs of a commercial kitchen. Open kitchens have even more demands, tasked with functioning well but also looking great, entertaining guests with the performance of preparation.
With a break strength of 626 lbf and glazed with our signature ceramic glazes, thin brick is a perfect choice to satisfy both of these needs.
Herb & Sea (Encinitas, CA)
Tile: Bighorn Brick // Design: Bells + Whistles // Image: Haley Hill Photography
Sophisticated yet relaxed, Encinitas seafood restaurant Herb and Sea sets the tone with an open kitchen tiled in herringbone glazed thin brick.
Morning Glory (San Diego, CA)
Tile: Custom Brick // Design: Basile Studio // Image: Haley Hill Photography
This San Diego breakfast spot brightens guests' mornings with a full pink motif, not least including the open kitchen covered head to toe in custom pink brick tile.
Jeune et Jolie (Carlsbad, CA)
Tile: Lewis Range Brick // Design: Bells + Whistles // Image: Lily Glass
Just down the road, French restaurant Jeune et Jolie takes a different tack, impressing guests with the simplicity of white brick cladding its expansive open kitchen that includes a salmon-colored grout accent.
Selden Standard (Detroit, MI)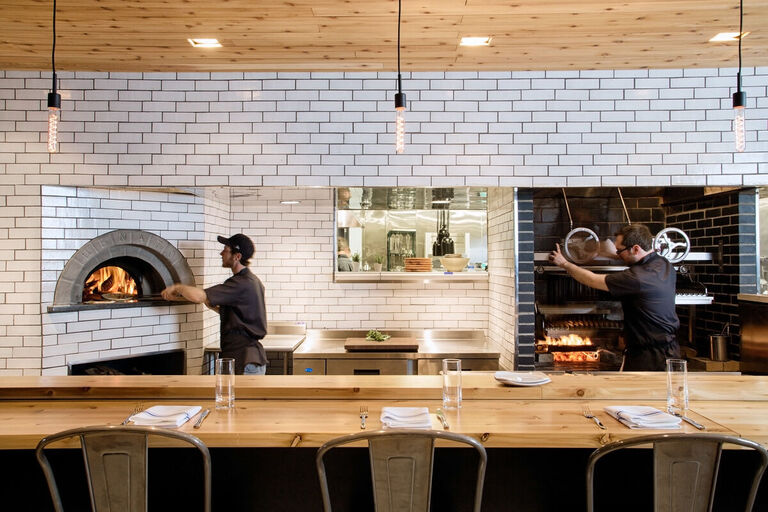 Tile: Lewis Range Brick // Design: et al. Collaborative // Image: Marvin Shaouni
Brick oven meets brick tile walls at Selden Standard, Detroit's stylish New American restaurant turning out seasonal, local fare and featuring sustainable handmade tile throughout their space.
Restaurant Counter Tile

Counter-service restaurants don't have to sacrifice great design just because their guests are on the go. In fact, it might be all the more important with less time to leave a lasting impression with your patrons.
Blossom Hill BBQ & Burgers (Rome, GA)
Tile: Columbia Plateau Brick // Design: Summer Williams // Image: Marc Mauldin
This casual spot for burgers and BBQ gets a refined look that includes a rich barbecue sauce-colored counter of glazed thin brick.
Gaia House Cafe (Grand Rapids, MI)
Tile: Columbia Plateau Brick // Design: Sarah Sherman Samuel // Image: John Stoffer
Gaia has been a Grand Rapids mainstay for decades. When a long-time staff member stepped into a new ownership role, she turned to her friend and Grand Rapids local Sarah Sherman Samuel to turn the page on a new chapter of vegetarian fare.
Plate (San Francisco, CA)
Tile: White Mountains Brick // Design: Claudio Martonffy and Natalie Kittner
Plate is a takeaway restaurant with dishes designed for home enjoyment, and instead of a dining room sports the minimalist aesthetic of a showroom including a kitchen clad in simple white brick.
Rebel Cheese (Austin, TX)
Tile: Bora Bora 3x6 // Design: Kim Lewis Designs // Image: Joey Puterbaugh
Austin's Rebel Cheese specializes in offering the unexpected, from their assortment of plant-based cheeses and sandwiches to their bold interior anchored by tropical blue subway tile.
Wiseguy Pizza (Washington, DC)
Tile: Calcite 4" Triangle // Design: Lady January Studio // Image: Laura Metzler Photography
This DC pizza spot (fittingly) specified triangle tile for their slice counter and a unique pattern that draws diamonds and rectangles in dark, contrasting grout lines.
Sweetgreen (New York, NY)
Tile: Clover 2x6 // Design: Sweetgreen
With a brand based on the color green, Sweetgreen needed only to choose a shade, opting for the fresh and vernal Clover to decorate the salad bar of one of their New York locations.

Restaurant Dining Room Tile
It's said that we eat with our eyes and therefore, not only do your dishes need to look exquisite, the setting you host your guests in needs to be equally as appealing. From sophisticated luxury to laid-back charm, design informs the entire dining experience.
Merois (West Hollywood, CA)
Tile: Ozark & Cascade Brick // Design: AECOM // Image: Wonho Lee Photography
Wolfgang Puck's Merois blends influences from around the room to create something unique and special so it makes sense for the design to follow suit, with plush and luxurious seating to complement the decorative green brick throughout.
The Rooftop (Queens, NY)
Tile: Flagstone 2x8 // Design: Curious Yellow NYC // Image: Kyle Knodell
The Rooftop at the Rockaway Hotel boasts ocean views and beachy vibes thanks in part to the curved accent wall of modern ceramic tile in a saturated sea blue glaze.
Rochambeau (Boston, MA)
Tile: Magnolia 3x3, Magnolia 3x6, Raven 3x3, Tuolumne Meadows 1x6 // Design & Image: Home Studios
Boston's Rochambeau served French dishes in elegant Art Deco digs featuring checkerboard booths and mirrored columns tiled in a decorative motif to echo the iconic 1920s style.
The Salted Pig (Riverside, CA)
Tile: San Gabriel Brick // Design & Image: Project M Plus
When the Inland Empire's first gastropub turned to Project M Plus to remodel their space, they turned Industrial Style on its head with unexpected color. A pink ceiling and HVAC system combined with green glazed thin brick gives the utilitarian design style a decidedly stylish makeover.
Myriel (St. Paul, MN)
Tile: Antique 3x12 // Design & Image: Madelynn Furlong
St. Paul's Myriel occupies a historic St. Paul building so designer Madelynn Furlong honored the space with herringbone 3x12 floor tiles glazed in aptly named Antique. The bar and wall transitions also feature an easy-to-clean cove base trim.
Robin (San Francisco, CA)
Tile: Custom Picket, Basalt Picket // Design: Todd Davis Architecture // Image: Patricia Chang
Modern San Francisco Sushi bar Robin decorates their dining room with a pattern of Picket tile inspired by a pond of koi fish to delight diners during their world-class omakase experience.
Mister Jiu's (San Francisco, CA)
Tile: Sea Green 2x8 // Design: Boor Bridges // Image: Patricia Chang
An open kitchen exposes the secrets of chef Brandon Jew's Chinese delicacies served in Mister Jiu's historic Chinatown location while green tile in a creative parquet pattern separates the kitchen and dining room in a stylish design.
Restaurant Bar Tile
Whether your guests are waiting for a table or enjoying a nightcap, a bar design should punctuate an evening with a potent distillation of your restaurant's overall motif. Offer them a design worth celebrating with luxury handmade tile.
Wildseed (San Francisco, CA)
Tile: Navy Blue Scalene Triangle // Design: Roy Hospitality // Image: Aubrie Pick
Thanks to a menu even carnivores will love, you might forget San Francisco's Wildseed is completely plant-based. What you won't soon forget though is the striking bar design backed by navy blue scalene triangle tiles.
Tin Tin (Atlanta, GA)
Tile: White Wash, Crater Lake, Moonshine & Tomato Red Small Diamond // Design: Ai3 Design // Image: Andrew Thomas Lee Photography
Atlanta's Tin Tin branded their bar with a custom mosaic of small diamond tile in an Escher pattern that elegantly spelled out the name of the restaurant.
De Maria (New York, NY)
Tile: Lake Tahoe, Shale, Daffodil, Sea Green 4x4 // Design: The MP Shift // Image: Heidi's Bridge
This breezy bar features a tile installation that doubles as a durable backsplash and cubist work of art.
Northbound (Souderton, PA)
Tile: Bitterroot Brick // Design: Foreground Design // Image: Heidi's Bridge
Dark wood accents and black glazed brick give Souderton, PA's Northbound a throwback design of no-nonsense bars of the 1970s, complete with American-made brick.
Rose's Taproom (Oakland, CA)
Tile: Bora Bora Ogee Drop // Design: Young America Creative // Image: Lauren Andersen
Rose's Taproom takes a different approach with bright and breezy design full of green plants and a green scalloped tile backsplash that's a perfect setting for an afternoon libation.
Tubby's Ice House (Fredericksburg, TX)
Tile: Naples Blue, White Wash, Azul 3" Triangle // Design: Austin Street Group // Image: Resplendent Hospitality
Similarly suited for an afternoon respite, Tubby's Ice House styled their bar with a fun mosaic pattern of blue and white tile that pairs well with the laid-back attitude of their restaurant.
The Kennison (Chicago, IL)
Tile: Lewis Range & Custom Brick // Design: blocHaus // Image: Galdones Photography
New American fare with classic cafe looks, The Kennison in Chicago is a tile forward design covered wall to wall in Glazed Thin Brick, highlighted by the walls of white herringbone brick behind the long luxurious bar.
Bull & Butterfly (Playa Vista, CA)
Tile: Sand Dune Scalene Triangle // Design: Bolt // Image: Jakob N. Layman
Southern California steakhouse Bull & Butterfly pulls out the stops in every square foot of their space including the bar wall decorated in tasteful Scalene Triangle tile in a sandy shade of glaze.
Thatch Miami (Miami, FL)
Tile: Koi, Haystack & Chatau 4x4 // Design: Continuum Bazaar // Image: Thatch Miami
Miami's Thatch Miami serves plant-based dishes in a sorbet-colored space featuring a welcoming bar tiled in an ombre pattern of warm white, yellow and orange.
Restaurant Bathroom Tile
When diners recall their experience at your restaurant, it's unlikely that the bathroom will top their list of memorable moments. But continuity in your overall design–or better yet, a pleasant surprise–ensures that a moment of respite in the restroom doesn't derail the impression the rest of your restaurant provides.

Paperboy (Austin, TX)
Tile: Sand Dune 3x3 // Design: CHIOCO | Design, Laura Brittain Harms // Image: Chase Daniel
Austin's Paperboy delights its brunch crowd with a bathroom that carries the restaurant's breezy vibe with handmade tile featuring a beautiful array of color variation highlighted by the skylight above.

Up Scale (San Antonio, TX)
Coordinated by an emblematic brass sconce repeated in each iteration, San Antonio's Up Scale draws on their historic Streamline Moderne building to inspire this trio of Art Deco bathroom design.
Tile: Raven 2x8 // Design: Crystal Sinclair Designs // Image: Chase Daniel
Black and brass carry the motif in the first example, with mauvy ceiling panels adding a powdery pink pop of color.

Tile: Mesa 2x8 // Design: Crystal Sinclair Designs // Image: Chase Daniel
That mauve color continues in the second bathroom, this time decorating the offset subway tile that features subtle crazing to give the space an antique look to pair with the history of the space.

Tile: Evergreen 2x8 // Design: Crystal Sinclair Designs // Image: Chase Daniel
Finally, the bathroom that may embody the name of the restaurant the most, this elegant space boasts glossy green tile, gorgeous brass accents, and sophisticated black fixtures for a truly upscale experience.

Myriel (St. Paul, MN)
Tile: Red Rock & Antique 8x8, Tumbleweed 2x8 // Design & Image: Madelynn Furlong
St. Paul's neighborhood bistro carries the color palette of the restaurant into the restroom with a clever checkerboard floor to elevate the historic space.
Mister Jiu's (San Francisco, CA)
Tile: Basalt & Custom 4" Hexagon, Basalt 6" Hexagon // Design: Boor Bridges // Image: Patricia Chang
San Francisco contemporary Chinese restaurant Mister Jiu's does things a little differently and this Michelin star-awarded restaurant's bathrooms are no exception. First, this pink and black motif features hexagon tiles and a floral pattern.

Tile: Adriatic Sea Picket // Design: Boor Bridges // Image: Patricia Chang
Or choose the blue bathroom with bold picket tiles stretching around the space.

Have a restaurant project that requires tile? Reach out to our Commercial Team for design assistance, samples, and estimates as well as information on LEED credits, HPDs, EPDs, Life Cycle Assessments, and more.