Project Spotlight: Studio DIY
Images: Jeff Mindell
This week's spotlight is on the duo behind Studio DIY, Kelly and Jeff Mindell, and their updated master closet with Ogee Drop floor tile that has us head over heels. We talked to the Mindells about how they got their start, their style and of course, the tile.
First, a bit about Kelly and Jeff:
Our style can be described as...Something along the lines of colorful eclectic meets California boho with a touch of mid century modern!
Our design philosophy is...Vibrant, cozy and full of life!
We got our start...In the living room of our first LA apartment!
We find inspiration in...Travel, culture, design!
We can't live without...Nature Valley peanut butter biscuits!
Our best design advice would be...Don't be afraid of color. A friend also advised us once to go room by room so as not to get overwhelmed by the whole process. That has been super helpful as well!
We love tile because...Whether it's a lot of square footage or just a small vignette, you can really change things up in an otherwise boring space!
Kelly photographed by Jeff in their closet:
Can you tell me a bit about yourselves and what you do at Studio DIY?
We met in high school in NJ and moved out to LA in 2011. Studio DIY is a lifestyle brand that I (Kelly) started as a DIY blog that has since grown into a full business. We still post daily blog content, but now also has various product lines in multiple categories that we offer to our followers and consumers worldwide. While I spearhead the entire business and leads all creative direction with the help of my team, Jeff takes all the photos and video to help bring the content and ideas to life.
Can you tell me about about your home? Was this project apart of a remodel or renovation?
We purchased our home in summer 2017 as we saw the amazing potential with it! It was built in 1938 and has all of the original character and charm inside! We fell in love with the amazing arched doorways and rounded corners in much of the home. This specific closet renovation was part of a larger bedroom 'makeover' that we have been working on the past couple of months.
Here's the space before:
Tell me a little about this space, what is it used for and what were you wanting to improve about it?
When we bought the house, this space seemed to be kind of a mixed-use situation. It was a little room off of what we turned into our master bedroom that housed an oven, sink, and shelving. The existing closet in the main room was really small and Kelly has always dreamed of a huge walk-in closet so that's what we created! We brought in a construction crew and fully renovated that room with new walls, insulation, electrical and plumbing for laundry, new ceiling, lighting, floors, and a full build out of a custom closet/laundry/dressing room.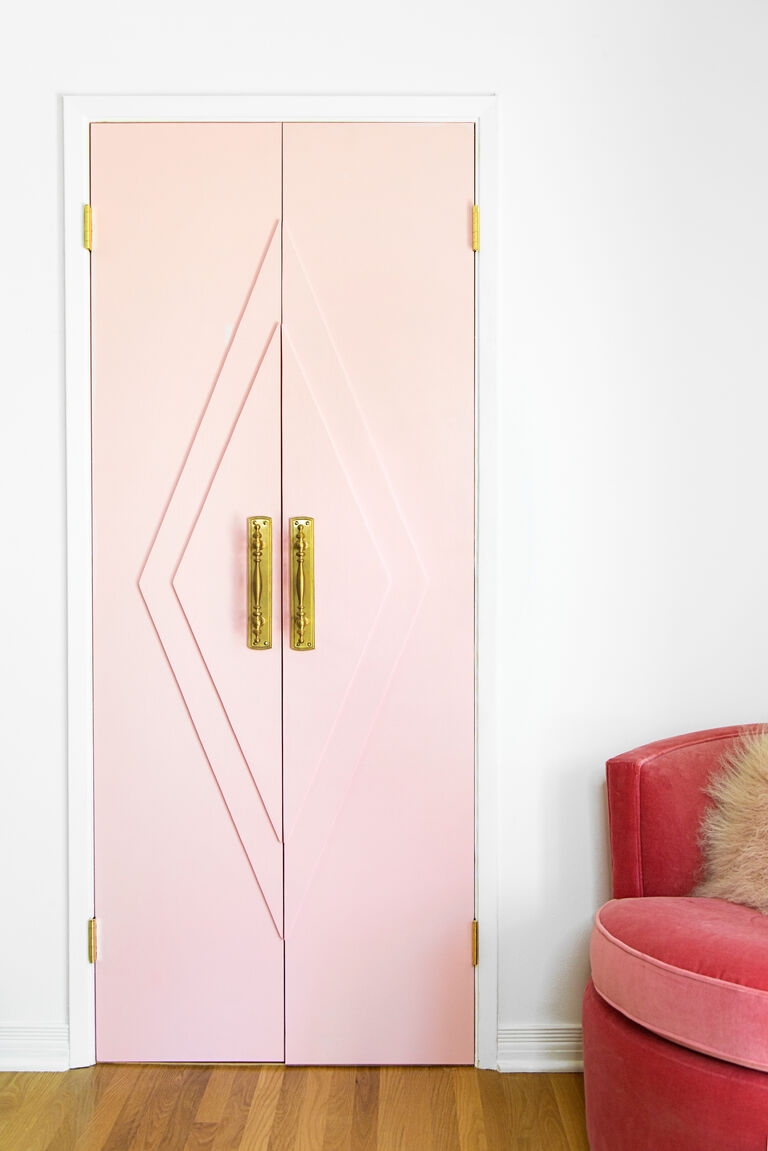 Tile Shown: Ogee Drops in Calcite
In terms of tile, what look were you going for?
Something really fun and different, but would also act as a great base to build upon in terms of other colors, patterns and textures in the room. We opted for the ogee drop shape in the white color as it was a really awesome pattern, but in a hue that we wouldn't get tired of, letting our colorful wardrobes really pop in the space.
What made you choose our Ogee Drops in Calcite? Were there any other contenders?
We really just loved the whimsical shape to these tiles. They were a great size for the project that we were doing and paired with a contrasting grout color, really stood out and would be a great conversation piece in our home.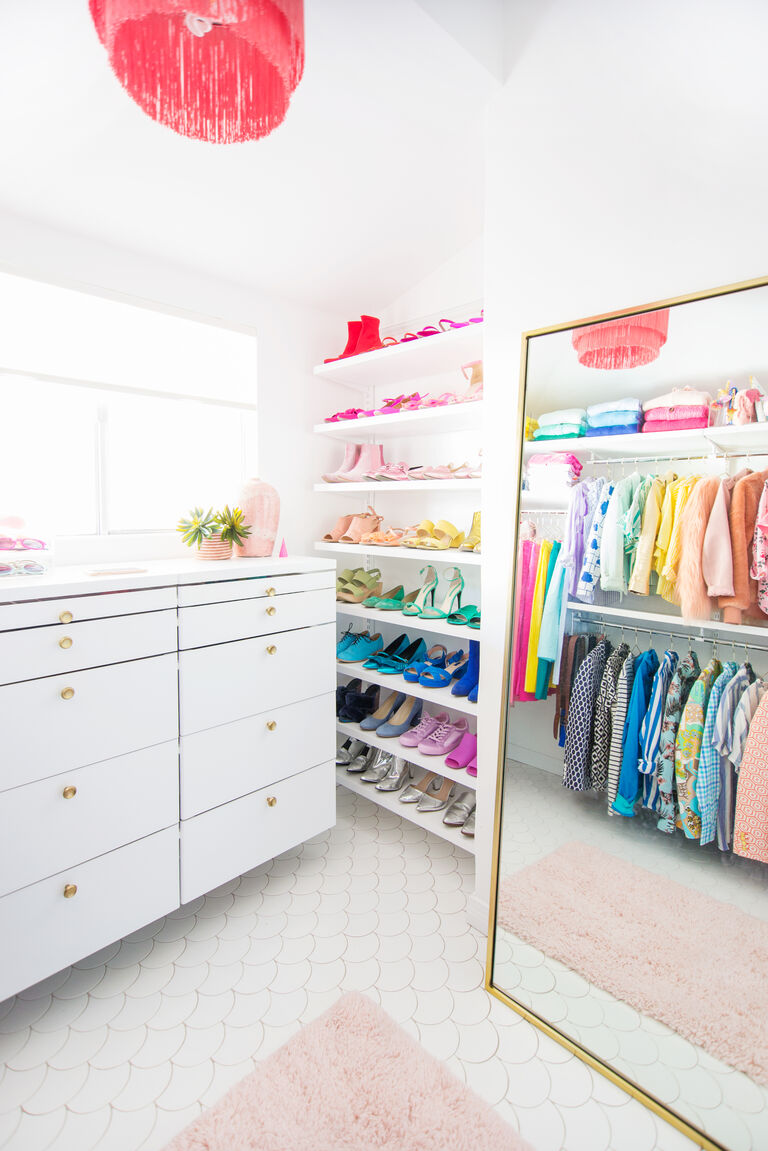 Tile Shown: Ogee Drops in Calcite
How did the installation process go? Did you face any challenges?
Installation was pretty seamless to be honest! Our team let us know that they have worked with Fireclay Tile before so they knew exactly what they were doing. We both are so thrilled with the end result!
Lastly, which of our colors/shapes/patterns are you thinking of using in your home?
We have a few more (bigger) renovation projects that we will be doing to our house like a new kitchen, two new bathrooms, and outdoor patio area(s). All of which, we plan to incorporate really beautiful tile in one way or another. We love Fireclay's triangle and hexagon shapes as well as the ogee drops! We plan to do future projects in some really fun tile colors so stay tuned as we will be documenting everything on the blog! :)
Tile Shown: 2" hexagons in Stilbite

Inspired by this floor? Order color samples online now. Need some help? Simply call, chat or fill out our Design Assistance Form and one of our talented Design Consultants will get back to you shortly.
Shop the Story