Project Spotlight: Lawless Log Cabin
Images courtesy of Lawless Design and Joyelle West

This isn't your typical cabin in the woods. With sustainability at the forefront, Hannah and Michael Oravec completely renovated their rustic Maine cabin to create a cozy and beautifully designed space thanks to unexpected Fireclay Tile pairings–and 5,000 square feet of sanding. (Yes, you read that right, 5,000 square feet of sanding).
We chatted with Hannah about the entire process and gleaned her best tips on designing sustainably (hint: sourcing from B Corps is a big one). Keep reading for the full interview.

Meet Hannah!

Can you tell me a bit about yourself and Lawless Design?
Lawless Design was born out of my desire to facilitate client needs with holistic interior design. I graduated from Endicott College with a BS in Interior Design, a concentration in sustainable design, and a minor in business. Another passion of mine is sustainability and wellness, and I truly believe both of those are connected to our home's design. My goal is to create healthy homes for people that improve their way of life.
Image: Joyelle West
When did you first become interested in design? How did you get your start?
Ever since I was a little girl, I was exposed to my dad always renovating our home (which actually happens to be the home my mom grew up in too!) I found my spark for creativity at that young age and never looked back.
Can you tell me about your design process? What is your favorite part?
The first part of a project before it even starts is having a sit-down consultation with a potential client. We discuss their goals and needs for the project and it's then that we start dialing in their design aesthetic. From there, once we onboard a client, we start going through the inspiration images we curated for each client to make sure that we are on the same page with what they want for their home. Afterward, floor plans and elevations are the starting point. Then, once the floor plans are all set, we work on the sourcing of materials and FFE for their home. (I would have to say this is my favorite part of each project). We purchase the items and handle order management. While construction is going on, we work hand and hand with contractors for site visits and make sure the client is happy every step of the way. The last part after construction is complete is the installation of all of the furniture/artwork/decor. This is where we really see the space take life and is such a fun part of the project!
Image: Joyelle West // Tile Shown: 8x8 in Antique and Carbon
How would you describe your aesthetic?
I always want to make sure that the spaces we design reflect our clients. My goal for the homes I design is for them to be classic and timeless. I'm not a huge trendy designer and like spaces to evolve over time. I like doing this by using vintage pieces and mixing in various styles to make things a bit more eclectic. I definitely work a lot with neutrals to make a home feel warm and inviting. I do this by adding contrast through layers of different materials and textures.
Image: Joyelle West // Tile Shown: 2x8 in Basalt
Where do you draw inspiration from?
My husband and I are nature fanatics and love spending time outdoors. I love the idea of bringing the outdoors in. I do this by using organic materials like woods, stones, and naturally made fabrics.
Image: Joyelle West

What are your 3 best design tips?
1. Design your home for you, don't worry about if something is "in style or not." If
you love it, that's all that matters.
Tile Shown: 2x8 in Basalt
2. Add in vintage! This can give a space so much character and make your home feel more personable. I love the juxtaposition of tile with reclaimed wood. There's beauty in mixing old and new.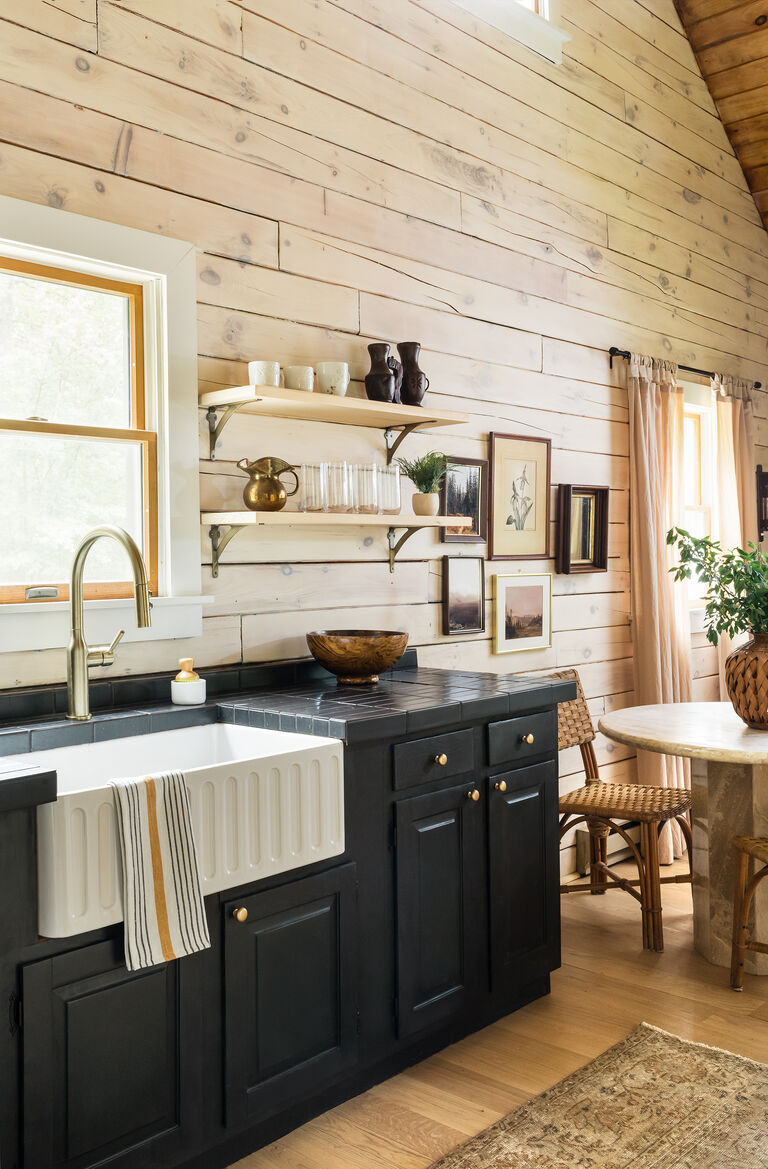 3. Start with the pieces that you want to make the focal points in the room.
Not everything has to be the center of attention. Having other items to be quieter in the space allows for those focal points to really shine. For a bathroom, I tend to like having the tile be a main focal point. This could be with the actual color/pattern or maybe it's the orientation that makes it special.
Tile Shown: 8x8 in Antique and Carbon
How do you factor sustainability into your designs?
There are a lot of ways that our team does this! I will name just a few. As I've been mentioning my love for sustainability, we source a lot of vintage items. This is great to use things that are already made and don't have to be manufactured. I really try my best to source from local and small businesses as much as possible. This helps with local economies and is also nice to support other fellow small businesses! We also look to source from B corps who have great company-wide standards. Trying to cut down on waste is really essential. Finding quality, well-made pieces that are timeless are important for this reason.
Tile Shown: 8x8 in Antique and Carbon
Why do you like using our tile in your designs?
I fell in love with Fireclay's tile as soon as I heard about the company. For one, it's so versatile. I love having the size and color flexibility to really customize it for the client's needs. Another thing I like about using Fireclay is that they have great company standards, like being a B Corp (as I mentioned earlier). I want to work with companies that are not only making products but also trying their best to do good.
Tile Shown: 8x8 in Antique and Carbon
Let's talk about your cabin! Can you tell us about this home? Was it a remodel or renovation?
We completely renovated the entire interior of the space! It was definitely a process. We started right when we closed on the cabin in February 2022 and finished at the end of June. My husband, Michael, and I went up on weekends and worked on the house together. The cabin was in pretty rough condition, so it needed a lot of work. We did everything from replacing the wood floors, sanding the entire cabin's walls and ceiling (5,000 sq/ft of it to be exact), renovating the bathroom fully, doing some kitchen updates, and all new furniture and lighting.
The Kitchen Before
What were the goals for this space? What sort of look were you going for?
In true Lawless Design fashion, I really wanted to make sure that this cabin was classic and timeless. But, this was my first cabin I was designing, and I knew the actual design of it was going to be a little different. Every floor, wall, and ceiling was wood, which added a level of difficulty trying to figure out the colors that would blend together well and not make the space dark. I did know that I wanted the cabin to feel like a cabin, and we didn't want to modernize it too much or make it look like our personal home. Neutrals are always my go-to, and with all of the wood, I knew we were going to have a lot of various textures throughout the space. Every piece of furniture is vintage, thrifted or my husband or I made it. I love mixing materials that have a lot of texture. One of my favorite pieces is the travertine dining table mixed with rattan dining chairs.
The kitchen after:
Image: Joyelle West // Tile Shown: 2x8 in Basalt
Let's talk about the checkerboard bathroom first. What was the point of inspiration here? What made you choose Carbon and Antique?
I've always wanted to do a checkered bathroom before! The style is just so classic and I love the fun twist that the colors gave. They are a little unexpected, but also have such a nice warmth to them. I wanted the space to feel cozy, and they paired so well with the mix of the marble sink and reclaimed wood vanity.
Image: Joyelle West // Tile Shown: 8x8 in Antique and Carbon

And now onto the kitchen. What made you choose Basalt? What made you decide to tile the countertops?
We took out the peninsula and upper cabinets in the kitchen, so we opened up the space a lot and made it a lot brighter with the new stain colors. Stone countertops were 4+ months out where we lived, and we needed to think of a creative way to redo the countertops within our timeframe. (The original countertops were laminate and were peeling off). Tiling the counters was an easy install and we could do it ourselves. We decided to paint the lower cabinets black, so I thought that doing a similar off-black tone would be nice. Basalt was a quick ship, and we got the tile really quickly!
How did the installation go? Any lessons learned?
The installation was pretty easy for the countertops! My husband integrated a new farmhouse sink into the countertops, too. He did the layout, figured out all of the sizing and pieces, cut and installed them (along with the cement board we put down). I then grouted them.
Tile Shown: 8x8 in Antique and Carbon
The bathroom was a little trickier because it was on the floors, went up the tub, and then up the shower walls. I would definitely recommend laying out the pattern beforehand (like Michael did), to ensure you know exactly how the tile will layout!
Lastly, what tile would you love to use in a future project?
I've always loved the handpainted ones! Old California, Chicago, and The Block Shop Collection (really all of them!) are so cool! I've obsessed over Tempest for so long and want to use that in the future!

Tile Shown: Squiggle in Charcoal
Inspired to create your own cozy cabin? Start here with up to five free color samples. Our team of tile experts will help bring your vision to life with free design assistance, so you can be roughing it–in style, of course–in no time.