New Heights: Counter-to-Ceiling Tile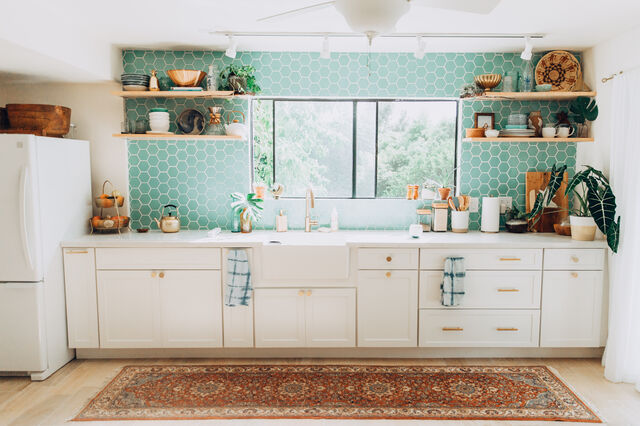 In a perfect world, we'd all have higher ceilings and breakfast in bed. Thankfully with us, you can have at least one of those things--by extending your tile installation from the countertop to the ceiling, you can help to visually add extra height to your space without having to pull out the sledgehammer.
Want to see the difference counter-to-ceiling tile can make? We've gathered the installations that we--dare we say it--really look up to.
Heightened Hues
We love tile installations that don't skimp on color. Counter-to-ceiling tile in a bold accent color not only adds height--it showcases your tile.
This labor of love turned out to be a mid-century masterpiece, thanks to Robert Maurer's expert eye for color and interior design (and a little help from Design Consultant Tiffannie White).
Tile Shown: Chaine Homme in Slate Blue
Interior designer Becca Stephens and architect Jen Hill collaborated on this cozily eclectic kitchen featuring our Chaine Homme tile in Slate Blue.
Fireclay Tile Inspiration Gallery: Jana Bek's Caifornia Cool Kitchen
Tile Shown: 3x6 in Kiwi
The kitchen of interior designer Jana Bek reaches new heights with a counter-to-ceiling tile backsplash in Kiwi, its fresh hue infusing plenty of California-cool flair.
Tile Shown: 4" Hexagon in Aqua
Hawaii-based photographer and blogger Elana Jadallah invokes the islands' aqua blue oceans with her kitchen remodel.
Expansive Neutrals
Counter-to-ceiling installations also gives neutrals extra impact without sacrificing their timeless appeal. Plus, you can pair it with an endless array of pattern possibilities.

Glazed Thin Brick Shown: Olympic
This kitchen's seamless blend of craftsman and contemporary style is served best by a counter-to-ceiling Glazed Thin Brick backsplash in Olympic.

Glazed Thin Brick Shown: Front Range
In the 10th annual House Beautiful Kitchen of the Year, our Glazed Thin Brick in Meteorite takes the stage with Designer Jon De La Cruz's bold take on the offset pattern.
The Ultimate Wall Art
Forget frames--our Handpainted Tile can give your next counter-to-ceiling tile installation a whole new meaning. With the help of interior designer Lynn K. Leonidas, Sunset Magazine Editor-in-Chief Irene Edwards transforms her 1878 Victorian kitchen into a storied retreat.
Interior Stylist and award-winning blogger Kirsten Grove uses our Old Cairo in a Black and White Motif to amp up this eclectic LA office kitchen.
Tile Shown: Kasbah Trellis in Neutral Motif
This sleek and chic kitchen wows with its modern amenities, but a backsplash featuring our Handpainted Kasbah Trellis tile steals the show.
Ready to reach new heights? Order color samples online now! Need some help? Simply call, chat or fill out our Design Assistance Form and one of our talented Design Consultants will get back to you shortly.
Shop the Story