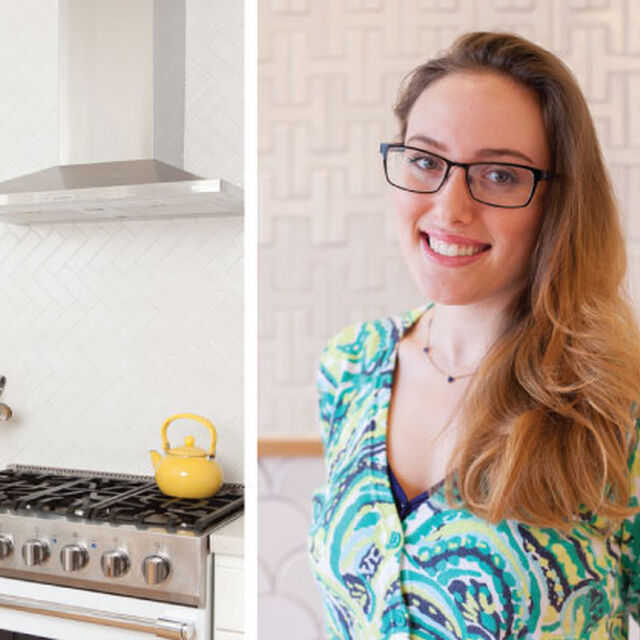 Tell us a bit about yourself, how you got into design, etc...
As a young child, I would always try to rearrange the furniture in my room, move around posters and photos, and even ask to help with my friend's spaces. It was such a joy to see how shifting the bed or dresser could make the room feel more spacious and inviting. I did not think about interior design as a career until I moved from Connecticut to California while in college.​ I was able to begin the interior design program in San Luis Obispo, and knew right away that it was the perfect thing for me. I was able to work for a local interior designer and learn what it takes to have a business and ​work with clients.

My favorite Fireclay products....
There are so many beautiful Fireclay products, but our crackled blue and green glazes are my favorites. They are so unique and have such depth. Crater Lake looks good in any space (I especially love this color in a 3" Hexagon) and gives a pop of color that I would love to have in my own kitchen or bath. Our specialty shape Chaine Homme is such a fun shape that can still give off a classic vibe, I would love to see someone install it in Aqua (which is such a dreamy color). This pairing would look lovely as a backsplash, in a shower or as flooring and I think it would be wonderful in a beachhouse.
White crackled glazes like Frost and Ultra Cream are some of Fireclay's best; in a subway layout, these make any traditional home bright, airy and classic.
My style...
The New England style will forever be my favorite, even though the California Craftsman is a close second. The two styles do share many common aspects and compliment each other well.
The heavy crown moldings and wood flooring; the wainscoting, beadboard and inviting porches. Therefore, simple subway tiles and hexagon tiles are so classic and work with every kind of design. I love a bright kitchen and bathroom, so lighter colors are more my taste. A beachy vibe can translate well from the New England style too, and growing up near the beach ​really made me love the whites, blues and greens from that area.
Want to see more of Sabrina's style? Head to her Pinterest Board.

My favorite Fireclay Projects...
I love how the glass hex blend in this Eclectic Blue Bathroom Remodel maintains a classic feel but becomes more modern with the blend of blues. It can really be the focal point when everything else is white. The glass feels beachy and fun.
Tile Shown: 2" Glass Hex blend of Dew Drop, Dusty Olive, Forget Me Not, Island Flower and Plankton
The white cabinets in this Coastal Kitchen make the space feel more traditional and the pop of blue gives it coastal flair. The subway tile is classic and the vibrant blue is the perfect contrast to the cabinetry.
Tile Shown: 3x6 Subway Tiles in Caribbean
This bright, cheerful kitchen paired with the traditional herringbone ​on the vertical makes it a little playful. This would look great in any space and definitely pulls from a New England sensibility.
Tile Shown: 2x6 tiles in White Gloss in a vertical herringbone pattern.
Like any of Sabrina's favorites? Order samples online now. Need some help? Simply call, chat, or fill out our Design Assistance Form and one of our talented Design Consultants (maybe Sabrina) will get back to you shortly.

Shop the Story