Meet the Commercial Team: Katherine Lee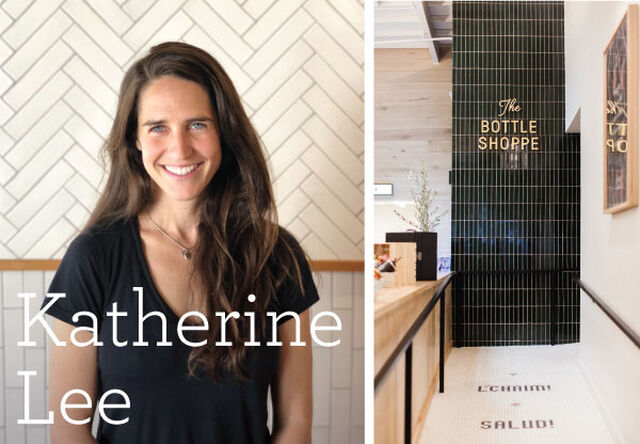 Working on a commercial project in Southern California? Meet Katherine Lee! Keep reading to learn more about Katherine's journey to Fireclay Tile, her textural and vibrant aesthetic, and her all-time favorite Fireclay products. Don't forget to take a look at her Pinterest Board to see more of what keeps Katherine feeling inspired as she zips around Los Angeles.
A bit about me...
I first met the Fireclay team while living in Austin, TX. After graduating from Architecture school, I found myself at a startup that was trying to change the way we buy and sell sustainable materials. Fireclay was always the "golden child" product and really set the standard for what a naturally sustainable product and company could be. After working in the design and hospitality world for five years, I got the chance to join the Fireclay team myself!
Tile Shown: Scalene Triangles in Daisy // Design + Photos: Project M Plus
My Style...
I believe design should make you feel comfortable and engaged with the space you are in. Like a good host, the design should feel effortless, while it temporarily brings you into another world.

My Favorite Fireclay Tile Products...

1). Star and Cross in Antique: I can't get enough of this pattern. It's basically a 4x4 with a little bit of attitude.
2). 2x8 in Silver Haze: Silver Haze is what I think of when I think of ceramics. It's a perfect mix of rough and refined.
3). 4x4 in Tidewater: Tidewater is just enough fun and timeless for me. I like using 4x4's, they remind me of old LA.
My 3 Favorite Fireclay Projects...
1). Jayde's Market: Jaydes Market was all about the perfect color. Project M+ pushed us to create just the right green which gave us the opportunity to show what we can really do. Glaze making is a science, art, and just a bit of magic to get it right. When we have an opportunity like this, to be part of the process from the beginning of the project, we can make amazing things together.
Tile Shown: 2x8 in a custom formulated green // Design + Photos: Project M Plus
For a look like this, try our 2x8 ceramic tiles in Evergreen!
2). Loch Ness Kitchen: Color variation is sometimes all you need.
Tile Shown: 3x6 in Loch Ness // Design: Studio Claro
3). OLA Austin Office Bath: We make a classic product, but I love when designers weave it into something new.
Tile Shown: 4" Triangles in White Wash, Magnetite, Rainy Day, Crater Lake, and Daffodil // Design: OLA Austin // Photos: Lars Frazer
4). Bonus Project--My own Home! A few years ago a client of mine asked me, "What's the tile equivalent of the perfect pair of jeans." She meant, what's casual, comfortable, but looks amazing with a pair of heels and jewelry? My answer was Antique, white, or anything in a 4x4. So when I got the opportunity to remodel my 1920's home, I gave it the perfect White T-shirt and Jeans treatment. I like to pair it with fun colored bath mats and towels, and it even looks good with my kid's toys all over the floor.
Katherine with her son, Boden. Tile Shown: Large Star and Cross in Antique; 4x4 in Daisy
Working on an upcoming commercial project in Los Angeles/Southern California? Get in touch with Katherine by e-mailing Katherine@Fireclaytile.com.
Love Katherine's favorites as much as we do? Order color samples online today! Need some help? Simply call, chat, or fill out our Design Assistance Form and one of our talented design consultants will get back to you shortly.
Shop the Story