Matriarchy Build is Putting the Spotlight on Tradeswomen
All images courtesy of Matriarchy Build
Everyone loves seeing a polished finished project, but Lacey Soslow and Gabriella Ainslie want to showcase the gritty process it takes to get there–and the tradeswomen behind it. Their platform, Matriarchy Build, amplifies women in the trade while empowering folks to take on their own DIY and home projects.
In honor of International Women's Day, we sat down with Lacey and Gabriella to talk about the origin of Matriarchy Build, what's in store for the future, and their thoughts about representation in the building industry as a Queer, Latinx, and Woman-Owned business. Keep reading for the full interview!

Meet Lacey and Gabriella!



Tell us a bit about yourselves--what got you interested in the building business?
LS: Hi, my name is Lacey Soslow – I split my time between Philly and Brooklyn with my wife Michelle. I spent 12.5 years leading marketing and digital for Terrain (the home/garden brand from the folks at Anthropologie/Urban Outfitters.) I've always been passionate about design, and that interest amplified working at Terrain where I was surrounded by inspiration on a daily basis. About seven years ago after working on various remodeling projects across my own home in Philly, I started renovating houses with my Mom. We saw all these incredible homes being gutted to the studs and flipped in a super cookie-cutter fashion. A lot of times they would stick out like a sore thumb and not honor the neighborhood whatsoever – it felt like a big bummer. Our goal was to responsibly renovate, honoring as many original details as we could and generally honor the spirit of the neighborhood.

Lacey's kitchen project before and after:
GA: I spent 15 years working as a buyer and merchant. I started at ABC Home and later worked with Lacey at Terrain before moving back to Austin, my hometown, and working at Bunkhouse Group hotels. Those experiences honed my eye for good design, which evolved into a passion for architecture and materials. The construction of our homes and the goods that go inside those spaces are inextricably linked to me. Creating more connections between those two things and supporting people–myself included!--to learn how to participate in building and making their homes suit them better is what led me to get involved in the home improvement and building world.
Tell us about Matriarchy Build--how did it come to be?
GA: In the winter of 2021, a winter storm hit Texas and really wreaked havoc on the state. In the aftermath of the storm, plumbing pipes at my house that had frozen and burst needed to be dealt with. I felt intimidated by having plumbers come to give me quotes because I had no vocabulary or understanding of plumbing issues, much less any sense of what prices were fair. Adding on to that, I was a new mom, I was going to be home alone with my baby while these folks came in and out, which was a new layer of vulnerability for me. I had this thought that the situation would feel much less intimidating if I could find a woman to give me advice or to work with on these plumbing issues, so I asked Lacey–with all her experience in hiring contractors–if she had any resources for finding female contractors.

LS: And when Gabriella reached out, I had absolutely no good recommendations. I didn't even know where to start – but I knew I'd love to work with more women in the projects I was doing with my Mom. That's when we started surveying our respective communities and getting a lot of validation for the idea. So we started getting to work – and Matriarchy Build was born.

What were your goals for Matriarchy Build when you started it?
LS: Our goals were (and are) grandiose and simple all at once. We started with the goal to create a platform of folks excited about renovation, repair, design, DIY, and more. That includes total newbies, super handy folks, and Pros as well. We wanted to create the most comprehensive directory of women in the trades – and broadly amplify the existing community of tradeswomen.

But in a more concrete, actionable way, we wanted to solve a problem. A lot of folks feel intimidated by renovation and repair – whether they want to DIY a specific project or are tackling a larger remodel. They don't know where to start, they don't know the questions to ask, and we wanted to demystify the process and empower them. Our mission is to get tools into the hands of women (both literally and figuratively) – and if we can inspire more folks to go into the skilled trades as a career along the way, that feels really exciting as well.

Can you tell us how it works?
GA: On our site, we offer one on one video sessions with tradespeople to talk through any DIY or home improvement project you can think of. People are using our "tele-DIY" to talk about fixes as small as hanging bookshelves or fixing a leaky faucet all the way up to projects as big as a home renovation. It's also been a great resource for homeowners who want to vet quotes or get advice on how to hire the right contractor for the job.

When you come to our site, you can search our database of Pros based on their trade, the type of project you have, or the region that the Pro is in. Once you pick the right Pro for you, you can select either a 25 or a 55-minute session with them and check out their calendar to see when they are available. You'll provide a description of your project and answer a few questions for the Pro before the session happens so that the Pro is fully prepared to help support your specific questions and needs. You can even upload photos, floorplans, and link videos for your Pro–the more info you can share the better! You'll hop on a video call with your Pro at the set time, and after that consultation, the Pro can even follow up with you via your Matriarchy Build account to share any notes or provide a recap of what you two worked on together.
What is your favorite home project you've ever taken on personally?
LS: This is hilarious because I want to say my full house renovation was a monster project and culminated in this incredible Betters Homes & Gardens feature that truly captured the house in photos beyond anything I could have ever imagined…..BUT….what is actually top of mind is something a little smaller in scale but big impact in the joy it brought me!

Lacey's bathroom project before and after: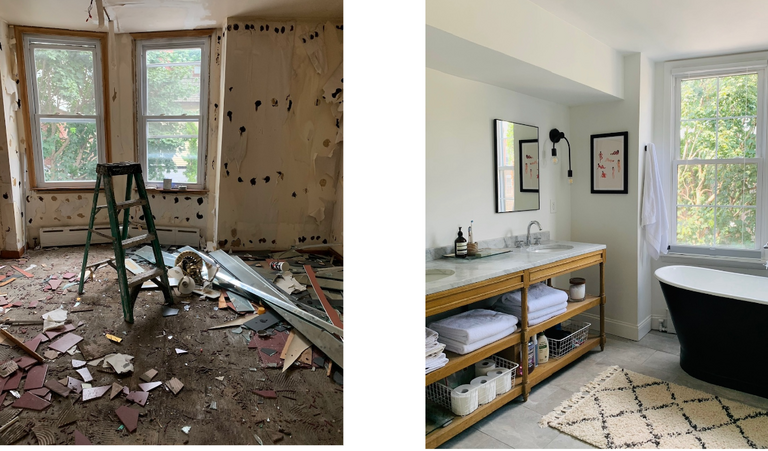 A few weeks ago I tackled a project I had been pushing off for a long time. The water pressure in my primary bathroom is horrendous. The irony of course is the fixture was the fanciest one I've ever purchased. I chatted with one of our Matriarchy Build plumbers who informed me that some "water flow restrictors" in shower heads can dramatically reduce your water pressure (this isn't always the case.) Anyway, I disassembled my shower head, found the water restrictor, removed it, and finally, we have decent water pressure. My wife was super impressed, hahaha!

GA: Right now, I'm reorganizing a storage area to create a laundry/mud room. I'm re-orienting a little bit of plumbing to add in a utility sink and then adding in shelving and a storage area for bikes and strollers and our outdoor "play" items. I can't wait to get it looking and feeling great in there! It's already much more functional, but to get everything up off the ground and organized into those shelves will feel so good.

What does it mean to you to be woman-owned and operated?
LS: It's exciting and super relevant on a few levels. Firstly, both Gabriella and I identify with our customers on a fundamental level because we are the customer. We both come from very consumer-oriented backgrounds and if you're not customer obsessed, you can't grow, evolve, and ultimately provide long-term, sustainable value. We created Matriarchy Build because we wanted it to improve our own lives and as a result have helped other people along the way. And we plan to keep listening to our customers and community to give them more of what they're asking for.

Beyond the future of our business, it's also meaningful to be woman-owned and operated because of the necessary growth and evolution of the corporate/business landscape. It took until 2023 for more than 10% of Fortune 500 companies to be run by women – those numbers need to change, they need to grow, and fast. We are bullish about being part of that change. On top of that, we are proud to be Queer and Latina as well and hope our different perspectives continue to serve our goals and the needs of our growing community.

What does international women's day mean to you?
GA: International women's day is a day to celebrate how far we've come, but also to get actively involved in creating more momentum for change. The strides that have been made are incredible, but there's still such a long way to go!

When I think about our industry, in particular, I want this day to be about encouraging more women to join the trades and championing the incredible women who have paved the way in these careers. This is one of the only sectors where women are earning the same wages as men. The financial reward, benefits, and flexibility that these jobs offer are amazing, and I hope that more women jump in and fill the enormous skilled labor gap!

In what ways do you feel representation in the building industry has improved? How could it be better?
LS: It's exciting because there are a lot of new stats coming out of the woodwork in the past year or two around representation and growth.

There are over 300,000 women in the skilled trades and over 1M women in the construction industry – these numbers are growing and that's super exciting and encouraging. The macro trends around women getting involved in DIY and building are ever-growing with 73% of millennial women saying they'd tackle some of their own home renovations and single women buying houses at 2x the rate of single men.

All of this is tremendously encouraging and moving in the right direction – but – we're not there until there's true parity and gender equality in the building space. And that points back to our grandiose vision for Matriarchy Build – empowerment, confidence, and getting tools into the hands of women.

GA: There are more women joining the trades workforce than ever, but I don't think that most construction sites are welcoming or understanding environments for women or the LGBTQ community to work in yet. I hope that the traditional and stereotypical norms of job sites can incorporate the needs of these workers more.


What is ahead for Matriarchy Build? What do you hope to accomplish in 2023 and beyond?
LS: We have a lot of exciting things going – but we're also trying to stay really focused on building this community and providing value to folks. One thing we're really focused on is working through our waitlist of Pros. We have nearly 400 Pros who have applied to be on Matriarchy Build and we need to work through that waiting list.

GA: I'm excited that we are launching a directory, or "Pro Finder," in Austin! We are going to make it seamless for folks in Austin to connect with Pros who are vetted and have earned the Matriarchy Build stamp of approval. It'll be like AAA for your home! For any project that comes up throughout the year, we'll have a local Pro to guide you via video consultation, or, even better, to hire for those in-person maintenance and repair needs: from landscapers to specialty cleaners, tile setters, plumbers, handypeople and more!
Thank you so much to Gabriella and Lacey for sharing your story and building such a valuable platform! Learn more about Matriarchy Build on their website, and find the perfect USA-made tile to go with your Matriarchy Build Pro here.