Maker Spotlight: Pigeon Toe Ceramics
Sam Sheeley of Pigeon Toe Ceramics firmly believes that home decor should be fun, which is why her approach to ceramics involves a healthy dose of respect for the craft and an even healthier dose of humor. This female-powered brand designs and manufactures modern ceramics from their Portland, OR studio, making us laugh with their playful social media posts at the same time we're drooling over their gorgeous offerings.
We chatted with Sam about where the name Pigeon Toe came from, their process of creating perfectly symmetrical non-traditionally shaped items, and her personal favorite color from the stunning Pigeon Toe palette (it's a controversial one!). Keep reading for the full interview.



Meet Sam!

Image: Pigeon Toe

Can you tell me a bit about yourself and your brand? Where does the name Pigeon Toe come from?
The name Pigeon Toe comes from my sister, when she gets excited about -anything- she stands pigeon-toed. Naturally, she was very excited when she started this company back in 2009. We have been working together here since 2014, but she recently stepped away from the company to pursue a career in interior design. I took over all operations last year, and live in Portland, OR with my husband, step son and two dogs. My background is in business development with a focus on marketing. After 8 years at Pigeon Toe, I can now claim to be an expert in all things ceramic as well.
Image: Pigeon Toe
You worked in business development prior to joining your sister at Pigeon Toe, what made you decide to switch gears?
After years of working at a multi-billion dollar company, I wanted to work somewhere (much!) smaller and more personal. I wanted the sweat equity to be mine, and to be in more control of decision-making. It is pretty great being able to pivot in the moment, and the only person you have to ask permission from is yourself. And in small businesses, there is A LOT of pivoting.
How long have you been interested in ceramics? What do you love most about your craft?
I love that you can make just about anything out of clay and it will last a lifetime (as long as you don't drop it on a cement floor!). I love that the making process takes time- it requires patience, which is not something that comes naturally to me. I struggle with ADHD, and the multi-step process that is ceramics forces me to slow down. With that, I also love that every day is a bit different and that I am constantly presented with new challenges that force me to think outside of the box.
Image: Pigeon Toe
Once you've come up with an idea for a new piece, what does your process of creating look like?
We 3D print all of our designs before putting them into production. We do this to test the size, scale, and functionality. Once we decide to move forward, we then use a scaled-up 3D print to make our master molds. Using 3D prints means we can make non-traditionally shaped items and also ensure they are perfectly symmetrical. All of our items are made from plaster molds, which means we use a liquid form of clay (slip) to make everything.
Image: Pigeon Toe
How do you factor sustainability into your designs?
Our items are made to be used and made to last. We want them to be passed on to your children rather than eventually end up in a landfill. We consider our designs to be timeless and also sturdy enough to pass down throughout the years. We also recycle all of our clay scraps, so we have very little waste in the actual making process.
We LOVE the Pigeon Toe color palette! What's your process for adding a new glaze to your offering? What's your personal favorite color?
Quite a bit of trial and error! All of our colors are custom to us, so it usually takes about a year to finalize a new color. We don't usually go off of trend, but rather what we think is missing in our assortment. We try to offer something for everyone. My personal favorite is Pollen- which is a controversial color! You either love it or you hate it.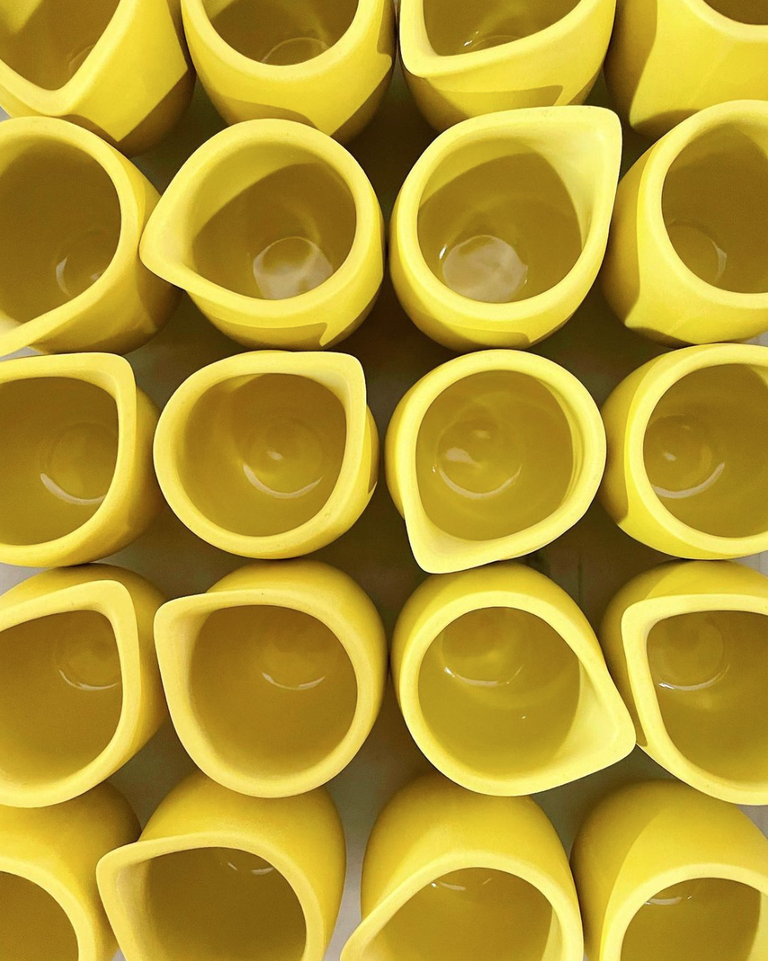 We so appreciate your sense of humor and fun reflected in both your brand and your social media. What is keeping you inspired these days?
I think if I took it too seriously I would have quit a long time ago! At the end of the day, there are no emergencies in home decor, and I think it is important to keep that in perspective. The way we present our brand is an extension of me, and I couldn't run social media accounts without being true to that. I like to laugh and break up my day with little things that may or may not matter. I try to break the monotony of production with humor. Home decor should be fun!
Image: Pigeon Toe Instagram
As a business with handmade goods, we know the challenges of balancing the time it takes to make a beautiful product with meeting demand. What have those challenges looked like for you? What have you learned as your business has grown?
This is a complicated question, haha. We started tiny, grew pretty substantially, and then shrunk back down during the pandemic. Personally, I learned that bigger is not always better. I had to ask myself some tough questions about what I wanted out of this company. In the end, I decided that I wanted to keep us direct-to-consumer. This means that while we are technically "smaller," our profit margins are better and we can support our staff without working ourselves to the bone. Work/life balance has never been more important. Again, there are no emergencies in home decor!
Image: Pigeon Toe

What does it mean to you to be a woman-owned, made-in-USA business?
Designing and manufacturing locally mean that we are in full control of the process from start to finish. This is not just relevant to quality control standards, but most importantly employment standards. Everyone on our staff is incredibly talented and gets paid a living wage for what they do. Every Pigeon Toe piece purchased supports our tiny (but mighty!) staff of four humans in Portland, OR.

If you could be any Fireclay Tile color, which one would you be and why?
I would 100% be Lichen because I LICHEN it a lot. For real, it's an amazing color and I want it all over my house.
Are you LICHEN what you see too, or would you like to try another Fireclay color? Bring home free samples to find the perfect tile for you.
Shop the Story