Project Spotlight: Mad for Plaid Tile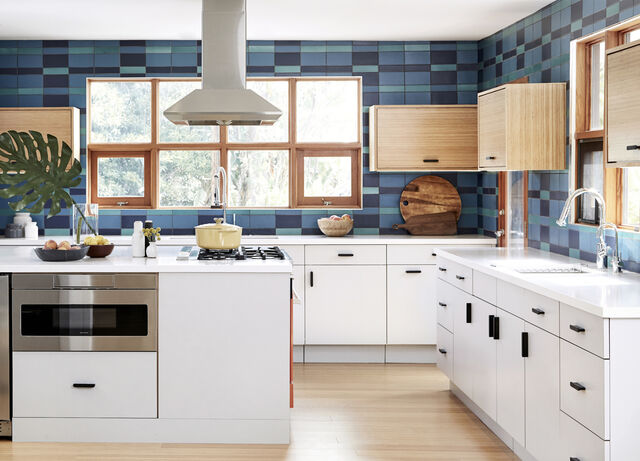 Masterfully coordinated with shades of blue and 2x8 and 4x8 tiles, this eclectic kitchen backsplash by Camille Henderson Davis takes a beloved textile pattern to a whole new level.
Please note: Our tile is handmade so size variation is to be expected. If designing a specific pattern, contact us to understand if tile will be modular.
Tile shown: 2x8 and 4x8 in Blue Velvet, Peacock, and Fluorite // Design: The Niche Home // Photos: Jenna Peffley
We caught up with Camille to learn more about this project, her design process, and background (which includes a PhD degree!). Keep reading for more.
Meet Camille Henderson Davis!
My design philosophy... Make my clients feel utterly at home with a space that will feel beautiful to them and makes sense for the way they live.
I find inspiration in... The challenge of getting inside our clients' heads to understand what they're trying to accomplish and channel an approach to design that excites them. It means each project is very different from the next and when we're done, the house looks like them, not me.
Not many people know... I have a PhD in History from the University of Chicago.
I can't live without... Great partnerships. Design is so much better with input from different vantage points and working through ideas and feedback generates all kinds of cool, new ways to approach a project.
My best design advice would be... Don't be afraid to try things, even if it takes awhile to get it right. (And, don't be afraid to like what you like; it's your house and it only has to appeal to you!)
I love tile because... There are so many ways to use it to make a statement. It can be subtle and quiet or totally over the top. It's malleable and only limited by your creativity.
Tell us more about this project! How did you get involved?
My role in the project was Principal Designer. I was the first hired by our clients to envision how to renovate their kitchen and two bathrooms, the exterior of the house, and redecorate all the common areas. The project is located in the Cheviot Hills neighborhood of Los Angeles.
What were your design goals for the space?
The overall aesthetic for the project was to create a space inspired by midcentury modern design with a contemporary spin. We don't like design to feel derivative of a style but instead to use it as more of a jumping off point that honors the design principles of the period and then goes from there
Before:
After:
Thoughts on creating a midcentury inspired space in a non-midcentury style home?
I've known the homeowners for a few years and they have a deep love of color and midcentury design although they don't have a midcentury home. My goal was to help them get that look in a way that also made sense with their home's architectural style.
How involved were your clients in the design process?
We always work closely with our clients each step of the way to make sure they feel heard and the decisions align with their goals for look and function. We met every week to review renderings and samples and then, once work began, expanded the meeting to include the site supervisor and general contractor to make sure we were all on the same page for execution.
What made you go for tile over another material for the backsplash?
We chose ceramic tile because of the colors available. Fireclay is our go-to for ceramic tile because of the variety of colors offered-- It gives us a lot of flexibility. We chose these colors in particular because our client loves blue and we wanted something that would make a major statement in the kitchen but still feel easy to live with over the years. The plaid tile pattern itself was an easy way to work with a simple tile style (subway) that references the midcentury look we wanted in a way we hadn't seen before.
How was the installation process for such a complicated pattern? Any lessons learned?
We always give our contractors a sample board with a clear pattern layout but in this case, we went a step further and my assistant, Kenley, gave them a colored and numbered pattern with a tile key to simplify installation. The installers did a brilliant job with the cuts and maintaining the tight grout lines we wanted. I was so impressed with their work.
How was working with Fireclay? Any favorite moments?
As always, Emily (our Fireclay Design Consultant) was wonderful. She's so helpful and when we were trying to figure out how to get this pattern executed in reality, she was indispensable.
What other Fireclay shapes, colors or handpainted patterns would you love to use in your next project? This is the fourth or fifth time we've used Fireclay on a project. I'm planning on working my way through the catalogue. I'm particularly excited to use the Classic Cuerda Seca handpainted tiles; I'm just waiting for the right project.
About The Niche Home:
We are a boutique design firm located in Santa Monica, CA until last month. Now, I'm heading to Cambridge in the UK because my husband just got a very cool new role. We do primarily residential work that ranges from whole home redecorating to major renovations and new construction. We enjoy the mix of project types because of the variety of work it offers and the customization we can offer clients.
Stay up to date with Camille by visiting her website.
Need help on your own project? Simply call, chat or fill out our Design Assistance Form and one of our talented Design Consultants will get back to you shortly.